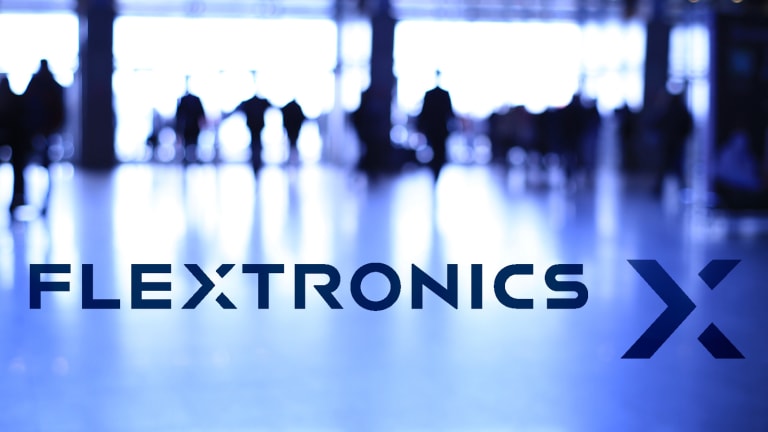 Why Flextronics Should Be in Your Portfolio
Flextronics is up more than 30% in 2016 and indications are it will go higher still next year.
At close to $15, shares of Flextronics (FLEX) - Get Report are up nearly 31% for the year to date. There are many indications the stock will go higher still in 2017.
At one time, Flextronics was highly dependent on computers and network assembly but now it is a highly diversified electronic manufacturing services provider with operations at 100 sites in over 30 countries. After the dot-com bust, Flextronics began to diversify its manufacturing and assembly operations away from the computer and networking industry.
Today, Communications and Enterprise Computing is just 35% of total revenue. Management's goal is to reduce its dependence on CEC even further. By 2020, the company hopes to get just 27% of total revenue from computer networking.
Perhaps the company's most exciting segment called is High Reliability Solutions. HRS manufacturers and assembles devices that need to be highly reliable, like insulin pumps and the smart electronics used in automobiles nowadays. In 2010, HRS was just 6% of total revenue, but by 2020 the company wants to get 27% of revenue from HRS.
Likewise, Flextronics is trying to get its exposure to the Industrial and Emerging Industries over 23% by 2020 from just 13% in 2010. IEI encompasses things like human machine interfacing as well as solar energy.
With its Lab IX portfolio, Flextronics is not only is helping start-ups to design and manufacture products, but Flextronics is taking stakes in tomorrow's leaders. Flextronics has stakes in companies making connected living products, digital health, smart energy, connected transportation and even smart automation.
FLEX has over 2,500 design engineers that can take a product from "Sketch to Scale." With its integrated capabilities, FLEX can take a product from concept to prototyping to design, manufacturing, assembly, distribution and even as far as what to do with the products at the end of its useful life.
As recently as fiscal 2013, sketch-to-scale revenue was from 7% of total revenue. Management believes it has an opportunity to reach 35% of total revenue by 2020. The sketch to scale concept has delivered a 20% increase in design wins and 85% growth in manufacturing pull through. The days of FLEX just being a simple contract assembly house are long gone.
Because of its capabilities, Flextronics is delivering on its goals for profitable growth. In October, the company reported second-quarter earnings of $0.28 per share, in-line with the consensus estimate. Revenue fell 4.9% to $6.01 billion. Revenue was down because of the SunEdison bankruptcy and Flextronics lost the Lenovo business. In addition a large medical device contract was pushed back to the June quarter. 
For the December quarter, management delivered in-line guidance. The company sees earnings per share of 31 cents to 35 cents per share and revenue of $6 billion to $6.4 billion.
The reason the stock has spent the last 12 years below $15 per share is adjusted operating income is just 3.3% of total revenue. With those tiny margins, it's hard to drive earnings per share, especially when 35% of revenue is still married to the slowing computer networking business. Cisco remains a big part of Flextronic's revenue and its slowdown is still felt.   
Despite a lumpy quarter, gross margins should begin to expand as the company remains on track with its long-term strategy. Flextronics ended fiscal 2015 with a gross margin of 5.9%, but as it executes on its sketch to scale strategy margin should end fiscal 2017 at 7% and could be as high as 7.5% the year after.
With a strong share buyback program, earnings per share are expected to jump 16% from $1.17 in fiscal 2017 to $1.36 in 2018. Historically, the shares trade between 9 and 11 times forward estimates. With a shift to higher margin end markets, Flextronics should be able to trade at the high end of the range or around $16 per share. 
This article is commentary by an independent contributor. At the time of publication, the author held no positions in the stocks mentioned.