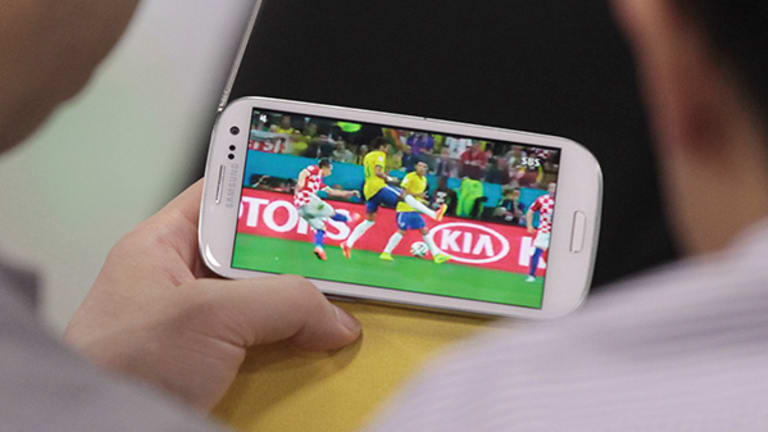 Why FIFA Sold Us World Cup TV Cheap
<I>Fox</I> and <I>Telemundo</I> just paid $1.25 billion for World Cup broadcast rights in 2018 and 2022. This year's U.S. ratings, however, are on par with $1.9 billion-a-year football.
PORTLAND, Ore. (TheStreet) -- Considering the way U.S. viewers watched the group stage of the World Cup this year, FIFA might want to consider charging NFL-style broadcast fees the next time it negotiates with networks like Fox and Comcast's (CMCSA) - Get Free ReportTelemundo.
Through 32 matches, World Cup games averaged 4.3 million viewers on ESPN -- up 50% from the nearly 2.9 million for matches in the 2010 World Cup. For Univision, an average of 3.4 million watching the World Cup on the network through the first 32 matches was up from 2.3 million in 2010. That's a combined 7.7 million viewers, which is higher than NBC draws for the National Hockey League's Stanley Cup Final and bigger than the average audience for regular season NHL games (500,000), Major League Baseball games (630,000) and National Basketball Association matchups (1.4 million). This World Cup's viewership lags only the National Football League's regular season and the NFL, NBA and MLB title games, but it hasn't even reached the elimination stages yet.
Nor does it dig into the audience for the U.S. national team's matches. The 15.9 million U.S. viewers who tuned in to both ESPN and Univision for the a 2-1 U.S. win over Ghana in the first U.S. match of the World Cup's group stage was a bigger audience than the 15.5 million viewers ABC averaged for this year's NBA Finals, the 14.9 million Fox averaged for the 2013 World Series and the 10.2 million that CBS, TBS, TNT and TruTV averaged for this year's NCAA college basketball March Madness broadcasts. The 24.7 million U.S. viewers who watched a heartbreaking U.S. draw against Portugal in the U.S. team's second matchup made it the single most-watched soccer match of any kind in U.S. television history -- ahead of the 24 million who watched the World Cup final back in 2010.
The ESPN broadcast alone, at 18.2 million viewers, outdrew the deciding Game 5 of this year's NBA Finals (18 million). The combined ESPN and Univision telecasts of the U.S.-Portugal match were bigger than the audiences for college football's title game (26.4 million), the NCAA Men's Basketball Tournament title game (21.2 million), the horse racing Triple Crown attempt at the Belmont Stakes (20.4 million) and the Rose Bowl (18.6M). Only NBC broadcasts from the Winter Olympics and network broadcasts of NFL playoff games and the Super Bowl ranked higher.
Just for some perspective, the 18.2 million viewers ESPN drew for that match is a bigger audience than it has drawn for all but four of its Monday Night Football broadcasts: Green Bay Packers vs. Minnesota Vikings in 2009 (21.8 million), New England Patriots vs. New Orleans Saints in 2010 (21.4 million), Saints vs. Atlanta Falcons in 2010 (19.1 million) and Eagles/Cowboys in 2008 (18.6 million). ESPN is playing $1.9 billion a year for the rights to Monday Night Football. Fox and Telemundo, which are taking over World Cup broadcasting duties from ABC, ESPN and Univision in 2018 and 2022 -- are paying $1.25 billion for both events combined.

Viewers are fortunate that U.S. networks aren't paying more and that ABC, Fox, Univision and Telemundo World Cup broadcasts will still be available for free via antenna. However, FIFA is giving U.S. networks a bargain compared to the NFL. Fox, CBS and NBC have agreed to pay the NFL $28 billion -- or roughly $1 billion a year -- for broadcast rights through 2022. CBS just plunked down $275 million to broadcast one season of Thursday Night Football this year. DirecTV (DTV) is on the last year of a $1 billion-a-year deal with the NFL for its Sunday Ticket package for highlights and out-of-town games.
Granted, there are some fairly significant differences here. A full 34 of the 35 most-watched shows of fall 2013 were NFL games, with the league averaging 20 million viewers per game on weekends and seven million in prime time on Sunday, Monday and Thursday nights. Professional soccer in the U.S. doesn't draw anything close to that, with the Major League Soccer playoffs averaging little more than 300,000 per broadcast. However, both FIFA and broadcasters know full well that the World Cup is its own event that comes with a distinct premium.
As mentioned earlier, the average World Cup audience for ESPN and Univision combined still exceeds the regular-season output of any sport other than the NFL and runs neck-and-neck with prime time NFL coverage. The U.S. team's matches not only put up NFL numbers but outperform one of its most lucrative properties in Monday Night Football. The NFL was able to squeeze ESPN for close to $2 billion per season for that offering. FIFA is getting little more than $500 million per World Cup for English- and Spanish-language World Cup broadcasts combined.
With the U.S. showing an active interest in World Cup soccer far beyond anything it's shown before, why not squeeze it for more? Well, for one, the time zones aren't always going to line up this well. The World Cup moves to Russia in 2018 and Olympic broadcasts began as early as 3 a.m. Easter/midnight Pacific. The gold-medal hockey game between Canada and Sweden went on the air in Toronto at 6 a.m. in in Vancouver at 3 a.m. That 6 p.m. ET start for U.S.-Portugal just won't happen in 2018 unless there's some creative scheduling or networks decided to broadcast on delay, which is ill-advised when all the match information is available online.
For another, while ratings have grown for U.S.-Mexico matches, World Cup qualifiers and CONCACAF Gold Cup matchups, the U.S. hasn't shown a whole lot of consistency in its soccer viewing habits. English Premier League, La Liga and MLS matches on sports networks still don't register a blip in weekly U.S. ratings, while the recent World Cup uptick that included 9.5 million viewers tuning in just for the opener between Brazil and Croatia has only this year broken the majority of U.S. viewers out of the habit of only watching matches on broadcast television, weekends or holidays.
The U.S. television market has tremendous potential for both FIFA and future World Cup broadcasts. For now, however, both viewers and U.S. television sponsors should be grateful for the bargain.
-- Written by Jason Notte in Portland, Ore.
>To contact the writer of this article, click here: Jason Notte.
>To follow the writer on Twitter, go to http://twitter.com/notteham.
>To submit a news tip, send an email to: tips@thestreet.com.
-- Written by Jason Notte in Portland, Ore.
>To contact the writer of this article, click here: Jason Notte.
>To follow the writer on Twitter, go to http://twitter.com/notteham.
>To submit a news tip, send an email to: tips@thestreet.com.
RELATED STORIES:
>>U.S. World Cup Is An Iffy Investment
>>5 Biggest Countries Missing The World Cup
>>Money Talks In Spanish During U.S.-Televised World Cup
Jason Notte is a reporter for TheStreet. His writing has appeared in The New York Times, The Huffington Post, Esquire.com, Time Out New York, the Boston Herald, the Boston Phoenix, the Metro newspaper and the Colorado Springs Independent. He previously served as the political and global affairs editor for Metro U.S., layout editor for Boston Now, assistant news editor for the Herald News of West Paterson, N.J., editor of Go Out! Magazine in Hoboken, N.J., and copy editor and lifestyle editor at the Jersey Journal in Jersey City, N.J.