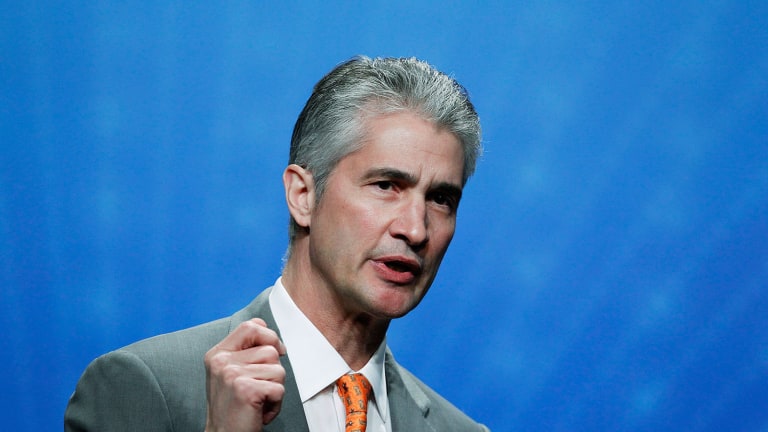 Why Dump Smisek? United Wasn't First Airline to Fly a Pol's Route
United CEO Jeff Smisek was apparently dismissed for doing something airlines have long done -- establishing flights that benefit politicians.
United CEO Jeff Smisek was apparently dismissed for doing something airlines have long done -- establishing flights that benefit politicians.
NEW YORK (TheStreet) -- If former United (UAL) - Get Report CEO Jeff Smisek was forced out solely because the carrier set up a flight to accommodate a politician, it is entirely possible that someone was overreacting.
The practice of establishing flights or increasing flight frequencies in order to accommodate politicians, with profitability a secondary concern, is long-established in the airline industry. It was perhaps most common at US Airways, now part of American (AAL) - Get Report . For decades, US Airways has been the primary carrier at Ronald Reagan Washington National Airport, the preferred airport for members of Congress.
Smisek resigned Sept. 8 amid a federal investigation into whether, in return for considerations at Newark Airport, the airline began flying a route between Newark, N.J., and Columbia, S.C., so that David Samson, then chairman of the Port Authority of New York and New Jersey, could easily get to his weekend home in Aiken, S.C.
The flight operated only on Thursday evening and Monday morning. It was cancelled in March 2014, three days after Samson resigned.
According to a former US Airways executive, who asked not to be named, routes that were started or expanded in the 1990s and 2000s in order to benefit politicians included National to Charleston, S.C., home of South Carolina Sen. Ernest Hollings, who was ranking member on the Commerce, Science and Transportation Committee; National to Portland, Maine, accommodating Sen. Olympia Snow; and National to Rochester, N.Y., home of U.S. Rep. Louise Slaughter.
"I do not believe that there ever was a quid pro quo," the former executive said. That fact would have distinguished what US Airways did from what United and Smisek apparently did. US Airways, the former executive said, reasoned that "it could perhaps profit financially from adding new service or increasing flight frequencies while at the same time supporting the interests of the respective member of Congress and their constituents."
Considerations were not limited to flights. In 2002, The Charlotte Observer reported that US Airways had a special arrangement with Sen. Hollings and his wife: If they complained about high fares, they could get lower ones.
But Hollings and his wife didn't know about the arrangement and never used it, spokesmen for the senator and the airline told the newspaper. "This was at the discretion of US Airways," said Hollings spokesman Andy Davis. "And how can you use it if you don't know it exists?" The stipulation had been in US Airways' reservation system for about a year and was removed after the story appeared.
"We didn't know how it got in there, (and) the senator's office didn't ask for it," US Airways spokesman Chris Chiames told the newspaper. "We felt no obligation to leave it in there because of some previous management decision."
Also, US Airways had a special manager who dealt exclusively with high-value frequent flyers, including members of Congress.

American continues to have "dedicated agents who help [members of Congress] book their travel," said spokesman Casey Norton. "These are only made available due to the unique challenges of unpredictable travel schedules faced by members of Congress."
The arrangement "is operated strictly in accordance with the ethics rules of the House and Senate and is reviewed by both inside and outside legal counsel," he said. "There are no upgrades or special favors offered to elected officials."
Norton said American often fields suggestions or requests from politicians and others to begin new routes, but it "absolutely does not" establish routes solely to benefit politicians. "We would look at those and determine whether they make commercial sense," he said.
Additionally, "in numerous cases where we have made commercial decisions to cancel routes despite political leaders who asked us to do otherwise," Norton said. In particular, following the 2013 merger between American and US Airways, 17 cities lost National flights because an agreement with the U.S. Justice Department forced divestiture of National slots.
Despite the cutbacks, Charleston; Portland, Maine; and Rochester continue to enjoy frequent service, a likely indication of profitability.
"Politicians sometimes work with airlines to improve services, like Rep. Slaughter did," said Slaughter spokesman James Owens. "The intent is to expand service for constituents, not to receive personal gain."
Regarding the Newark to Columbia, S.C., route, which was operated by regional carrier ExpressJet, The Record newspaper reported in February that only 51% of seats were filled from September 2012 through March 2014, compared with an average of 79% for all ExpressJet flights.
 "Authorities will have to decide whether the flight, first reported by The Record, was a sweetener during negotiations -- one illegally offered by the airline or demanded by Samson -- or something more innocuous," the newspaper reported on Sunday.
Aviation consultant Bob Mann said "there's nothing new" about airlines adding flights for political reasons. As for Smisek's forced departure, Mann said it is difficult to ascertain the exact reason.
After five years of problems at United, including customer service issues, labor issues, and technology issues, "it may be that the board lost confidence in him," Mann said. "He's been under pressure for a long time."
In similar prosecutions involving corporate executives, "it's rarely what is done that's a problem," Mann said. "If you look through white collar cases, they often involve borderline business as usual. But the problem becomes misrepresenting it under questioning or in response to a subpoena -- that's what creates bad outcomes."
In any case, he said, the focus of the federal investigation appears to be the conduct of the Port Authority and perhaps of New Jersey Gov. Chris Christie; Smisek's career, it turned out, was nothing more than "collateral damage" in that investigation. 
This article is commentary by an independent contributor. At the time of publication, the author held no positions in the stocks mentioned.