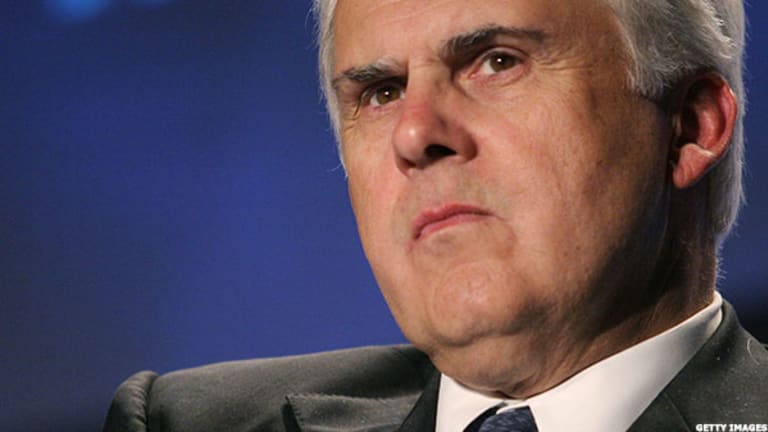 Why Donald Trump Should Pick FedEx CEO Fred Smith as His VP Choice
'Trump-Smith: We Deliver' has a nice ring to it, but that's not the only reason Donald Trump should tap FedEx CEO Fred Smith for vice president.
Republican frontrunner Donald Trump has indicated that he is leaning toward picking an experienced politician for his vice presidential choice. His reasoning is that he has the business common sense under control, but he will need help in dealing with Congress after he wins the presidency in November.
This argument is not totally without merit, but is is the wrong analysis in terms of what Trump needs in order to actually win the November election and then to govern. In fact, Trump should ignore this kind of wisdom and go with what has gotten him to where he is and listen to what his voters are calling for. 
People are not going to vote for Trump because he's got an experienced Washington hand on the ticket. In the eyes of the people, career politicians aren't effective at managing. And our most famous and most prominent politicians have no significant or meaningful experience outside of politics -- and many voters aren't happy with the results.
People are attracted to Trump because he's a businessman. He's been doing deals and building a business in the real world, for over 40 years. To many voters, this is the best experience to deal with the mess that's been building up in Washington D.C.
If Trump were to pick a traditional politician for VP, he would dilute his brand dramatically, and his electoral prospects along with it. Trump has gotten this far in part because he's a "businessman-outsider" in the race. He's never been elected to anything: He's been in the business world, solving real problems, meeting payroll and keeping to a budget -- and that's a good thing. 
So, given the choice of going the conservative "old hand politician" route for VP or doubling down on a businessman-outsider, Trump should definitely double down.
Trump is half-right that he needs an experienced hand as VP -- but not an experienced politician. He needs an experienced businessman, with impeccable reputation: Fred Smith, founder and CEO of FedEx (FDX) . He founded the company in 1971 and has led it ever since. FedEx is one of the world's most successful companies and one of the most beloved, too. Who doesn't like speedy and on-time delivery?
Furthermore, FedEx stands in contrast to what many would consider the liberal or Democratic party preference for organizing society: the U.S. Post Office. Do you like the U.S. Post Office? It's not a popular institution. ConsumerAffairs.com gives it a one-star rating and you can read many customer complaints here. 
But perhaps the best reason is the campaign slogan, which writes itself: "We deliver." It's relatively non-partisan and non-ideological. It's about results.
With Smith as VP, Trump reinforces his brand. In fact, he lifts it up one level, seeing as Smith is a calm man who has impeccable credentials not only as a founder and CEO, but also as an economist. It's also important to note that Smith has been considered for a U.S. cabinet position: He was looked at twice for defense secretary under George W. Bush in 2000 and 2006. He declined because he had a severe illness in the family.
But the time may now have come for one of America's most iconic, serious and credible businessmen, to seek even higher office. If Trump realizes what the true strength of his brand is, and Smith agrees to serve, he will be Trump's best choice to win in November and to govern most effectively. At the very least, complicated government bureaucracies like the U.S. Post Office and the DMV will get the Smith treatment in efficiency. 
If Fred Smith is unable or unwilling to run as VP on Trump's ticket, who else should Trump choose?
One obvious candidate is former General Electric CEO Jack Welch. Yes, he's 80 years old, but if there ever were a force of nature with the energy that could match Trump's, it's Welch.
Another potential candidate is former Cisco CEO John Chambers. While nominally a Republican, Chambers is mostly viewed as technocrat with an unusual ability to speak off the cuff. Like Trump, Chambers gives talks without notes or teleprompters better than anyone.
General Electric and Cisco are holdings in Jim Cramer's Action Alerts PLUS Charitable Trust Portfolio. See how Cramer rates the stock here. Want to be alerted before Cramer buys or sells GE or CSCO? Learn more now.
One more possibility would be Home Depot co-founder Ken Langone. Like Jack Welch, he's 80 years old, but likewise a force of nature. He's also already on board supporting Trump, so that may make him more realistic to accept the offer.
The thing about these VP picks, is that they are no spring chickens, all born in the 1940s or 1930s. Lately, there's been an urge for the U.S. electorate to go with the younger candidate (Clinton in 1992, 1996, Obama in 2008, 2012). If so, it may be time for Trump to go with a younger person, even if only slightly younger. But who could it be?
Certainly the Republican field had no shortage of attractive new talent. Florida Senator Marco Rubio, Texas Senator Ted Cruz, former HP Chief Executive Carly Fiorina and New Jersey Governor Chris Christie come to mind. They could all have done well at the top of the ticket, or as VP for any of the other non-Trump candidates.
However, for Trump it's different. Trump's brand is business, and he successfully attacked the other candidates by saying that they are do-nothing politicians. Why would he want one of those on the ticket with him? It would dilute the Trump business brand.
And, besides, he understands marketing. How could he pass up something as good as "Trump-Smith: We Deliver"?
This article is commentary by an independent contributor. At the time of publication, the author held no positions in the stocks mentioned.  However, positions can change at any time.