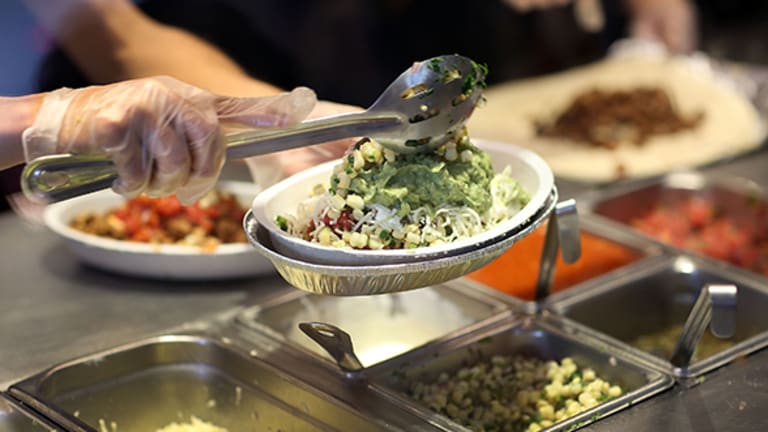 Why Dinner's About to Start Eating More of Your Wallet
An usual confluence of weather is conspiring to push the prices of basic foodstuffs higher, and that may crimp margins at chains like Starbucks and Chipotle.
New York (TheStreet) -- If food prices start taking a bigger bite out of your wallet in the near future, you can blame it on Mother Nature.
A confluence of events including strange weather from El Nino, activity on the solar surface, and the effects of a U.S. drought years ago are reducing agricultural output, which may drive up grocery store prices for individual consumers and supply costs for dining chains like Chipotle Mexican Grill (CME) - Get CME Group Inc. Report  and coffee shops like Starbucks (SBUX) - Get Starbucks Corporation Report
The current El Nino weather system, which periodically forms off the Pacific coast of South America and alters weather patterns throughout the world, is projected to be the strongest in decades, according to AccuWeather.
Already, El Nino is causing drought in Asia, most notably in Vietnam, which is the second-biggest coffee producer in the world behind Brazil. Vietnam grows robusta beans, and while their taste isn't typically as appealing as that of arabica beans, what happens in the robusta market matters.
"If robusta production is down, then it will drive up the price of arabica as well," says Nicholas Gentile, managing partner at New York-based commodity trading adviser Nick Jen Capital Management. It's possible that any production shortfall from drought in Asia could be made up by more output in South America, he added.
If all goes well, the rains will come to Asia in time, but if they don't, then expect coffee prices to rise.
If you want milk with your coffee, then things look even bleaker because that's likely to be more expensive as well.
Milk prices have already jumped in New Zealand and in the first six months of 2016, U.S. prices will catch up, Shawn Hackett wrote in a recent edition of The Hackett Money Flow Commodity Report. The problem is that due to a drought years ago, the price of milking cows is high while current American milk prices are low, which gives diary farmers little incentive to add cows to their herd.
Finally, the number of spots on the sun has started its periodic cycle of decline this year, which will likely lead to lower crop yields and hence higher prices for grains such as wheat and corn. The phenomenon is discussed in detail in a 1976 USDA report from the U.S. Department of Agriculture that examined data from 1866 to 1973.
The number of sunspots fluctuates in a fairly predictable cycle that tends to last around 10 to 11 years. NASA actually counts the spots and makes projections about how many there will be in future years. While the mechanism isn't understood, there does appear to be a high correlation between spot count and global temperatures, with fewer spots being associated with cooler weather.
NASA projects that the sunspot count is entering its cyclical decline and doing so from a fairly low peak. That doesn't augur well for crop yields next year. 
"Lower-than-average yields are associated with low sunspot activity," according to the Agriculture Department paper, "Do Sunspot Cycles Affect Crop Yields?" by Virden L. Harrison. The report singles out corn, wheat and rice as particular examples of the phenomenon.
The effect, however it occurs, can be large, although it does vary by crop and the location within the U.S. Declines in average yield of 10% during low sunspot years were not uncommon in the study period. 
"The bottom line is that the great U.S. crop production miracle of the last two years will not repeat in 2016," Hackett wrote in a recent report. 
This article is commentary by an independent contributor. At the time of publication, the author held no positions in the stocks mentioned.