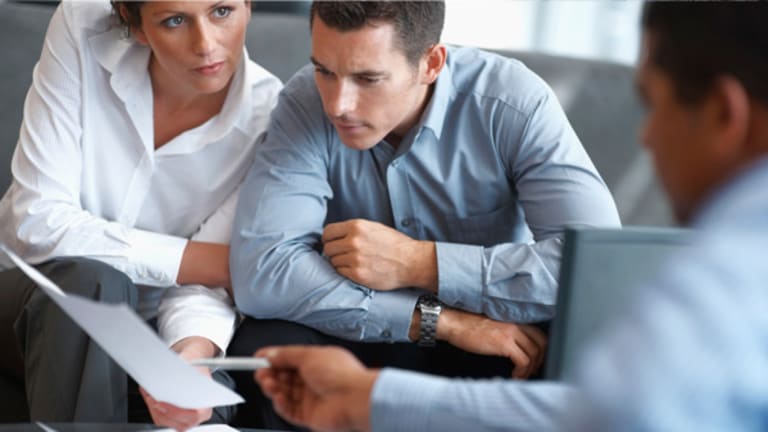 Why Did I Just Buy an HP TouchPad?
The discontinued tablet can be had for a steep discount, but it's still not worth the price.
BOSTON (TheStreet) -- After nabbing a Hewlett-Packard (HPQ) - Get HP Inc. (HPQ) Report TouchPad at a fire-sale price, I'm now left with the sting of buyer's remorse for betraying my love for all things Apple (AAPL) - Get Apple Inc. (AAPL) Report.
While trolling Twitter for news updates on Libya and Gaddhafi on Sunday, I came across a post that linked to a forum collecting reports on where the
discontinued HP TouchPad could be bought at a steep discount
. To snag a $600 device for only $149, the deal was too irresistible to refuse. Without thinking, I clicked the link, was transferred to someone's
Amazon.com
(AMZN) - Get Amazon.com, Inc. Report
store, and purchased the TouchPad.
I don't need another tablet computer, to be sure. I already own an Apple iPad 2 and I'm perfectly content with it. But, I thought, this would make a terrific (and cheap) Christmas gift for my mother, who refuses to take the plunge and buy an Apple device. She loves her HP desktop and she still maintains her purchase of an HP netbook was a good decision, so I'm thinking she'll love an HP tablet. It took no longer than two minutes for me to complete the transaction.
Two days later, I'm regretting the decision immensely, questioning how I could become one of the herd that jumped at a cheap deal. Of course, I'm part of the same herd that buys into the Cult of Apple, so there is a bit of irony. Even though it's meant to be a gift for someone, and even though I bought the device at a 75% discount to its retail price, I now feel like a fool caught up in the rush. I'm wondering how many people feel the same way I do now.
My face is illustrated in the dictionary next to "Apple fan boy." In addition to iPods from various generations and the iPad 2, my home is equipped with an iMac, an Apple Time Capsule, an Apple TV, an iPhone and a MacBook Pro. I've bought my fair share of apps. I've disowned my local record shop and purchase my music through iTunes. I cancelled my
Netflix
(NFLX) - Get Netflix, Inc. (NFLX) Report
subscription and now only rent one movie per month on the Apple TV.
I'm well aware of the criticism reserved for people like me who live in the Apple ecosystem. And, no, I don't wear black turtlenecks or New Balance shoes. I know I'm paying a premium when I buy the latest Apple device, which does the same things other devices do. And I know full well that whatever I buy from Apple will instantly become obsolete in less than a year's time.
I'm also sure that whatever I purchase from Apple will not disappoint, which is one of the main reasons I migrated from a
Dell
(DELL) - Get Dell Technologies Inc Class C Report
desktop to an Apple laptop in 2003. Apple's software is the most easy to use. It's intuitive and functions in a way that doesn't make me want to rip out my hair. I'm looking at you,
Microsoft
(MSFT) - Get Microsoft Corporation (MSFT) Report
. The Mac laptop I bought eight years ago, before
Intel
(INTC) - Get Intel Corporation (INTC) Report
chips were introduced, still operates flawlessly.
Now look at what I've done. I've saddled my mother with a dead-in-the-water tablet and a software platform in WebOS that hasn't seen the same support from developers as Apple's iOS or
Google's
(GOOG) - Get Alphabet Inc. Class C Report
Android. I'm wondering whether QuickOffice will put out a release that will allow my mom to edit Word and Excel documents on the TouchPad. These are not the things you should have to be concerned with, even if the price is right for a dead piece of hardware.
Should I have been less of a cheapskate and bought her an iPad 2 instead? Probably. The iPad 2 is a superior tablet device to all competitors, in my opinion. There are even reports that the HP WebOS team found that the operating system ran
much faster on the iPad 2 than on the TouchPad
, which is a piece of hardware
designed specifically for WebOS
. And what happens in a year or so? My iPad 2 will likely retain a high resale value. The HP TouchPad? Not likely.
So, mom, if you're reading this, Merry Christmas. I'm going to give you the TouchPad as soon as it arrives at my house, assuming the order actually gets filled. Who knows what apps and games will be supported for the device in four months. I better get you a copy of
Angry Birds
now.
I'm not about to make the same mistake. My mother-in-law saw her Dell laptop die a few days ago due to a corrupt hard drive, less than a year after she bought it. Dell wants to charge us more than $200 to replace the drive. Thanks, but no thanks. I think I'll get her a new iPad 2 instead.
-- Written by Robert Holmes in Boston
.
>To contact the writer of this article, click here:
Robert Holmes
.
>To follow Robert Holmes on Twitter, go to
http://twitter.com/RobTheStreet
.
>To submit a news tip, send an email to:
.
Disclosure: TheStreet's editorial policy prohibits staff editors, reporters and analysts from holding positions in any individual stocks.