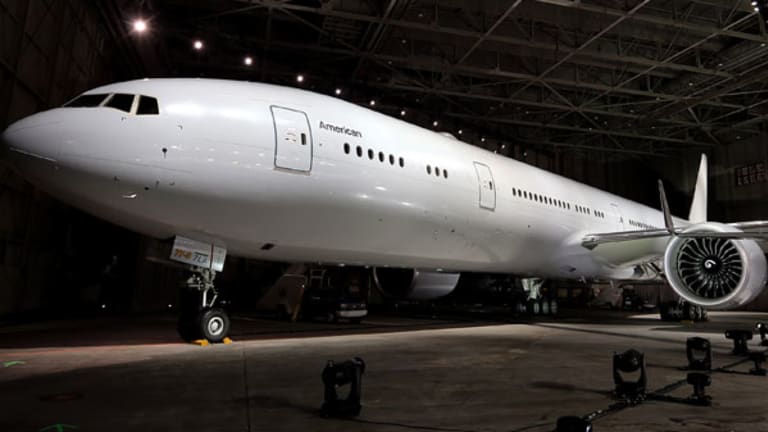 Why Delta Pays More Than Emirates for Boeing Planes
Boeing can offer foreign customers low-cost financing from the Ex-Im Bank. U.S. airlines must pay more.
WASHINGTON (
) -- Once again, let's review the lingering puzzle of why
Boeing
(BA) - Get Boeing Company Report
gets a private bank to finance aircraft purchases by wealthy foreign airlines to the detriment of U.S. airlines, and why that bank won't follow the rules Congress and the courts have made for it.
The Export-Import Bank of the United States is our country's official export credit agency. Its mission is to assist in financing the export of U.S. goods and services to international markets. Last week,
Delta
(DAL) - Get Delta Air Lines, Inc. Report
,
Hawaiian
(HA) - Get Hawaiian Holdings, Inc. Report
and the Air Line Pilots Association filed suit against the bank in U.S. District Court in Washington, D.C., alleging that it didn't follow the law in assessing whether to provide low-cost financing to five airlines seeking to acquire Boeing aircraft over the past 10 months.
Financing Boeing aircraft accounts for an exceedingly large chunk of the Ex-Im Bank's business. In fiscal 2012, its total exposure to outstanding financial commitments was $107 billion, of which 45% was for air transportation loans and loan guarantees, according to the lawsuit. All or nearly all of that involved helping customers at Boeing. From fiscal 2001 to fiscal 2012, the bank approved more than $67 billion in loan guarantees to foreign carriers and international aircraft lessors, enabling foreign airlines to acquire more than 950 aircraft at below market rates, according to the lawsuit.
Of course, underwriting loans to airlines from poor countries, if those airlines are unable to obtain reasonable financing on their own, makes sense because efficient air service is a key component in assuring a country's financial viability. As the world's leading power, the U.S. has long assumed a responsibility to assist poorer countries in building their economies.
But the Ex-Im Bank's airline clients over the past 10 months are hardly poor. Rather, the list includes
Emirates Airlines
and
Etihad Airways
, which are owned by the wealthy governments of Abu Dhabi and Dubai;
LATAM Airlines Group
, operator of the largest airlines in Chile and several other South American countries;
LOT Polish Airlines
and
Korean Air Lines
. None of them are from economically disadvantaged third-world countries. In fact, all of them get more backing from their country's governments than U.S. airlines do.
Even before the latest round of guarantees, the same five airlines had secured more than $13.5 billion in loan guarantees over the past 15 years, the suit contends.
The lawsuit filed questions why the bank failed to honor requirements included in the Export-Import Bank Reauthorization Act of 2012, which Congress approved in May. Reflecting concerns Delta raised in earlier lobbying and a previous suit, the reauthorization act requires the bank to "develop and make publicly available methodological guidelines (for use) in conducting economic impact analyses or similar studies," of the impact of its decisions on U.S. jobs, to respond to comments and to publicly report whether its financing actions enable competition with U.S. industries.
Since the act's approval, Emirates, Etihad, Korean, LATAM and LOT have secured loan guarantees. But for each transaction, the bank "performed no meaningful economic analysis," the suit said. Rather, the bank decided that "economic impact considerations were deemed inapplicable." Additionally, comments by Delta and ALPA were not considered, the lawsuit said, adding "The bank's approval of these guarantees for widebody aircraft, without any consideration of the plaintiffs' comments and the adverse effects on U.S. industry and employment that the guarantees will have, violates the bank's charter, the Export-Import Bank Act of 1945 as amended by the reauthorization act and the administrative procedure act."
Boeing is a pillar of the U.S. economy. It is the largest U.S. exporter. It directly employs 165,000 people in the U.S. and supports an estimated 1.4 million jobs through its U.S. supply chain. It spent more than $42 billion last year with 17,000 U.S. suppliers. It makes valuable products for which there is worldwide demand. Not only that, it operates one of the best lobbying efforts in Washington, with its commercial aircraft side supplemented by a defense business where lobbying is everything.
Given all that, does Boeing really need to have the ability to disadvantage U.S. airlines when it sells airplanes?
Here the point is often made that European banks do the same thing for
Airbus
customers. In other words, the other guy does it, so we have to do it too! It is probably worth noting that U.S. airlines are not eligible for government-backed financing when it comes to buying Airbus jets. Thus, the entire world can hold hands and join together in discriminating against U.S. airlines.
You would think that airlines would be up in arms, but no. Airlines, like everybody else, play politics, so Delta fights this battle without support from the other two global U.S. airlines. Boeing is on the creditors committee in
American's
(AAMRQ.PK)
bankruptcy.
United
(UAL) - Get United Airlines Holdings, Inc. Report
seems to have some sort of alliance with Boeing, based perhaps on Continental's long-time status as a Boeing-only airline, perhaps based on their relationship as prominent Chicago companies. For its part, ALPA, which has joined in the suit, believes it should
held by U.S. airline pilots. And Hawaiian competes with various international airlines.
Spokespersons for Boeing, the Ex-Im Bank and United declined to comment for this story.
By the way, Emirates announced on Monday that it has begun selling seats for its first trans-Atlantic flight: New York to Milan, for which service begins Oct.1. The flight will compete with Delta service on the same route. "The connection will be a game change for business travel," Emirates proclaimed, in a press release. In Milan, the flight will connect with Emirates' flight to Dubai, while at JFK it will connect with
JetBlue
(JBLU) - Get JetBlue Airways Corporation Report
flights. Among the many amenities available will be complimentary chauffeur-driven airport transportation for first and business class travelers. The aircraft? A Boeing 777-300ER.
-- Written by Ted Reed in Charlotte, N.C.
>To contact the writer of this article, click here: