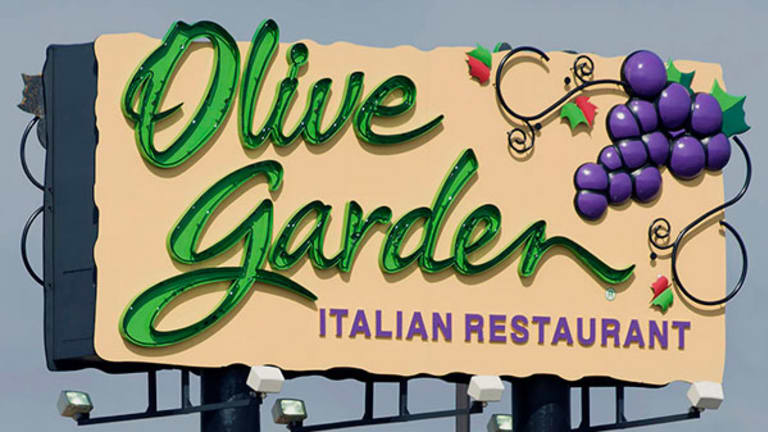 Why Darden's Troubles Aren't Over Despite CEO's Departure
Restaurant chain is in a long-term free-fall and may have trouble attracting a top executive
NEW YORK (TheStreet) -- Executive change is coming to beleaguered restaurant operator Darden (DRI) - Get Free Report. It couldn't arrive quickly enough.
On Monday, Darden announced that long-time chairman and chief executive officer Clarence Otis was "stepping down" at the end of the year or when a successor is named, whatever comes first. Appointed CEO in 2004, Otis was lauded in Monday evening's press release for having overseen a total shareholder return of 133% during his tenure. The announcement also noted that the number of restaurants rose during the same period to more than 2,200 from 1,381 as Otis primarily expanded the Olive Garden, Red Lobster, and Longhorn Steakhouse chains.
What Darden neglected to mention--but what activist investment fund Starboard Value would quickly point out--are the problems that have befallen the company with Otis at the helm. The business is in a long-term free-fall--owing to demands by consumers for fast service and fresh, locally sourced ingredients--so the company may have trouble finding a top excecutive to replace Otis. That potential void in leadership, and the financial trends themselves, should be of major concern to Darden shareholders.
Although Darden completed the $2.1 billion sale of Red Lobster to private equity firm Golden Gate Capital on the day that Otis stepped down, the unit's poor performance is a reflection of Otis' stewardship. Red Lobster's same-restaurant sales have declined in five of the past six quarters, according to Bloomberg data. Olive Garden has had the exact same results, while Longhorn Steakhouse continues to be a lone bright spot, having posted five consecutive quarters of same-restaurant sales gains.
<<
From the quarter-ended Nov. 28, 2004 to the just-completed quarter on May 25, Darden's return on equity has shrunk to 13.58% from 19.22%, per Bloomberg figures. The company's operating profit margin through that period has gone from a respectable 9.45% for a restaurant business to 5.11%.
Watch More: Domino's CEO Says Big Ideas are in the Oven (Exec Interview)
Otis's lack of vision around the menu and interior layouts of the restaurants underscore the obvious market share loss to fast casual chains Chipotle (CMG) - Get Free Report and Starbucks (SBUX) - Get Free Report. It's as if dollars have flown right from the registers of Olive Garden and Red Lobster into those hipper-looking restaurants with their more relevant menu offerings.
Starbucks' same-store sales have increased for 11 straight quarters, as the company introduced a new evening menu rooted in small plate options for groups and specialty drinks, namely shaken iced teas from the Teavana brand. Chipotle has notched an impressive five consecutive quarters of accelerating same-store sales growth, including two quarters in a row of double-digit percentage increases.
Menu of Failure: Darden
No quick-service breakfast daypart. Yum Brands'  (YUM) - Get Free Report Taco Bell division has had success with its new breakfast menu headlined by the Waffle Taco and the AM Crunchwrap. Chipotle is bringing its vegan friendly, tofu item called Sofritas to more locations to address consumers hunkering for a pre-lunch option from fast casual chains. Sofritas are now available in 27 states.
The interiors of Olive Garden, Red Lobster, and Longhorn Steakhouse have not made the shift to fast casual serving. A new Olive Garden logo won't cut it, consumers want to bypass the waiter and waitress and watch their food being prepared.
No drink innovation, in spite of Starbucks unveiling new shaken iced teas and smoothies that are helping to lift its average guest check. Olive Garden has two smoothie flavor options for consumers, but look to be an afterthought as they have not been heavily promoted.
No burger innovation at Longhorn Steakhouse. Companies from Wendy's (WEN) - Get Free Report to Sonic (SONC)  continue to focus on new burger toppings and pretzel buns.
Watch More: Chipotle Just Said 3 Amazing Things on its Earnings Call
For Otis' failed leadership amidst significant change in the restaurant business (and overseen by a highly criticized board), he has been lavishly compensated. Based on Bloomberg data, Otis has amassed $46.0 million in total compensation (stock awards, option awards, non-equity awards, and all other compensation) since 2005. Darden's stock price has done anything but support that type of compensation package. From November 2004 to today, Darden's stock has risen 79.75%. As for Darden's competitors, their stock prices have skyrocketed in that same period:
Starbucks: +194%
Chipotle: +2,981%
Brinker International (EAT) - Get Free Report: +107.5%
Panera Bread (PNRA) : +308.6%
McDonald's: 252.4%
Buffalo Wild Wings (BWLD) : +1,028.4%
-- By Brian Sozzi CEO of Belus Capital Advisors, analyst to TheStreet. This article represents the opinion of a contributor and not necessarily that of TheStreet or its editorial staff. At the time of this publication, Belus Capital Advisors rated Starbucks and Chipotle a buy. Brian Sozzi is the CEO and Chief Equities Strategist of
. He is responsible for developing and managing an equities portfolio of mid- and large-cap positions, in addition to leading the firm's digital content initiatives. He is also a personal finance columnist for
Men's Health
magazine.