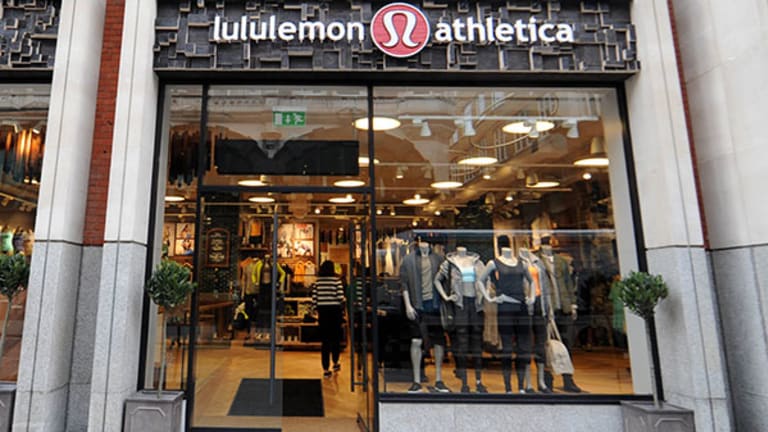 Why Customers -- And Investors -- Are Falling Back in Love With Lululemon
The apparel retailer is driving traffic and sales once again with new products that address multiple needs.
NEW YORK ( TheStreet) -- The latte-carrying, granola-eating yoga faithful are  falling back in love with Lululemon (LULU) - Get Report , and for that the company can thank innovative new products that are making customers feel better about the retailers' often hefty price tags.   

On Monday, the athletic apparel maker raised its fourth-quarter sales and earnings guidance, several weeks after saying its latest product introductions were bringing people back to its stores. "Our guests are responding positively to both the women's and men's product assortment," said Lululemon CEO Laurent Potdevin in Monday's press release. The company's shares were up over 8% in trading on Monday. 
Lululemon now expects fourth-quarter sales of $595 million to $600 million, up from the $570 million $585 million shared on Dec. 11 just prior to Christmas. Comparable store sales are seen increasing 6%-7% vs. a low-single digit percentage. EPS for the quarter was hiked to $0.71-$0.73 from $0.65-$0.69. The improved earnings outlook was likely driven by a continuation of Lululemon marking down fewer products than it had previously.
Some of Lululemon's recent products featuring hidden pants pockets to store tech gadgets or flowery prints on pants that look sexy enough to wear during a post-workout cocktail highlight how the company's ramped-up investments in R&D are once again helping to set itself apart from Nike (NKE) - Get Report  and Under Armour (UA) - Get Report . "As we moved into holiday, obviously it's such a big gift-giving time of year, we really focused with the design teams on making sure we could get that beauty and function in our product," Lululemon's Chief Product Officer Tara Poseley said on the Dec. 11 third-quarter earnings call. Poseley added that the investments in new fabrics are part of a "complete rebalancing" of the company's merchandise assortment. 
Take the "High Times" female pant priced at a cool $98. According to Lululemon's website, this workout pant with flower prints is ideal for a female who wants to "move from Hatha to happy hour, no questions asked." Or there's the "Stash It" female crop pant, also for $98, which was designed by Lululemon with plenty of zipperless pockets that could securely hold an iPhone on a run. By building in new design elements that address multiple needs, the consumer may be viewing Lululemon's pants and shirts as being worth their hefty price tag, since they do things that cheaper alternatives don't.
The Lululemon product revival, driven in large part by pieces the female consumer is unlikely to already have in her closet or drawers, ultimately places the heat back onto competitors across the industry that poached Lululemon's wealthier customers as it struggled to get interesting products to market in 2013 and 2014.
And the stream of new multi-purpose products doesn't look set to slow anytime soon. It takes about 18 months for Lululemon to develop a new fabric, and the company believes a chunk of its recent investments won't start appearing in pants and shirts found in stores and online until later this year. But females aren't the only ones getting trendier and more functional items to buy at Lululemon. Menswear, which represents about 14% of Lululemon's annual business, is being expanded online and inside of standalone stores. Moisture-wicking clothing with light reflective details to be worn on a nighttime run, and fancy backpacks that could be confidently strapped on at 5:00 pm in the office, are a couple of recent additions to the Lululemon's men's collection.
On Black Friday, Lululemon opened its first men's store in New York City's SoHo district, and has plans to unveil several more men's-only locations by 2016. Third-quarter same-store sales for men's products increased by 11% compared to a total gain for the company of 3%.
This article is commentary by an independent contributor. At the time of publication, the author held no positions in the stocks mentioned.