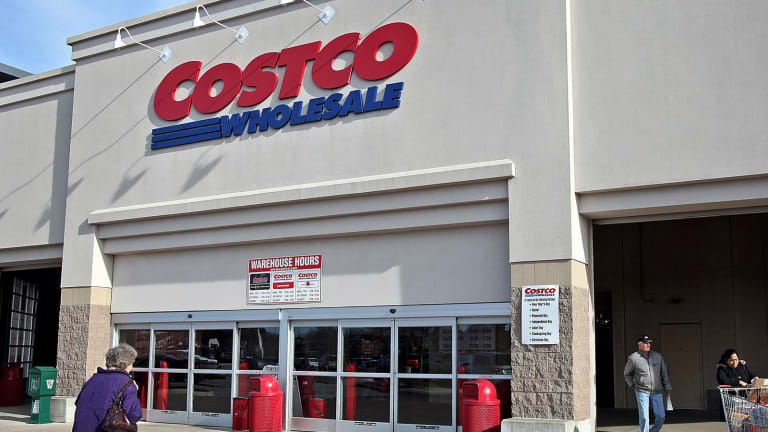 Why Costco Won't Have Any Problems Handling California's New $15 Minimum Wage
Costco has long paid its workers generously, which should help it avoid a major financial hit from California's new wage law.
Being forced by California legislators to pay workers a minimum of $15 an hour likely won't deal much of a financial blow to Costco (COST) - Get Costco Wholesale Corporation Report .
That is because Costco -- which counts California as its largest market at 31% of annual sales via its 105 stores there -- has long prided itself on paying its workers well above minimum wage, believing it helps them get better workers and retain them.
Since 2007, Costco's starting wage in the U.S. and Canada has been $11.50 to $12 an hour. After four-and-a-half years at the company, a typical Costco worker tends to earn $23 an hour.
And according to a Costco spokesman, the average hourly wage for a Costco worker in California is already $22.50.
This month, Costco increased its starting wages to $13.00-$13.50 an hour from $11.50 to $12.00 an hour, the first change in nine years. Costco estimates the change will cost it about $ 0.01 a share in the third fiscal quarter, and about $0.02 a share in each of the next three fiscal quarters.
"We want to be the premium [employer] at all levels, we're already a huge premium at the top of scale," said Costco CFO Richard Galanti to analysts on a Mar. 3 call.
Under California's new plan, the state's minimum wage, already one of the highest in the nation at $10 an hour, would rise to $10.50 in 2017, $11 in 2018 and an additional dollar each year through 2022.
On the other hand, some of Costco's competitors in the Golden State may be surprised how much paying a $15 minimum wage will end up eating into profits. Despite a recent round of pay hikes, many of those rivals' hourly wages are still well shy of the looming California standard. 
In February, Walmart (WMT) - Get Walmart Inc. Report raised its minimum wage for store workers hired before Jan. 1 to at least $10 per hour from $9 an hour, still light years removed from Costco. The average hourly wage for full-time Walmart associates (hourly only, no salaried associates included) is $13.38 an hour, and $10.58 an hour for part-time employees. 
Walmart operates about 305 stores in California, or 6% of its U.S. total. In January, the world's largest retailer allegedly shut down a store in Los Angeles, CA. due to the threat of being forced to pay workers $15 an hour. 
Last March, Target (TGT) - Get Target Corporation Report -- which has 272 stores in California out of 1,792 total in the U.S. -- hiked its minimum wage for all its workers to $9 an hour. The discount retailer has been oddly mum on its minimum wage plans, however, offering few details.
"We're going be competitive in wage -- we always assess it market-by-market, because we believe in fielding that best team in retail," Target CFO Cathy Smith told analysts on a Feb. 24 call. According to Glassdoor, a typical Target store worker earns about $9.70 an hour in California. 
Although Costco's competitors will be forced to shell out at least $15 an hour to workers in California by 2022, it's unlikely Costco will lose employees or have trouble attracting new ones.  
First, Costco gives a clear line of sight (about four years) to store employees earning in excess of $20 an hour, something that Walmart, Target and other retailers will unlikely ever be able to hang their hats on.
Further, judging by past behavior, Costco will likely lift its starting and top wages even higher compared to competitors in order to attract the best talent.  
"Costco has always stayed ahead of its competitors in terms of investing in all stakeholders, not the least of which includes its employees -- it goes above and beyond to empower its employees by creating a family-based culture and paying them premium wages of roughly 15% more than comparable companies," said Jack Mohr, the research director for the Action Alerts PLUS Charitable Trust Portfolio.  
Costco and Target are holdings in Jim Cramer's Action Alerts PLUS Charitable Trust Portfolio.
Exclusive Look Inside:
You see Jim Cramer on TV. Now, see where he invests his money and why Costco and Target are core holding of his multi-million dollar portfolio.
Want to be alerted before Jim Cramer buys or sells COST and TGT?Learn more now.

According to Mohr, the strategy is both ethically sound and financially strategic. "By treating its employees with respect and paying them well, Costco spends less time and money on training employees as their retention rate is among the highest in the industry," Mohr added.