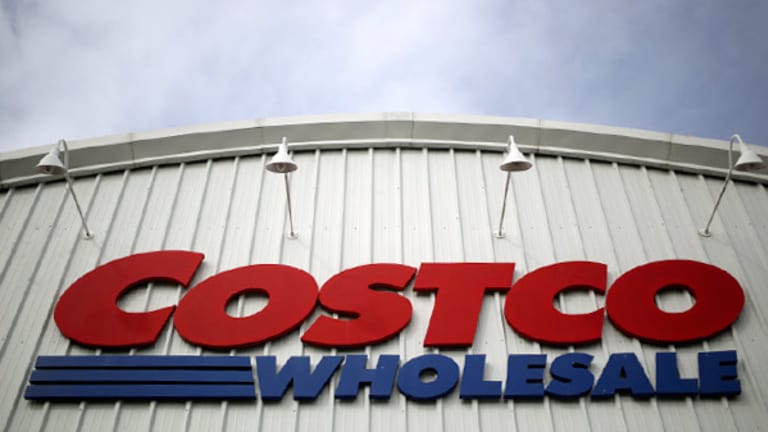 Why Costco's Migration from Amex to Visa Is a Big Blow to Wal-Mart
In the fiercely competitive mobile payments segment, retail giant Costco just packed another powerful punch at the competition.
After ending its 16-year marriage with American Express for its co-branded credit cards, Costco Wholesale (COST) - Get Costco Wholesale Corporation Reportwill start a new relationship with Citigroup and Visa on June 20 to launch a new co-branded card. The new alliance promises to deliver more value to customers while keeping the transfer seamless. It also positions Costco as one of the most appealing investments right now in an otherwise dangerous broader market.
With this new deal, Costco is giving the chills to peers like Wal-Mart, which has taken the cue and is introducing its own card-based rewards program.
But Costco seems hell bent on completely destroying the competition by making customers complete fans of its rewards program, positioning the stock for robust capital appreciation in an equity market that's expected to be tepid at beat.
What's interesting is that Costco took the step to switch over from American Express to Visa despite there being no complaints from customers. In fact, early last year when Costco decide to make the shift, 88% of almost 50,000 Costco American Express cardholders had given it a four to five star rating on the American Express site.
But Costco has found better reasons to partner with Citibank and Visa -- for itself and its customers. The biggest advantage is perhaps that that Visa is accepted at more locations than American Express.
Getting to the specifics, let's look at the existing rewards program of the American Express' TrueEarnings card.
Customers currently get 3% cash back on up to $4,000 in annual gas purchases at Costco and most other gas stations, 2% cash back at restaurants in the U.S. and on travel purchases, and 1% cash back on all other purchases.
Come June 20 when customers start using their Visa card, here's what changes: Customers will now get 1% more cash back on purchases under several heads. They will receive 4% cash back for up to $7,000 in gas purchases, 3% cash back on travel purchases and restaurants even outside the U.S., and 2% cash back on all other purchases, leading to significant savings.
The only cash back that stays the same is the 1% eligible for all other purchases, irrespective of whether or not they are made at Costco.
Also, the redemption policy remains the same where holders receive a voucher in February, which has details of their earnings in the previous year. Customers can redeem this voucher for cash or merchandise worth the same value at Costco.
If customers opt for the latter, it only means more sales for Costco. Also, Costco's liability to pay credit card fees will also be significantly lowered.
Costco has been smart enough to not disrupt customer convenience. Its co-branded Visa cards would be pre-approved and shipped to holders effectively making the switch hassle-free for them. The new Visa card has no annual fee over and above the $55 Costco membership and the unclaimed reward points would also get seamlessly transferred. These are efforts that cardholders, especially millennials, love.
With millennials, or people aged between 20 and 35, officially becoming the largest age group in the U.S. labor force, Costco has increasingly tried to increase its appeal to these youngsters. By tapping into this desirable demographic, Costco is poised to profit from multi-year demand. Millennials tend to attach strong importance to matters like convenient online shopping, fair wages for employees, and organic produce.
Costco scores on pretty much all these fronts. Compared to Wal-Mart's $13.38 an hour, Costco employees earn an average of over $20 an hour. The big-box retailer also raised its starting hourly wage to $13 in March, compared to $10 for Wal-Mart.
Competing with another big-box retailer Target in the category of organic foods, Costco is looking to increase supply responsibly by actually helping farmers buy land and equipment to grow organic produce. This goes a step ahead than offerings loans and financial assistance.
Costco also beats Wal-Mart in customer satisfaction and trumps both Wal-Mart and Target on the revenue growth front.
Ultimately, in an industry with big competitive players, Costco is experimenting with innovative moneymaking strategies, which for now at least look likely to succeed.
With 304 million Visa credit cards compared to just 45.6 million American Express credit cards in the US, it's safe to say that Costco would witness a whole new wave of traffic.
This and a host of its other efforts will help take its stock up to $198, up over 25% from its current price of $157.73, according to some analysts.
Costco is your typical growth stock with its three-year average revenue growth rate of 5.4% more than doubling the industry's 2.5%. The trend is likely to continue but comes at a premium of 29.5 times price-to-earnings (P/E) compared to 17.2 times P/E for discount stores. If superior growth than competitors and a strong business model is what you are looking for, then opt for Costco.
Coscto stock is a holding in Jim Cramer's Action Alerts PLUS Charitable Trust Portfolio. Want to be alerted before Cramer buys or sells COST? Learn more now.
85% Accurate Trader gives his Personal Guarantee. He turned $50,000 into $5 million trading this way and for a limited time, he's guaranteeing you at least $67,548 per year in profitable trades if you follow this simple step-by-step process. Click here to see how easy it is to collect thousands of dollars in "Free Money" every month.
This article is commentary by an independent contributor. At the time of publication, the author held no positions in the stocks mentioned.