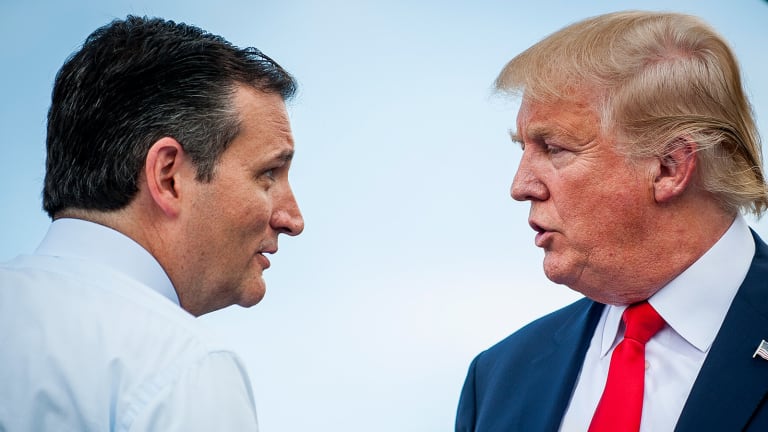 NEW YORK (TheStreet) -- The Republican presidential contenders aren't the only ones with a lot at stake in tonight's debate.
Time Warner's (TWX) CNN, which is hosting the debate, is hoping a big audience and lively discussion will help the struggling network restore some of its ratings and former glory as a cable-news channel with competitive campaign coverage. 
The first Republican debate in August was a huge win for Fox, which long ago replaced CNN as the most-watched news network. The Fox event was widely credited with holding its audience captive as Fox moderators cornered candidates with poignant questions, making it difficult for them to hedge their answers. 
Fox's debate drew an avalanche of ratings and, now, Time Warner's (TWX) CNN expects its own massive audience for tonight's second 2016 Republican national debate and is already reaping a windfall of advertising revenue after significantly increasing prices for its 30-second ad slots.
But if CNN wants to be taken seriously as a go-to stop for campaign coverage and continue to enjoy higher ad revenue, tonight's moderators must prove their journalism is on par with Fox's tough coverage, says University of Maryland Broadcast Professor Mark Feldstein.
"It's not just about ratings, it's about quality of the journalism," Feldstein said in a phone interview. "Fox set a standard, to many people's surprise, in that first debate. Can CNN reclaim the mantle of being one of the go-to networks for campaign coverage? If CNN doesn't do well at this -- if their ratings are lame and their questions are anemic -- the Republican contenders will be less likely to want to appear on CNN."
While CNN reaches more households than Fox -- 96.4 million versus 83.8 million as of July 2015, according to Nielsen -- it's primetime news ranks second. FOX's primetime viewers totaled 2.14 million versus CNN's 750,000 on Sept. 13. Third-ranked MSNBC's primetime viewers totaled 153,000.
If CNN is able to get a long term bump from Wednesday's debate it will need to do more than milk the public's apparently endless fascination with celebrity real estate developer Donald Trump. The outspoken and generally divisive frontrunner Donald Trump is fueling ratings at CNN, Fox and elsewhere.
Ratings for Fox News Channel's two-hour, prime-time debate last month drew 24 million viewers for the 21st Century Fox  (FOX) - Get Fox Corporation Class B Report (FOXA) - Get Fox Corporation Class A Report channel, and ranked it as one of the most-watched primary debates, according to Nielsen ratings.
In true form, Trump is thanking himself for boosting network ratings and ad fees and, in what many say was another headline-generating move, called for CNN to donate the proceeds from tonight's debate to the Wounded Warrior Project, a Jacksonville, Fla.,-based charity for veterans that offers programs and services for severely injured military veterans after the terrorist attacks of Sept. 11, 2001.
Trump shared the Zucker letter with reporters and on social media, noting that CNN's advertising rates increased 40 times for the debate versus its normal advertising rates, or from $5,000 to $200,000. So far, CNN, a part of Time Warner's Turner Broadcasting System, has given the Trump campaign "no response," said media coordinator Hope Hicks in an e-mail on Tuesday. 
"It's always hard to tell with Donald Trump if he meant to be taken seriously," Feldstein said. "He runs a provocateur campaign to get himself in the headlines on a daily basis ... For CNN to respond would be to give [Trump's campaign] more oxygen. I think they prefer it just goes away -- they're not in the business of donating to charities. They're in the business of trying to make money."

Calls to CNN weren't immediately returned.
The first round of the CNN debate will air at 6 p.m. New York time on Wednesday while a second round, featuring Trump, Ben Carson, Jeb Bush and others will air two hours later in a debate moderated by Jake Tapper, Dana Bash and Hugh Hewitt. Comcast's (CMCSA) - Get Comcast Corporation Class A Report CNBC will air its own Republican debate on Oct. 28.
This article is commentary by an independent contributor. At the time of publication, the author held no positions in the stocks mentioned.