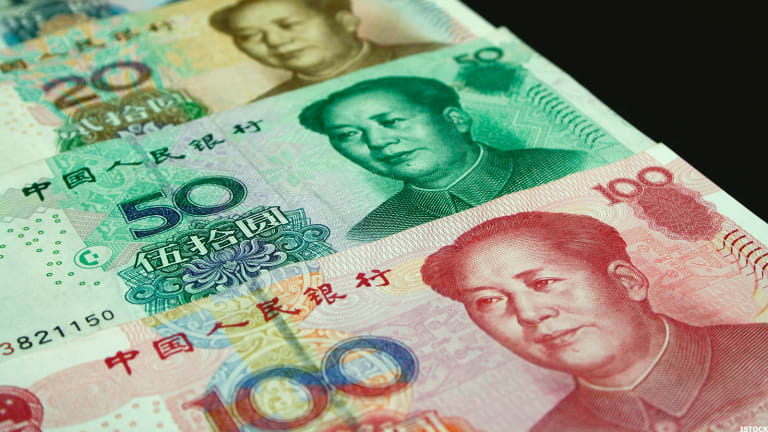 Why China's Yuan Devaluations Won't Help Its Economy
The abrupt drops in the Chinese yuan will likely do more harm than good for that country's economy and for its stocks. Simon Constable explains.
NEW YORK (TheStreet) -- China's abrupt currency devaluations this week won't save its economy. If the moves spark a bounce in stocks, then investors who have been burned by the tumbling Shanghai market, down 20% since the beginning of June, should use the opportunity to sell into rising prices. Or failing that, just dump Chinese stocks.
The reasons for weakening the Renminbi yuan are clear: To make China's exports cheaper in terms of foreign money, most notably U.S. dollars. The problem is that while it may boost exports, there are other consequences that will do more harm than good.
"There's a wealth of evidence across the emerging world that currency depreciation is followed not only by inflation but by reduced growth," according to a report from consulting firm HCWE Worldwide Economics earlier this year.
The inflation effect occurs because imported goods, as well as anything priced in U.S. dollars like oil or copper, will be more expensive following a devaluation. That is a relatively well-known phenomenon. The bigger the devaluation, the higher the inflation, the HCWE report reiterates.
Inflation also sucks the life out of consumers' wallets -- when they spend more on essentials like food, there is less left to spend on other things. That won't help with what China really needs, which is a shift from being an export-led economy to one, like America, which is fueled by consumer spending.
It gets worse. The HCWE report also highlights data from 1980 through 2012 that shows devaluations among emerging market countries are associated with lower real, or inflation-adjusted, economic growth. The bigger the devaluation, the slower the growth. Unfortunately, the moves by the People's Bank of China, the Communist country's central bank, are unlikely to be the last.
"I have repeatedly noted that Chinese officials will do ANYTHING to keep China's economy from imploding," Jeff Saut, chief investment strategist at Raymond James, writes in a recent report. "So why not a devaluation, or maybe two or three?"
In fact, Brown Brothers Harriman says that the gap between the so-called offshore yuan (which is traded in international markets) and the internal yuan points to further declines ahead.
If you follow the logic of HCWE, then more devaluations will mean higher inflation and lower growth.
And believe it or not, there's actually more bad news: the possibility of capital fleeing the country.
"Capital outflow is the one major risk that China needs to monitor," Brown Brothers Harriman says in a report. "We find that a one-off devaluation often leads markets to believe that another one may be delivered, sparking capital outflows and leading to a self-fulfilling prophecy."
Put more simply, capital flight may ultimately cause to the next round of devaluation that investors feared.
China needs capital to help grow its economy. So what little gains there may be from exports could be offset by reduced direct investment and lower domestic consumption, which will be crimped by growing inflation.
What does all this mean for investors? Not good news. At its worst, capital flight may lead to capital controls, or restrictions on taking money out of the country, as happened in Greece.
The devaluation of the currency may help the nominal value of the stock indices in Shanghai and Hong Kong. But in dollar terms, they are more likely to underperform stocks in other markets such as the United States.
The immediate reaction by investors has been to modestly mark down China-based stocks, but as often happens there may be a bounce. If that happens, use the opportunity to dump Chinese stocks, like those held in the iShares MSCI Hong Kong (EWH) - Get iShares MSCI Hong Kong ETF Report exchange-traded fund or theiShares MSCI Small Cap ETF (EWHS) , in favor of domestic shares like those held in the SPDR S&P 500 ETF (SPY) - Get SPDR S&P 500 ETF Trust Report, which tracks the S&P 500 index.
This article is commentary by an independent contributor. At the time of publication, the author held no positions in the stocks mentioned.