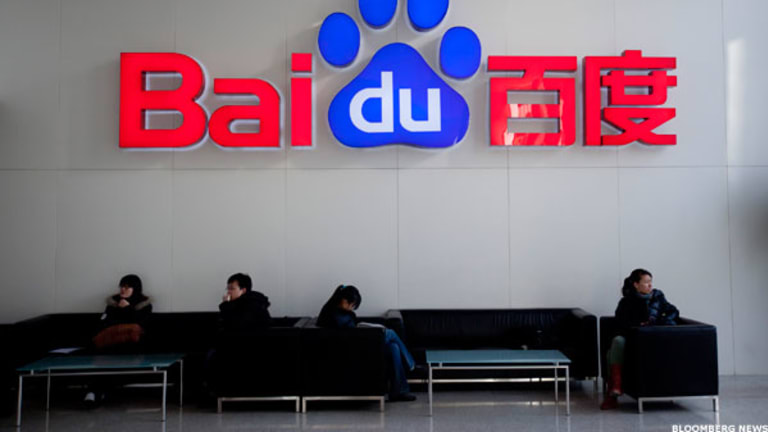 Why China's Baidu Shares Could Increase by 30% or More in 2015
China's burgeoning internet population and internet economy, combined with Baidu's valuations make it an investment worth considering in 2015.
NEW YORK (TheStreet) -- Despite a strong 2014 run, China's largest search engine Baidu (BIDU) - Get Baidu Inc. Report  still has upside in 2015 due to China's burgeoning internet population and economy.
Baidu had a great run in 2014, with its stock rising by 28%. Yet, given the company's market position and sales projects, it could be set to rise another 30% in 2015. Consider:
Recent reports on internet penetration in China are a reminder of the growth potential of China's internet economy
Baidu has clear dominance in China's online search market, well ahead of Google (GOOG) - Get Alphabet Inc. Class C Report .
In spite of the strong rally in 2014, Baidu's valuations are cheaper in terms of its price-to-sales multiple
2015 revenue estimates by analysts, indicate Baidu has a strong upside potential in 2015.
To be sure, there is risk that investors should bear in mind. The IMF has cut its forecasts for China's GDP growth in 2015, to 6.8% from 7.1%. Baidu earns almost all of its revenue from advertising. During a slowdown, budgets for discretionary spends like advertising could take a hit. Meanwhile, China is cutting interest rates to spur the economy. We won't get into predicting these outcomes though and stop at acknowledging these facts and the risks they could bring.
Internet Penetration Is Growing In China
According to one measure, China overtook the U.S. as the world's biggest economy late last year. When it comes to internet penetration though, China still lags the U.S. significantly (by about half), according to one report. Still, China has an internet user base that's more than twice that of the U.S. 
| | | |
| --- | --- | --- |
|   | Internet Users | Internet Penetration |
| China | 641 million | 46% |
| United States | 279 million | 86% |
Inevitably, internet penetration is going to increase in China. A more recent report shows that China's internet user base has grown to 649 million with an internet penetration of 47.9%, and is expected to touch 730 million in 2016. Given its dominance over the Chinese internet search market, Baidu is well placed to tie its growth to the growth of the Chinese internet economy.
Baidu's Dominance Over China's Search Market
Baidu does face stiff competition from other Chinese tech giants like Tencent, Sina and Alibaba in some of its businesses. However, Baidu dominates China's online search market.
Baidu has gained 80% of China's mobile search market share. That said, Baidu's market share on PCs has dropped to 55%. However, research suggests that many of Baidu's PC users have migrated to its mobile app. This could explain the fall in Baidu's PC search market share. With internet companies doing all they can to engage users on mobile devices, this is good news for Baidu.
As of the second quarter of 2014, Baidu controlled over 90% of the online search advertising market in China, and garnered about a third of the total online ad spend.
Baidu Revenue Growth & Profitability
In the third quarter of 2014, Baidu's revenue grew at a healthy 52% year-over-year. Baidu's growth has slowed over the years, but is still enviable at its current levels, given the shift of users from PC to mobile devices. Ads on mobile platforms typically attract lower ad-rates. As per the guidance for Baidu's fourth quarter earnings, growth could range from 45% to 49%. Analysts expect the company to come closer to the higher end of its guidance.
Having declined over the years, Baidu's net margins seem to have stabilized at around 29% in the last four quarters.
Analysts peg Baidu's 2015 revenue at about $11.12 billion (RMB 69.53 billion). These projections factor in a growth of about 41% to 42% over Baidu's 2014 revenue guidance, which doesn't appear to be a very steep target, give the business segment in which the company operates.
Baidu Valuations
Baidu currently trades at a price-to-sales multiple of 10.6 and a price-to-earnings ratio of 36.9. Baidu's current price-to-sales multiple is lower than it was in January 2014 (13.4), before its 28% rally. Its price-to-earnings valuation stands at 36.9, up marginally from 36.5 at the beginning of 2014, due to the decline in profit margins compared to a year ago.
Being conservative, even if assuming that Baidu will enjoy a much lower price-to-sales multiple of 9 in 2015, Baidu's stock could still have significant upside potential. Based on 2015 revenue estimates, Baidu valuations indicate a 31% upside potential in 2015. This still leaves enough margin of safety for a small drop in profitability or growth rates in 2015.
This article is commentary by an independent contributor. At the time of publication, the author held no positions in the stocks mentioned.