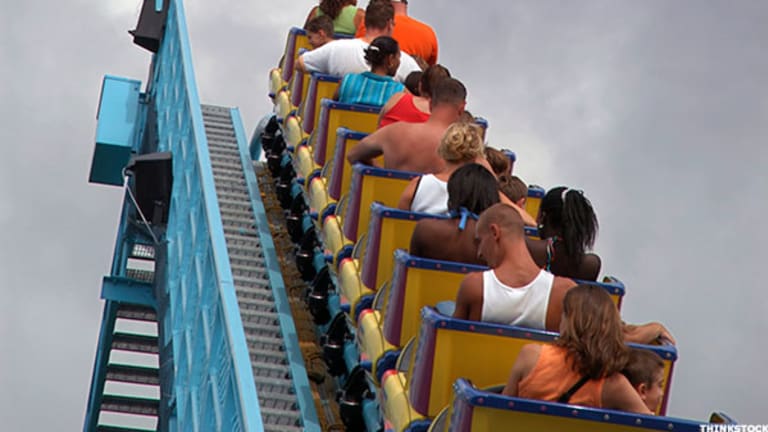 Why Cedar Fair Remains a Good Value After Its Stunning Recovery
Here's how Cedar Fair has gone from struggling theme park operator to cash flow generator.
NEW YORK (TheStreet) -- Amusement park operator Cedar Fair (FUN) - Get Cedar Fair, L.P. Reportremains a good value among resort companies after it made an impressive recovery from the financial crisis.
Back in 2010, shares of Cedar Fair looked like a promising investment. The thinking was that if the economy picked up, amusement parks would start to do well again. There are many entertainment choices for middle-income folks, and parks run by Walt Disney (DIS) - Get Walt Disney Company Report are certainly one choice. Cedar Fair had more parks, however, and they were more affordable.
During the financial crisis of 2008 and 2009, lots of consumers cut back on discretionary spending, as they tend to do during recessions and times of sluggish economic growth. That's spending on nonessential items that aren't necessary for survival, and it typically includes travel.
The stocks of theme parks, hotels and airlines got whacked.
Cedar Fair, which owns and operates 11 theme parks, four water parks and five hotels, struggled during the Great Recession. In 2009, combined attendance at its parks fell nearly 7% to 21.1 million from 22.7 million in 2008.
In turn, revenue fell $80.1 million, or 8%, in 2009, and adjusted earnings before interest, taxes, depreciation and amortization, slumped 16% to $299.9 million.
The company also had a high debt load. At the end of 2008, long-term debt was $1.72 billion, and the company paid $129.6 million to service it that year.
Cedar Fair risked violating debt covenants and ending up in default. By March 2009, the stock had fallen to $6. That was down about 50% from its 2008 low of about $12. Shares had spent much of the first half of 2008 at more than $20.
If only Cedar Fair could recapitalize and enjoy some improvement in consumer spending. Against the wishes of shareholders, Cedar Fair's management approached private equity shop Apollo Global Management (APO) - Get Apollo Global Management Inc. Class A Report for a buyout. In December 2009, Apollo offered $11.50 a share to take the company private, a nearly 30% premium to the stock price at the time.
Shareholders shocked the market by turning it down, and it was the best move they could have made, and possibly the best shareholder buyout rejection of all time, because the stock now changes hands for about $56. (Shares were trading at $55.93, down 34 cents, or 0.6%, Tuesday morning.)
Everything went right. The company refinanced its debt. Consumer discretionary spending picked up. The parks are generating regular profits and cash flow. In the last three fiscal years, the company has generated net profit of between $101 million and $108 million.
Free cash flow has bounced around, from $189 million in fiscal 2012, to $204 million in fiscal 2013, to $171 million in fiscal 2014. Almost all free cash is spun out as a dividend, which right now yields 5.4%.
The debt is $1.6 billion and costs $96 million in interest annually. Ideally, it would be less, but the company is clearly on its feet and running.
Is it a buy at this point?
It's best to value resort companies by using an enterprise value-to-EBITDA ratio instead of a price-to-earnings ratio. Cedar Fair's current EV-to-EBITDA ratio is 11.48. Meanwhile, Vail Resorts (MTN) - Get Vail Resorts, Inc. Report trades at 13.41, while SeaWorld Entertainment (SEAS) - Get SeaWorld Entertainment, Inc. Report is at 8.84, although the latter has been affected by bad publicity surrounding the treatment of its animals. Six Flags Entertainment (SIX) - Get Six Flags Entertainment Corporation Report is through the roof at 18.34.
Thus, Cedar Fair seems like a value.
This article is commentary by an independent contributor. At the time of publication, the author held no positions in the stocks mentioned.