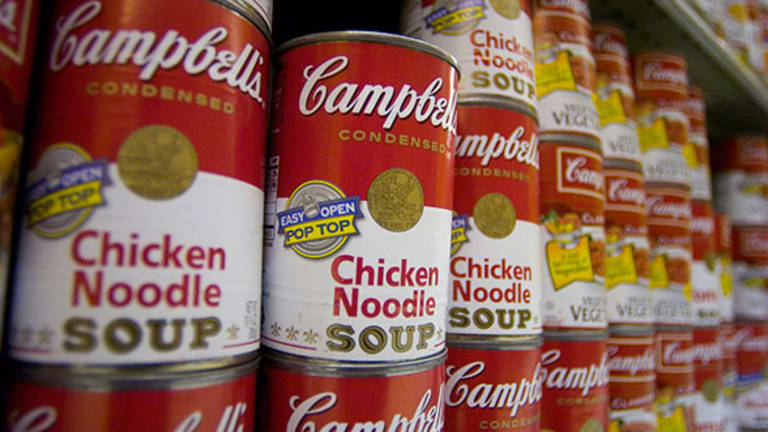 Publish date:
Why Campbell Soup Company Needs to Make Even More Acquisitions
Campbell Soup has made acquisitions to bolster its brands in the popular organic and natural foods spaces. Here's why it needs to make more.
Campbell Soup has made acquisitions to bolster its brands in the popular organic and natural foods spaces. Here's why it needs to make more.
NEW YORK (TheStreet) -- What do you do when you're an iconic brand but you have sluggish sales in your core market and massive mergers are happening within your industry?
This is the situation that Campbell Soup (CPB) - Get Report finds itself in. The company saw domestic sales of its soup decline by 10% in its latest quarter.
One solution is acquiring businesses in high-growth parts of your industry, and Camden, N.J.-based Campbell is already doing that. This month it agreed to buy Garden Fresh Gourmet, a manufacturer of refrigerated salsa, hummus, dips and tortilla chips. The acquisition will become a part of the Campbell Packaged Fresh division, which already includes Bolthouse Farms.
Here are three reasons why more strategic acquisitions will be good for Campbell: 
They give Campbell Soup instant access to faster-growing segments. Consumers are making a massive shift toward healthier food. Gluten-free, organic and natural food products are dominating growth in the industry. This former fad is here to stay. The Organic Trade Association reported that a record number of consumers are reading labels. They want to know the ingredients in the products they purchase at the grocery store. Sales of organic foods experienced double-digit gains last year, and the market is now worth $35 billion, according to a report from the OTA. A recent CNBC article said that even baby boomers, who grew up on products including Campbell's soups, are becoming extremely health conscious in their food-purchasing decisions. When people buy less soup, retailers keep less in inventory. This can turn into a downward spiral, as shelf space starts to grow for the products that are resonating with American consumers. A company like Campbell, with an iconic brand, struggling with its core product offering, has to devote more resources to strategic acquisitions to better respond to the shift in consumer taste. An aggressive merger and acquisition strategy gives Campbell instant access to newer entrants that promise healthier and more wholesome food options.
They create more opportunities to remain competitive in a very heated market. Campbell Soup is not the only big brand struggling to sell its flagship products. As for acquisitions, there's already a trend among big food companies to buy niche brands in the organic and natural foods areas. Some of Campbell's key competitors also have their eye on this healthier segment of the market. We saw General Mills  make a move by acquiring Annie's Homegrown, a big natural and organic food producer. Other players, such as Kellogg and ConAgra , are in the same boat and are likely looking at some potential targets of their own. A company such as Campbell Soup can grow only two ways: organically, through successful product launches; or through intelligent strategic acquisitions. But organic growth (no pun intended) can be difficult for big companies, because it involves conceiving and then introducing breakthrough products. Easier said than done. It's less difficult to devote more resources to acquire the companies that are already successful in the market segment that you so desperately need.
They complement the company's existing reorganization and cost-cutting plans. There's a big push in the food industry to cut costs, and Campbell has jumped on board. A major catalyst for this push has been 3G Capital. Its move to combine Heinz and Kraft Foods has been the biggest deal in the industry this year and created major awareness of cost-cutting initiatives. 3G Capital's model of zero-based budgeting has already been adopted internally at Campbell Soup, which says it has found ways to reduce $200 million in expenses. But while costing-cutting is important for a company to remain competitive in the food business, too much of it can eventually cause harm. Campbell Soup will need to complement its cost-cutting strategies with an expansion into smaller specialty brands that are growing much faster than its core product line. It's unclear whether Campbell is trying to get in shape for a race for dominance or is mirroring what the prettiest girl at the dance is looking for in a new partner.
Will the new vision and cost-cutting, combined with strategic acquisitions in high-growth brands, be enough to keep Campbell competitive as a stand-alone company? Or, is the cost reduction a strategy to improve the appearance of a company faced with some huge obstacles in an effort to attract a buyer?
It will certainly be interesting to watch this play out. Grab some gluten-free cookies and a cold glass of soy milk and enjoy the show!
This article is commentary by an independent contributor. At the time of publication, the author held no positions in the stocks mentioned.