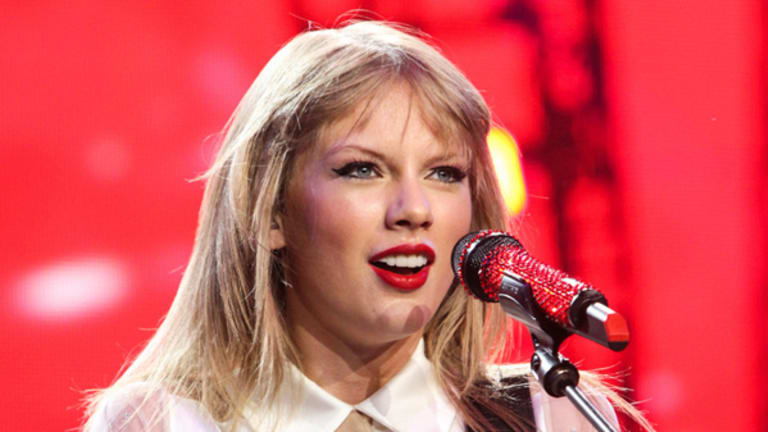 Why Bruce Springsteen Ends Up on Taylor Swift Radio
In the last installment of TheStreet's look inside Pandora, we see music personalization in action.
NEW YORK (TheStreet) -- In Part Three of TheStreet's exclusive look inside the Music Genome Project (MGP), Pandora's VP/Playlists and Chief Scientist, Eric Bieschke, gave me a track-by-track tutorial on how MGP algorithms decide which song to play next (and why) for each user.
Here, in the final installment of this series, we have some fun, but it's telling and instructive fun.
Watch what happens after we fire up Taylor Swift Radio on my Pandora account:
As to not spoil the contents of the video, you have to go Page Two for further thoughts and analysis ...

So, Bruce Springsteen and The E Street Band's "Tenth Avenue Freeze Out" led off Taylor Swift Radio.
My main criticism of the streaming radio options offered by at-their-core, on-demand Internet radio platforms such as Rdio is that they tend to personalize on the basis of genres and artists, not tracks or my listening history.
For example, if I load Rocco FM on Rdio, it, by default, shuffles my collection. From there, I can tell The Echo Nest (the platform that powers streaming on Rdio) to get more adventurous with its choices. That's cool.
However, if I play a Taylor Swift station, I tend to get hit with contemporary country singer after contemporary country singer. That's not what I should get when spinning my Taylor Swift station. That's what I should get on a contemporary country station.
As Bieschke noted, his Taylor Swift station would tend more towards dance music, whereas mine plays a Springsteen song. This distinction speaks to something else Bieschke noted, back in Part One of this series -- the Music Genome Project selects from its toolbox whatever it thinks will work for you in the particular moment.
Sometimes that's going to push an algorithm that deals in the musicological attributes of a song to the forefront. At other times it will be based on what's hot that week or in favor with others who listen to Taylor Swift Radio. But what's never lost is the notion that there are different types of Taylor Swift fans -- some with country roots and passions, some who are all about Top 40, others who are into dance and people like me who put Swift and Springsteen on the same plane in more ways than one.
Of course, this breakdown goes beyond Taylor Swift. It's exactly what's happening every minute of every day. That's Pandora. That's the Music Genome Project. A complex system of algorithms that work independently and collaboratively to do what broadcast radio can't possibly do and Web radio competitors are, in some cases, trying to replicate.
I should point out that I use Pandora and Rdio equally. And I have been talking with folks at The Echo Nest. I like what they do. It's just different from what Pandora does. Over the next few weeks, I will write more about how The Echo Nest powers platforms such as Rdio.
As for this series on Pandora, part of me wishes I had done it two years ago. It would have made my bullish calls for calm on Pandora the stock and Pandora the company all the more powerful.
When the stock was wallowing in the single digits, tens and teens, I did my best to explain why it would recover, outlining how the Music Genome Project does more than merely organize Pandora's music collection for an individualized experience. The MGP enables the targeted advertising virtually nobody, particularly in the financial media, was talking about a year or two ago. Now, you can't google Pandora without hearing about the company's innovative advertising. A lot of good that does investors after the stock has already quadrupled.
Going forward, the big story, outside of Pandora's continued leadership in targeted advertising, mobile and, of course, Internet radio, will be the company's role in the next wave of prosperity for the music industry. The major record labels will not survive as is, however, musicians of all flavors will, thanks not only to Pandora, but the diverse bunch of Web radio players and platforms designed to help artists fund, distribute and market their passions.
One of those key platforms is Kickstarter. Over the weekend of January 11-12, I will be launching a Kickstarter campaign of my own. It will seek funding to write, market and distribute a book that tells ...
Pandora's story from before its founding to its beginnings as Savage Beast Technologies to its decision to disrupt traditional radio.
The evolution of and road to Internet radio dominance by Pandora.
Pandora's impact on radio and the music industry.
What the future holds for Pandora as a major player in a redefined music and radio industry.
I hope you'll give the project a look and consider contributing to it.
--Written by Rocco Pendola in Santa Monica, Calif.
Rocco Pendola is a columnist for
TheStreet
. Pendola makes frequent appearances on national television networks such as
CNN
and
CNBC
as well as
TheStreet TV
. Whenever possible, Pendola uses hockey, Springsteen or Southern California references in his work. He lives in Santa Monica.