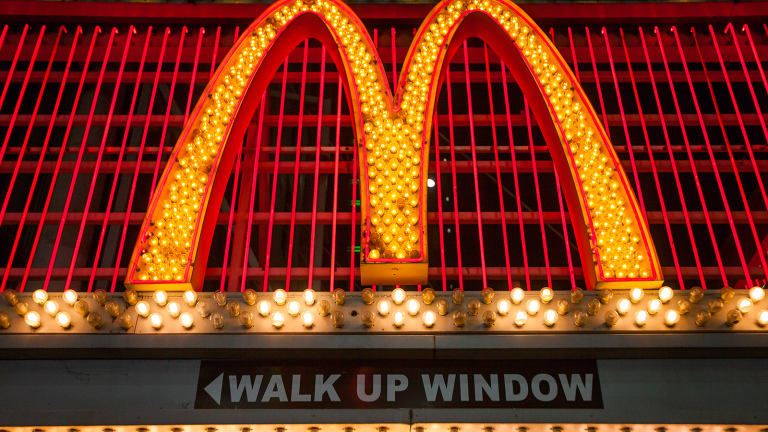 Why 'Brexit' Isn't a Big Deal for McDonald's
McDonald's has been killing it in the U.K. as its cheap fast food has won over economically-challenged Brits.
For years, McDonald's (MCD) - Get McDonald's Corporation Report has capitalized on the tepid economic growth and political unrest in the U.K. that has caused consumers there to seek out cheap fast food and deep discounts on clothing. 
So, Brexit-related economic and political chaos shouldn't be too big an issue for the Golden Arches, which operates over 1,200 restaurants in the country. In fact, it may even help extend one remarkable stat: This year's first quarter marked the 40th consecutive quarter of same-store sales growth for McDonald's U.K. arm as it benefited from the introduction of new touchscreen ordering systems and premium burgers, as well as a continued focus on promotions.
More recently, the division -- which is often used to incubate new food and customer service ideas -- launched new "flavor wraps," in addition to a burger with a bagel as a bun (below). And the performance of the U.K. division likely makes McDonald's CEO Steve Easterbrook particularly proud. Born in the U.K., Easterbrook first worked for McDonald's as a manager at a London location and eventually became CEO of McDonald's U.K., where he engineered a dramatic turnaround in results.
On Friday morning, shares of McDonald's were trading down 0.3% to $120.91, compared to a 2.1% decline in the S&P 500.
While McDonald's U.K. is likely to serve up newly independent Brits tons of affordable fast food in coming quarters, performance at the company's largest market -- the U.S. -- may prove to a bit more mixed.  
"Traffic is still negative at McDonald's as the chain continues to wrestle with a Dollar Menu hangover, and prices of its premium items that are perhaps too high for perceived quality relative to chains such as Chick-fil-A or In 'N Out," wrote RBC restaurant analyst David Palmer in a note to clients Tuesday.
Palmer, who slashed his second-quarter sales growth estimate for McDonald's to 2.5% from 3.5%, added that "finding the right value message remains a struggle, which is leading to negative traffic and varied sales trends around the country."
McDonald's eliminated its popular Dollar Menu earlier this year when it was no longer profitable for many franchisees. In its place, the company unveiled several new value menus designed to win over customers.
The company launched the "McPick 2" menu in January, which lets customers select two items from a list of a double cheeseburger, small fries, a McChicken or mozzarella sticks for $2. But in February, McDonald's replaced that promotion with a McPick 2 for $5 menu that featured the Big Mac, 10-piece Chicken McNuggets, Filet-O-Fish and Quarter Pounder with Cheese.
Meanwhile, McDonald's fast-food competitors have been more ruthless on the promotional front. In March, Yum! Brands' (YUM) - Get Yum! Brands, Inc. Report Taco Bell took the wraps off a new nationwide $1 breakfast menu that took aim at McDonald's pricier Egg McMuffin. The $1 breakfast menu -- which is permanent -- consists of 10 items.
Domino's Pizza (DPZ) - Get Domino's Pizza, Inc. Report continues to market a medium two-topping pizza for $5.99, which arguably provides more value to a family than buying two Big Macs for $5. And Pizza Hut, also owned by Yum! Brands, has also found success lately aggressively marketing affordable pizza.
On Wednesday, Nomura analyst Mark Kalinowski downgraded his rating on McDonald's to neutral from buy, citing slowing industry sales in the U.S. and tough sales comparisons for the Golden Arches. The analyst slashed his price target on McDonald's to $129 from $142.