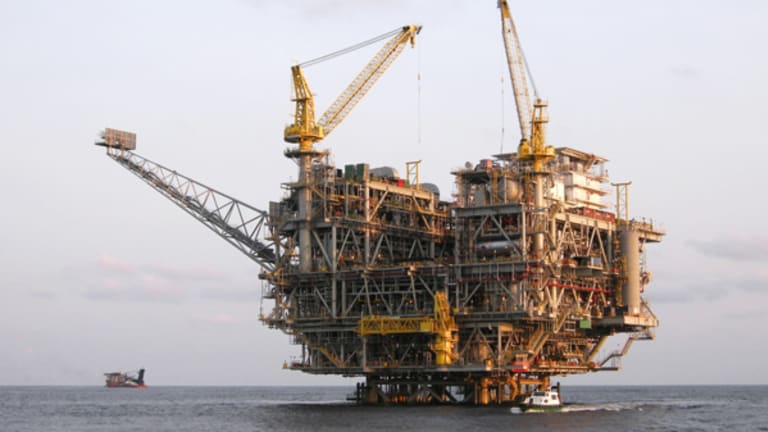 Why Bonanza Creek Energy Is My Favorite Oil Stock
BCEI has been hitting all-time highs recently.
NEW YORK (TheStreet) -- I really love the energy stocks right now. I honestly do not know why they are breaking loose all over the place as crude oil prices moderate. However, it seems to me that ever since Janet Yellen was nominated to succeed Ben Bernanke at the Federal Reserve, it wasn't gold blasting off, it was the oil stocks.
Oil, like gold, is a commodity. It is an inflation hedge and it has an inverse relationship with the dollar, which has been selling off ever since the Yellen announcement.
Courtesy of StockCharts.com
I may not have any idea as to what is going on there -- why all of a sudden a bunch of oil stocks are breaking loose. But sometimes I think it is better that instead of sitting there and scratching your head trying to figure out why you should just go ahead and pull the trigger and buy some great oil stocks, which I have already been doing.
If you look at the model portfolios I publish each week in my newsletter, you will find a bunch of oil stocks. I wrote about the new sector on the leader board -- the Oil and Gas Exploration sector. I also featured the exact oil-related stock I am going to discuss next on my radio show when I first noticed it taking off (
).
Data from
Over the past week
Bonanza Creek Energy
undefined
has been breaking out. The Denver company engages in oil and natural gas acquisition, exploration, development and production in the U.S. It is a small-cap stock that I own in my aggressive growth account here at Gunderson Capital Management.
The stock has been hitting all-time highs recently. Why is it a Best Stock Now because it currently possesses the characteristics that I demand in the stocks that I buy. In fact, I am so demanding that 3,400 of the 3,600 stocks I track do not make the cut -- only a couple of hundred do.
Performance
Data from
Over the last 12 months, BCEI is up 124%. Compare that to the market, which is up only 22%. Now BCEI does not have a three-, five- or 10-year track record because the company has not been established that long. But this is OK because my app just requires a minimum of one year of trading track record for me to give a stock a grade. BCEI gets a performance grade of A.
Valuation
: When I look at the valuation of the shares, I find the shares to be very inexpensive. In fact, I see a stock that is trading at 16 times earnings and is also expected to grow by 40% per year over the next five years.
This makes for a juicy PEG ratio of 0.41 -- way less than 1, in fact it is even less than 0.5. One might question that 40% growth rate, but even with a 20% growth rate BCEI is still trading at a huge discount to its growth rate. I like this PEG ratio a lot.
Data from
Furthermore, when I take the earnings estimates next year of $3.05 per share and carry them out over the next five years, applying what I think is a reasonable multiple that the company deserves, I come up with a target price of $95 per share five years from now. The stock is currently trading at only $51 per share. It has ample upside potential. In fact, enough upside potential that BCEI earns a value grade of A-.
Stock Chart:
Lastly, we have to take a look at BCEI's stock chart.
Courtesy of StockCharts.com
The chart is beautiful!
I am a value guy, a momentum guy and I'm also a technical analyst. I have friends who are technical analysts only (they only look at charts), friends who are deep value investors only, and I have friends who are pure momentum investors. I have taken the best of all three of these worlds because I believe in throwing everything at a problem or situation before we try to come up with a plan of action. And the plan of action here is that this stock passes the value test, the performance test, and the chart looks great.
Data from
Out of 3,595 stocks in my database BCEI comes in at No. 162.
At the time of publication the author had a position in BCEI.
This article was written by an independent contributor, separate from TheStreet's regular news coverage.