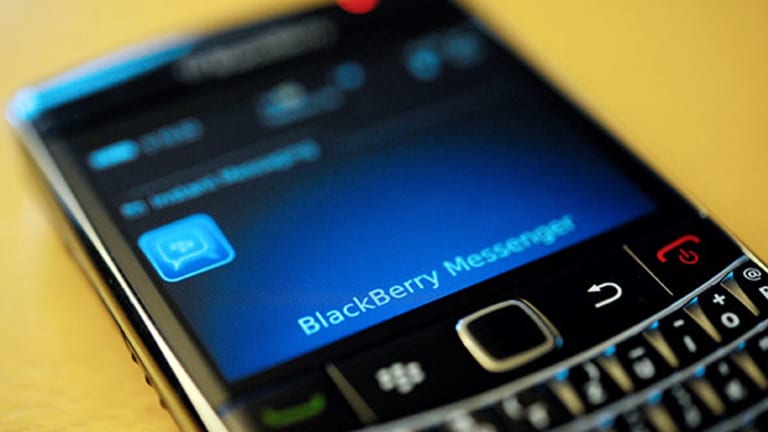 Why BlackBerry's Surprise Profit Doesn't Make It Ripe for You to Buy
BlackBerry just posted a quarterly profit when a loss was expected, but the gains mostly came from cost-cutting. The real question remains: Can its new businesses deliver enough revenue?
BlackBerry just posted a quarterly profit when a loss was expected, but the gains mostly came from cost-cutting. The real question remains: Can its new businesses deliver enough revenue?
NEW YORK (TheStreet) -- F. Scott Fitzgerald once wrote, "There are no second acts in American lives." But after losing the smartphone race to Apple (AAPL) - Get Report and Samsung (SSNLF) , BlackBerry is building a second act as a software and security specialist.
Although the Canadian company started to make money again much sooner than many observers had expected, much of that profitability can be traced to its cost-cutting initiatives. Revenue is what's matters most for the long-term. More specifically, can BlackBerry grow its software and security sales at a pace that allows it to stop focusing as much on just keeping the business stable, and gain the confidence to start investing capital in long-term growth?
Until both of these events occur, BlackBerry shares, which are down 15% so far this year, will remain under pressure. At best, each gain made by the stock will be met by increased selling, since investors who have been underwater on the shares are likely eager to get out if they can break even. And Friday may be a day that provides such an opportunity.
Here's what TheStreet's Brian Sozzi had to say in a piece sbout Apple and BlackBerry, originally published March 9 on RealMoney:
"Sticking with the losers, how completely irrelevant is BlackBerry's BMM messaging service on iOS, given the new messaging capabilities on the Apple Watch? I can't share my heartbeat with my hot girlfriend (disclosure: I am single) on Valentine's Day via BBM! Moreover, how could BlackBerry sustain its odd popularity of late with classic phone designs, when people will want to sync their Apple Watch to an iPhone 6 plus, in order to create an efficient life on Earth? Looming bigger screens on Apple tablets destined for offices, plus the existence of the Apple Watch, should allow the company to capture further share of BlackBerry's corporate stronghold over the next three years."
BlackBerry shares were up more than 3% Friday after the company posted a profit of $28 million for its fiscal fourth quarter, translating to a profit of 5 cents per share. That's a huge leap forward from last year's loss of $148 million, or 28 cents per share.
When adjusting for one-time gains and costs, earnings were 4 cents per share. This is a significant beat, given that analysts were expecting a 4-cent per share loss, according to average estimates by Thomson Reuters.
Still, revenue is where investors' focus justifiably remains, since that's the number that shows the true nature of BlackBerry's second act. To that point, fourth-quarter revenue of $658.9 million -- a 32% decline from last year's mark of $976 million -- is a concern. Aside from missing Wall Street's estimates of $786 million by 16%, that number also represents a 17% decline from the previous quarter, when revenue was $793 million.
In fairness, BlackBerry is in the midst of a significant change. In November, at an analyst conference in San Francisco, CEO John Chen warned that the company could disappoint on full-year revenue as its revenue profile changes. The company is exiting a once-lucrative services business, in which it made money charging system-access fees, and focusing instead on software and security. Expecting immediate results seems unrealistic. Fourth-quarter software revenue grew 20% to $67 million.
Now, 20% growth is solid. But $67 million is just one-tenth of BlackBerry's total revenue. By comparison, its hardware business accounts for 42%. Complicating matters, though Chen has made no guarantees of drastic improvements, BlackBerry doesn't seem committed to its transition. It says it wants to focus more on software, but has also released several new devices, including its latest Passport and Classic phones.
All told, for the full year, the company reported profit of $303.5 million, or 58 cents per share. Revenue was reported as $3.33 billion, down more than 50% from last year's total of $6.81 billion. The higher profits are encouraging, yes. At some point, however, BlackBerry will run out of fat to cut, at which point it will need higher revenue to grow profits. So far, this second act hasn't shown it can deliver that -- at least, not well enough warrant investors buying the stock.
This article is commentary by an independent contributor. At the time of publication, the author held AAPL.