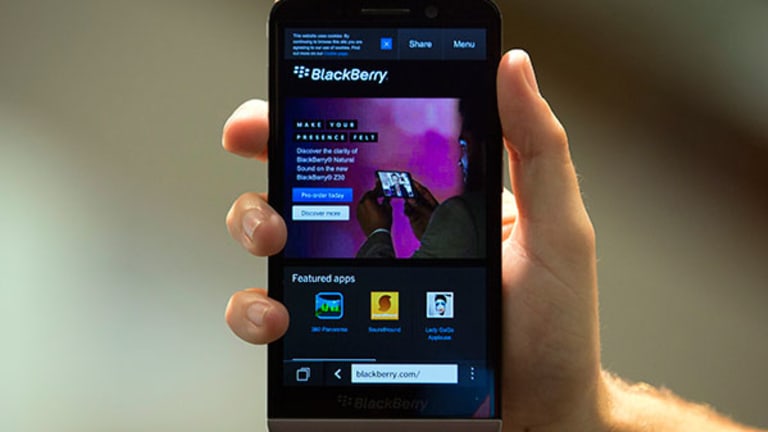 Why BlackBerry's App Deal With Amazon Is Another Head Fake
There are no clear signs that BlackBerry is in a better position today than 12 months ago.
NEW YORK (TheStreet) -- BlackBerry  (BBRY) shares are up nearly 3% thanks to the  company's app licensing deal with Amazon  (AMZN) - Get Report. The agreement will allow BlackBerry devices access to roughly 240,000 Android apps from Amazon's app store.
But investors shouldn't get carried away by this news because we've seen these head fakes before and they've yielded nothing but disappointment.
Investors bidding up these shares seem to think the new apps suddenly make BlackBerry devices cool. But that's not the issue -- it's the designs and marketing that's the problem and the place where Blackberry should start fixing itself.
Recall that BBRY shares caught fire at the beginning of the year, soaring more than 45% to $10.85. The so-called "smart money" who rushed to buy BlackBerry's potential have recently sold off with an equal amount of aggressiveness. Shares are still down more than 20% from that $10.85 high.
Look, I like new CEO John Chen. Unlike his predecessor(s), Chen seems to have a strong sense of BlackBerry's strengths and weaknesses. He's begun to focus the company on what it does best, like delivering enterprise solutions and device security. He's also structuring the company in a way that complements its strong assets like messaging and its QNX embedded business.
Chen seems to know where he wants to take the company. I also appreciate that he has not gone out of his way to make promises he knows the company can't deliver. At the same time, I don't see any signs that BlackBerry is in a better position today than 12 months ago.
Part of the problem: BlackBerry's strengths no longer matters. The company's first-mover advantage within the realm of smartphones has been over for five years. BlackBerry no longer has a monopoly on enterprise device security. And with more corporations embracing Apple's  (AAPL) - Get ReportTouchID fingerprint sensor, BlackBerry's enterprise decline will only accelerate.
So how much are new Amazon apps going to matter in a few years? BlackBerry's turnaround may not be realized for several more years, assuming a turnaround is even still possible.

Then there's the company's image, which has resembled a punching bag since the arrival of the original iPhone. BlackBerry needs to do more with its marketing to turn around its loser persona. I think the company's marketing failures has had more to do with its current status than any damage done by competitors.
Consider this: In the most recent quarter, BlackBerry sold 3.4 million smartphones, more than 38 million fewer than the number of iPhones sold by Apple. BlackBerry said about 2.3 million of the devices sold during the quarter were the BlackBerry 7 models.
This means close to 70% of handsets sold were the older model phones and not the newer BlackBerry 10 models. This tells me both the company's design and marketing department are failing. I haven't seen Chen address these areas.
The deal with Amazon suggests the vast majority of the apps will be made available on the BlackBerry 10 devices. But if no one is buying that phone, who cares?
The company will report fiscal first-quarter earnings Thursday. Analysts will be looking for 25 cents in earnings per share on revenue of $969.56 million, representing close to 70% year-over-year revenue decline. Analysts have become more bearish about this quarter.
Revenue estimates have dropped more than 10% over the past three months, coinciding with the stock's pullback during that span. But things are likely to get worse. I expect the stock to revert back to $6 by the end of the year, or 27% below current value.
At the time of publication, the author was long AAPL.
This article represents the opinion of a contributor and not necessarily that of TheStreet or its editorial staff.
>>Microsoft Discounts Surface Pro 2 Tablets In An Effort to Boost Sales