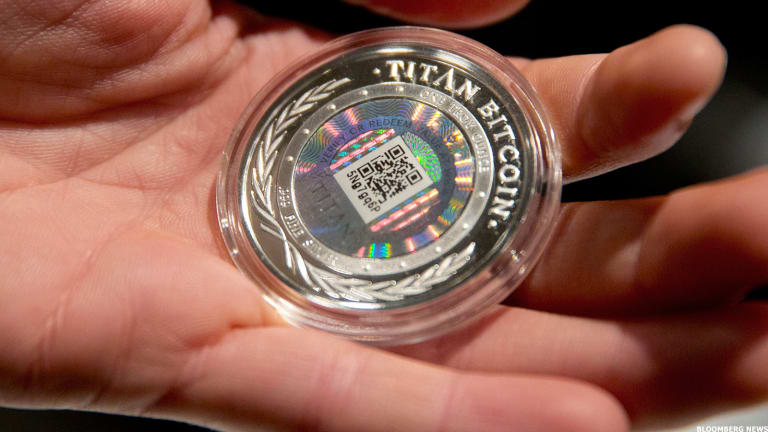 Why Bitcoin Purchases Have Been Soaring Lately
The eurozone's Greek crisis and China's stumbling market highlight the value of bitcoins in troubled times. But the growing buys may not stem from genuinely wider adoption of the crypto-currency.
FRANKFURT (The Street) -- At least one "currency" is benefiting from the recent turmoil in Greece and China. Bitcoin is experiencing a bit of a bull run.
The digital currency/technology surged 20% in value from June 8 through the July Fourth weekend. NYSE-backed bitcoin broker Coinbase reported a 300% increase in European activity outside of Greece in less than 48 hours during the last days of June, and recorded almost 120,000 transactions in a single day in the last 30.
In fact, the hybrid status of bitcoins - the IRS defines them as "property" rather than "currency" -- may be part of their appeal right now. But to whom?
"Bitcoin provides a way of storing assets outside of the banking system while still having a means to transact online. It is a hedge against political risk," said Adam Wyatt, chief analyst and editor of BullBear Analytics. "While it might comfort some bitcoin faithful to think that Greeks are buying bitcoins, that is unlikely in our opinion. The Chinese are always buying bitcoin."
"The situation in Greece showcases how the traditional banking infrastructure can become influenced negatively by governments and provides an example of how [investors have] the ability to safeguard the value of one's money in such situations," said Peter Rizzo, U.S. editor of Coindesk.com, a speciality blog covering the bitcoin industry as a technology rather than currency. "Political crises of this nature have become a rallying point for those who are attracted to bitcoin because of certain political ideologies and this situation provided a good vehicle for those people to espouse why they believe the technology to be useful as an investment."
Rizzo believes that the jump in activity in bitcoin is actually coming from a very few investors who are taking the opportunity right now to make a vocal statement where it counts -- the market. "Bitcoin is a relatively shallow market, where purchases of large quantities of bitcoins, even by a very small number of buyers, can cause notable price increases," he said. "So while the price may have risen, that doesn't necessarily correlate into wider adoption."
Wyatt concurs. "Our guess is that the recent rise has been caused by Western speculators that fear a Grexit would spark an eventual dissolution of the E.U., creating a bank run on major European banks," he said. "This would lead to widespread capital controls, which, again, bitcoin is good for getting around."
Does this mean that bitcoin is ready for prime time as a fully baked alternative investment? According to the website bitcoincharts, which tracks global allocations of the currency, the vast majority of bitcoin holders (56%) still hold them in dollar denominations. The second-highest concentration of bitcoin holders (26%), hold them in the Chinese yuan. Only 7% of bitcoin owners hold them in euros.
"[In the U.S.], it's easy to connect your bank account to a service such as Circle or Coinbase, purchase bitcoin in amounts of $500 to $1,000 instantly and then move that money to an exchange where it can be converted into another asset or pegged to an asset such as gold via companies like Bitreserve," said Rizzo. "China is similar. In other areas of the world, the ecosystem, however, is still very underdeveloped."
Wyatt disagrees. "Bitcoin is simply software, so if the people behind it are ready, it should be ready," he said. "While I think the likelihood that this happens anytime soon is next to nil, it can continue to function as an 'escape valve' from the fiat banking system perfectly fine, just as it has since inception."
Bitcoin also does not seem to act in accordance to normal market logic. Despite a sharp spike in both volume and interest, many analysts are still issuing sell recommendations and the price seems to be stabilizing near what many are calling a "new normal" range somewhere in the $200 range per bitcoin. At the beginning of the first week of July, bitcoin prices hovered near $280.
This is why Rizzo, for one, believes that the current interest right now means nothing for the longer-term pricing of the asset."[Bitcoin is] also still in a long-term downtrend from its all-time high. So while we've seen periodic spikes around major announcements, like PayPal (EBAY) - Get Report partnering with bitcoin companies or Microsoft (MSFT) - Get Report accepting payment in the digital currency, these announcements have tended to subside back into the downtrend," he said.
According to at least one bitcoin volatility tracking website created by Eli Dourado, a research fellow at George Mason University, bitcoin has declined in volatility this year to about one-third more than gold, and between two and three times more than major currencies.
Wyatt however cautions that the bitcoin market is also very susceptible to manipulation. "Many analysts issue bearish coverage in order to spook an illiquid market, which provides an opportunity to buy cheaper coins," he said. "Classic P&D [pump and dump] stuff, but perfectly fine in the free market that is bitcoin."
This article is commentary by an independent contributor. At the time of publication, the author held no positions in the investments mentioned.