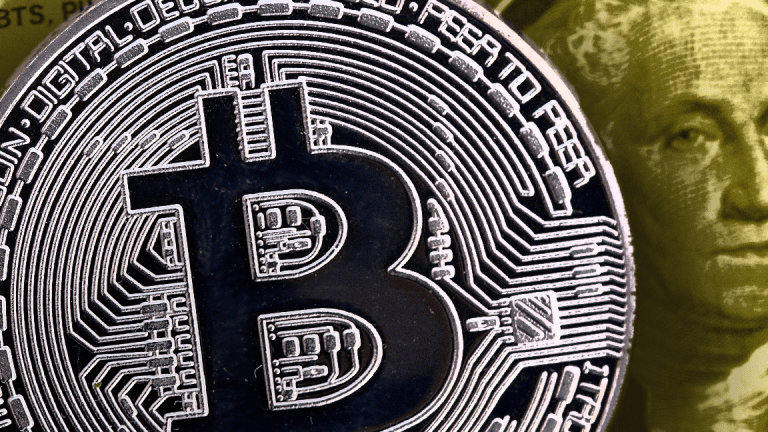 3 Reasons Why Bitcoin Investors Are in for a Wild Ride for the Rest of 2018
This year is shaping up as possibly the most volatile period for Bitcoin prices yet. Here's a look at the top reasons why.
Better buckle up.

Bitcoin investors have come to expect sudden spikes and collapses in the cryptocurrency's price as part of participating in a revolutionary opportunity. Unheard-of highs reached at the end of 2017 and a subsequent collapse in 2018 were simply another page in Bitcoin's volatile history.
Even so, this year is shaping up as possibly the most volatile period for Bitcoin prices yet as a variety of factors, including regulatory clarification and continued security breaches exert pressure on the original cryptocurrency. Bullish investors, however, claim that prices, which have been slowly consolidating over the past few months, could break out to the upside with equal unpredictability as long-awaited institutional investors begin to participate.
With all these forces in the mix, 2018 might see prices soar just as easily as they could continue downward. Here's a look at the main reasons why: 
1. Regulators Provide Some Answers But Questions Remain
The SEC's recent decision to not place the "securities" tag on Bitcoin and Ether was praised as a major win for the cryptocurrency market, as it meant the top two cryptocurrencies fell outside of the SEC's legal jurisdiction. It also seemed to pave the way for a more mature futures market, regulated by the SEC's sister agency, the Commodities and Futures Trading Commission.
But while the announcement did provide some clarity on two of the most popular coins listed on the market, it left many important questions unanswered. On the one hand, it opened the door for Bitcoin and Ether to both be traded on commodities markets, something the CME and CBOE already do for Bitcoin and appear to be planning for Ether.
But the announcement's language is important and while the SEC was clear on Bitcoin and Ether, it was noncommittal about classifying all cryptocurrencies in the same way. Moreover, the regulatory body remains wary of the ICO market, which could still be facing a stricter framework in the near term. The announcement was expected to drive a surge in prices but results have been muted thus far.
Nevertheless, it represents an important step, and one that signals a much friendlier approach by regulators. As the situation surrounding Bitcoin regulations gains greater clarity, institutional money flows might accelerate, providing liquidity and much-needed trading volume.
2. The Market Is Finding Key Use Cases for Cryptocurrencies
Aside from regulatory concerns, one of the biggest factors holding back the cryptocurrency sector, and consequently Bitcoin, is its inability to
fully break into the mainstream
. Despite the attention and hype surrounding Bitcoin, the crypto market remains a
fringe asset class for now. However, the explosion of potential blockchain-based applications and real-world use cases that have emerged could help expand the industry's reach substantially.
A major complaint from many participants is that most coins, despite their stated purposes, are purchased for speculative reasons instead of for their inherent utility. Bitcoin is perhaps the clearest example as it is more often considered a trading asset than an actual payment method.
Still, as blockchain matures, new use cases are rapidly materializing and demonstrating their value, which could broaden the appeal. According to Yaniv Altschuler, CEO and founder of AI-powered analytics platform Endor, "[The reason] is more fundamental, and has to do with the recent clear understanding that many tokens have undeniable real-world utilization, that transcend the boundary of trading alone."
As this happens, the demand for tokens and coins could grow significantly.
3. Security Concerns May Still Weigh Down Prices
Even with positive signs on the horizon for Bitcoin, the sector remains held back by the very public perception of security flaws due to the ongoing perpetration of hacks and scams. While these events have not entirely dissuaded investors from pouring into the market, hacks have impacted sentiment and trust, causing significant price declines.
A recent attack carried out against South Korean exchange Bithumb that resulted in nearly $30 million worth of client coin theft -- precipitated a 12% decline in Bitcoin prices in just a matter of hours. Viktor Mangazeev, CEO at blockchain-for-fantasy-sports company MyDFS explained that in response to crises like this, "the industry has matured a lot and the most important part is that [Bithumb] promised to reimburse their customers themselves if they are unable to retrieve the funds from the hackers." The latest hack is far from the sole industry occurrence in 2018. A hack earlier in June at a second Korean crypto exchange, Coinrail, resulted in a coin "robbery" totaling more than $40 million.
These hacks are not isolated incidents and seriously undermine investor trust and sentiment. By April 2018, more than $670 million had already been stolen from the cryptocurrency ecosystem. While Bitcoin itself may be secure and unhackable, the ecosystem it subsists in is far from it.
And if the market cannot implement a solution to the very real problems preventing greater adoption, prices may continue heading downward.
The author holds stock in investment holding company, Leucadia, and remains a partner in an emerging technology fund. He holds no positions in cryptocurrencies or in any companies that invest in them.