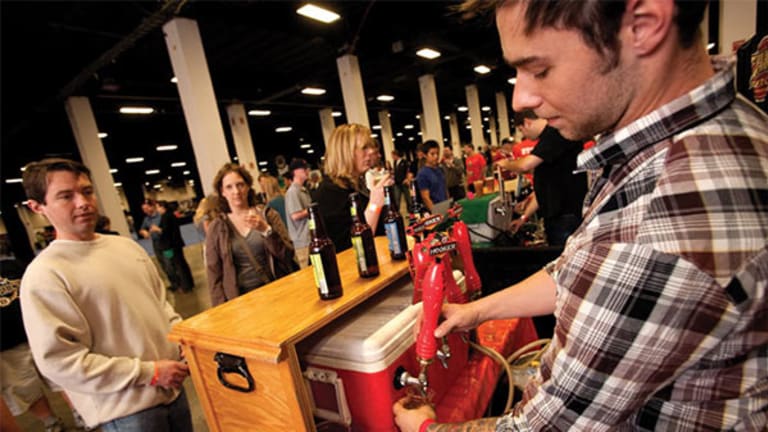 Why Big Brewers Fail at Small Beer Festivals
Anheuser-Busch InBev and MillerCoors miss out on regional beer fests not because they're large brewers, but because they're outsiders.
PORTLAND, Ore. (TheStreet) - A big brewer at a small beer festival is a tough fit.
As larger brewers including Anheuser-Busch InBev (BUD) - Get Anheuser-Busch InBev SA/NV Report and the SABMiller (SBMRY) /MolsonCoors (TAP) - Get Molson Coors Beverage Company Class B Report joint venture MillerCoors have broadened their beer portfolios and delved into craft beer styles, they haven't exactly been unwelcome at beer festivals.
At the Great American Beer Festival in Denver last year, MillerCoors won multiple medals with help from its SandLot brewery (3 medals), Jacob Leinenkugel Brewing Company (2), Blue Moon Brewing Company (1), AC Golden (1), Coors Brewing Company (1) and Miller Brewing Company (3). Anheuser-Busch InBev, meanwhile, took home some hardware with help from its Anheuser-Busch brands (2) and soon-to-be-acquired Blue Point Brewing Company (1).
If they perform that well at a festival organized by the Boulder, Colo.-based Brewers Association craft beer industry group, is it that much of a leap to assume that they'd win over skeptics at small brewing festivals as well? Yes. Yes it is.
The large multinational brewers falter at the smaller beer festivals not because they're big and not because they're largely absent, but because they're outsiders.
The regional festivals tell the story of that region's growth, and the bigger brewers at those festivals tend to be the breweries who found their greatest success after years of building a base in that particular region.
Sierra Nevada, Craft Brew Alliance's Widmer Brothers, Boston Beer Company's (SAM) - Get Boston Beer Company, Inc. Class A Report Samuel Adams and even pre-prohibition brewer D.G. Yuengling all served as pioneers in the brewing communities that sprung up around them. They're both the venerated old guard and the targeted "big guys" at smaller festivals, and their presence energizes local brewers.
A-B, Miller and Coors are relegated to outsiders longingly looking in.
This is a market that A-B and MillerCoors can't reach at a time when each of those brewers needs as much help as they can get. A-B saw its U.S. volume drop by roughly 1% in 2013 while MillerCoors volume plummeted 3%.
Much of the blame for that slide is linked to the decreasing sales of light lager brands including Budweiser, Bud Light, Miller Light and Miller High Life. Combined, that led to a 1.9% drop in overall U.S. beer production last year despite a 17.2% increase in craft beer production.
As a result, the large brewers have increased their focus on fast-growing craft brands. In recent years, A-B has acquired Chicago's Goose Island and New York's Blue Point craft breweries. Those are not only nationally recognized brands, but brewers with an established presence in major markets.
MillerCoors, meanwhile, has dedicated more of its resources to its growing Blue Moon and Jacob Leinenkugel craft brands. While each started as regional brands in Colorado and Wisconsin, respectively, both have grown into national products that compete for shelf space with small, regional brewers across the country.
In the greater world, small brewers represent only 7.8% of the total U.S. beer industry by volume and $14.3 billion dollars worth of the industry's more than $100 billion in annual sales. At the festivals, those small brewers get an almost 100% stake similar to what a big brewer might enjoy at a National Football League stadium -- only without the big per-pint prices.
Just after the unofficial start of summer on Memorial Day weekend, the folks at beer industry publication BeerAdvocate welcomed more than 140 brewers and about 640 beers to their American Craft Beer Fest in Boston. While the overwhelming majority of brewers were from the Northeast -- and New England, specifically -- the event included brewing companies such as Avery from Boulder, Colo., Ballast Point from San Diego, Founders from Grand Rapids, Mich., and Duck-Rabbit from Farmville, N.C.
The heaviest hitter in the room was Boston Beer Company, with a test brewery in nearby Jamaica Plain, a headquarters near the festival's Seaport venue and six beers in tow. Yes, it has breweries in Pennsylvania and Ohio, a research facility in Vermont and about 3 million in annual production under its belt, but it's still puny compared to the nearly 100 million barrels A-B InBev produces annually or even the 60 million produced by MillerCoors.

It's also -- along with Boston's Harpoon, New York's Brooklyn and Maine's Shipyard and Allagash -- among craft beer's Northeast old guard that paved the way for newcomers like Boston's Trillium, Brooklyn's SixPoint and Maine's Maine Beer Company and Baxter. At ABCF, Boston Beer's relative size is scaled to the perspective of the brewing community that's grown up around it -- one where A-B InBev has only a satellite brewery in New Hampshire and where MillerCoors is physically absent.
ABCF also takes place in a state where the Massachusetts Beverage Alliance of beer distributors says craft beer has a nearly 17 percent market share -- more than double the national average -- and where the number of small breweries has risen more than 25% in the last two years. That's a craft stronghold, but even that figure pales in comparison to other beer-rich points on the map.
The state of Oregon is holding its 27th Oregon Brewers Festival this weekend in a state with 181 breweries (the third most in the nation behind neighbors California and Washington) and with 6.3 breweries for every 100,000 drinking-age residents (No. 1 in the U.S.). Earlier this year, market research firm Symphony IRI disclosed that, in Portland, craft beer accounts for 45.8% of all beer sales. That's greater than the 40.6% share for both A-B InBev and MillerCoors beers combined and marks the first time that craft beer has outsold the big brewers in that town.
Want to blame A-B and MillerCoors "craft" brands like Blue Moon and Goose Island? Can't: Symphony includes them in their parent company's numbers. Want to argue that since they're 32% owned by A-B that Craft Brew Alliance beers like the Widmer Brothers brand shouldn't count? Nope, because CBA actually saw its Portland sales decline 1.3% and its market share drop 1.4% to 6.2% overall.
So who made gains? Look at Boston Beer, which saw Angry Orchard cider sales skyrocket in a town that's about to get its third cider-specific bar and already has a cider-specific taproom in Reverend Nat's cidery. However, the big beer increases came from Oregon brewers Laurelwood (Portland), 10 Barrel (Bend) and Ninkasi (Eugene), all of which will be present at the Oregon Brewers Festival.
The Widmer Brothers will be there as well and their presence only strengthens their argument that their distribution deal with A-B doesn't make them any less "craft." Given who'll be joining them -- Sierra Nevada (the seventh-largest brewery in the nation), BridgePort (part of 10th-largest Gambrinus) and Oregon's own Deschutes (12th largest) -- the brothers' small portion of the ninth-largest brewery in the country suddenly doesn't seem so big by comparison.
However, all of the above can serve as examples of what lies ahead for other brewers and what options they may consider in the future. Regional festivals like the American Craft Beer Fest and the Oregon Brewers Fest can act as incubators for local brewers and promote not only their beers, but the sharing of ideas and strategies for how to carve out a bit of the big brewers' share of the market for themselves.
Giving small brewers at the San Diego International Beer Festival in June access to both large local U.S. craft brewers like Sierra Nevada and Stone as well as international brewers including Denmark's Mikkeller and Ireland's Carlow broadens the landscape a bit and provides perspective about a small brewer's position in the global marketplace. Letting Yuengling in on the fun at Philly Beer Week gives small area brewers some idea of just how big a regional brewer can get -- and how attractive or terrible an option that is for their own breweries.
Those tables and tap boxes at festivals are where craft beer's growth begins. Big beer's failure to ingratiate itself to those festivals' organizers has helped those events transform an industry one sample at a time.
-- Written by Jason Notte in Portland, Ore.
>To contact the writer of this article, click here: Jason Notte.
>To follow the writer on Twitter, go to http://twitter.com/notteham.
>To submit a news tip, send an email to: tips@thestreet.com.
RELATED STORIES:
>>What A Diageo Sale Would Mean For U.S. Beer
>>Beer Mailbag: Woodchuck, New Belgium Send Off Summer
>>5 Most American Beer Brewers
Jason Notte is a reporter for TheStreet. His writing has appeared in The New York Times, The Huffington Post, Esquire.com, Time Out New York, the Boston Herald, the Boston Phoenix, the Metro newspaper and the Colorado Springs Independent. He previously served as the political and global affairs editor for Metro U.S., layout editor for Boston Now, assistant news editor for the Herald News of West Paterson, N.J., editor of Go Out! Magazine in Hoboken, N.J., and copy editor and lifestyle editor at the Jersey Journal in Jersey City, N.J.