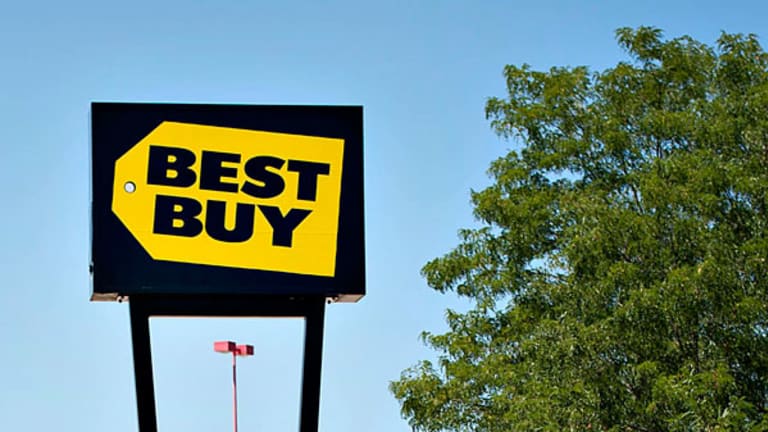 Why Best Buy Looks Like a Bargain Despite Revenue Struggles
Best Buy does have some risks, but the potential rewards are too great to ignore.
Best Buy does have some risks, but the potential rewards are too great to ignore.
NEW YORK (TheStreet) -- Consumer electronics giant Best Buy (BBY) - Get Report is trying to do the impossible -- survive in an Amazon (AMZN) - Get Report -dominated world. 
Shares, at around $32, are down close to 20% on the year to date. By contrast shares of another retailer, Barnes & Noble (BKS) - Get Report are, at near $24, up 58%. So things could be much worse. Just ask RadioShack (RSH) .
Still, it's hard to ignore the potential value in Best Buy shares and the company could become 2015's best turnaround candidate in retail. Remember, no one thought J.C. Penney (JCP) - Get Report   would survive until its numbers showed the company can no longer be written off.
So, at around $32, investors taking a chance on Best Buy here can do very well. With the holiday quarter approaching and all of the hype around new product releases from Apple (AAPL) - Get Report , I'm willing to bet on a beat-and-raise quarter come November. At that point, these shares should be well above $35, an almost 10% gain in less than two months.
The way I see it, there's no risk here. With the stock trading at a price-to-earnings ratio of 10, which is three points below the industry average, according to Yahoo! Finance, Wall Street is expecting little to no growth at all in the next couple of quarters.
Consider, on a price-to-sales basis, Best Buy's 0.27 even trails Wal-Mart (WMT) - Get Report , which trades at a price to sales ratio of 0.51, almost twice the industry average. This means Wall Street values Wal-Mart more, despite its own struggles, than any potential upside in Best Buy.
That's in part due to Best Buy's guidance, which I believe was lowballed due to lack of visibility.
Best Buy already suffers from weak traffic and same-store sales, and after having just missed revenue estimates management does not want to set the company up for further disappointment.
What's appealing in this story, however, is the extent to which Best Buy continues to generate solid earnings growth. Helped by diligent cost-cutting efforts, the company just delivered earnings of $146 million. It's not a great number on a year-over-year basis.
But when taking into account the 4% year-over-year revenue decline and the almost 3% fall in same-store sales, investors should be encouraged that Best Buy is able to make any money at all. The company delivered delivered a 13-cent beat in adjusted earnings per share, which came in at 44 cents. Wall Street was looking for 31 cents.
In other words, management is squeezing every penny out the traffic Best Buy does get. From a fundamental perspective, Best Buy's net cash position of $1.5 billion should dispel any notion that this company is burning through cash and struggling with debt.
All told, there are plenty of signs of progress and this story is far from over. While Best Buy does have some risks, the potential rewards are too great to ignore. Investors only need to know where to look.
At the time of publication, the author was long AAPL, although positions may change at any time.
This article is commentary by an independent contributor, separate from TheStreet's regular news coverage.
undefined