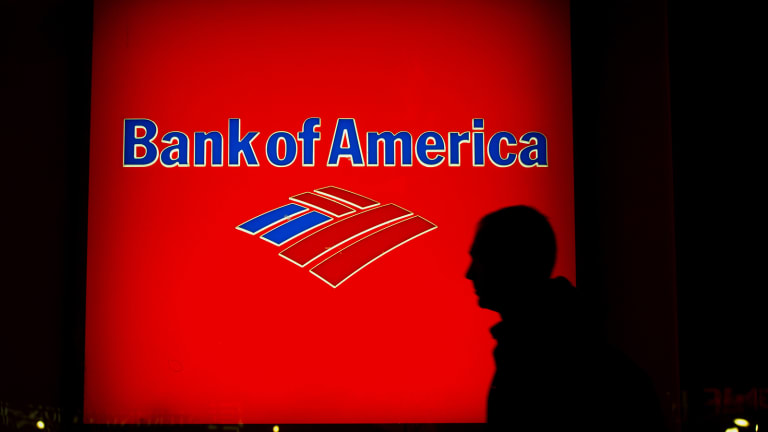 Why Bank of America Stock Will Fall After a Fed Rate Hike
Some investors may expect Bank of America (BAC) stock to rally on a Federal Reserve rate hike, but they would be mistaken. Here's why.
Bank of America (BAC) - Get Bank of America Corp Report stock is likely to fall if and when the Federal Reserve increases its short-term interest rate target.
Yes, that may counter conventional wisdom. It's true that financial stocks rallied last week after the minutes from the last Fed meeting suggested a rate hike could come at the December meeting. And it's true that Bank of America CEO Brian Moynihan recently said rate hikes would be good for the bank's business.
The reality, however, is that expectations for the stock's performance in the wake of an interest rate increase are exaggerated. Let's look at what we're likely to see from the Fed in December, what we've seen from Bank of America this month and why it spells trouble for the stock moving forward. 
What We Can Expect to See From the Federal Reserve in December
It is likely that the Federal Reserve could raise the federal funds rate when the Federal Open Market Committee meets on Dec. 15-16. Comments from Fed officials have been laying the groundwork for a rate hike sometime this year, but policymakers held rates steady at their September meeting because of concerns about foreign economic and market events. There was no increase at the Oct. 27-28 meeting, either, but the minutes from that meeting, released last Wednesday, said that most participants thought that the economic conditions warranting the beginning of a rate-hike cycle would be in place by the December meeting.
Investors need to keep in mind how the central bank is likely to raise interest rates, however. In congressional testimony in July, Federal Reserve Chair Yellen said: "If we wait longer, it certainly could mean that when we begin to raise rates we might have to do so more rapidly... An advantage to beginning a little bit earlier is that we might have a more gradual path of rate increases."
This statement jibes with other signals that Fed policymakers would prefer their tightening cycle to be slow and steady. This means that the rate hike we're likely to see in December is going to be 25 basis points or, potentially, a "microhike" of even less. It will be followed by slow, gradual increases of 25 basis points.
What We've Seen From Bank of America Stock
It's clear that investors are excited about the interest rate hike and how it's likely to affect Bank of America. After all, one of Bank of America's largest sources of income is the interest it charges on loans. The profit from that interest comes from a markup on the federal funds rate. So, when the Federal Reserve increases its rate, Bank of America gets to increase its rates exponentially, leading to more profit. As a result, investor excitement has fueled overwhelmingly bullish activity on the stock. In fact, over the past month, Bank of America stock has risen 5.8%.
Why the Stock's Rise Is a Problem
The reality is that the increase in the stock is unwarranted. This is the kind of rise you'd see if Federal Reserve policymakers were planning on a rare, large hike of 75 basis points or more. But  the Federal Reserve has been clear that it plans on gradual interest rate increases. Although a 25- basis-point increase is a positive thing for Bank of America, it's not going to have the overwhelmingly positive effect on the stock that investors seem to expect. Based on CEO Moynihan's recent comments, having rates higher by 25 basis points should add about $1.125 billion in revenue for the bank. That may seem like quite a bit, but Bank of America pulled in more than $48 billion in revenue in 2014, and that implied 2.3% percentage increase in revenue simply doesn't justify the move we've seen in the stock.
This article is commentary by an independent contributor. At the time of publication, the author held no positions in the stocks mentioned.