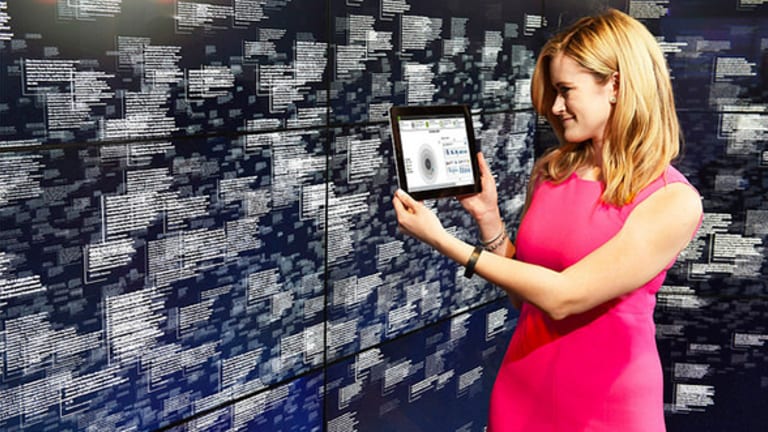 Why Artificial Intelligence and Smart Machines Won't Destroy Us
Computers are becoming ever smarter, with IBM's Watson now a Jeopardy champion, but there's no need just yet to worry about machines crowding humans out of the workplace altogether.
Computers are becoming ever smarter, with IBM's Watson now a Jeopardy champion, but there's no need just yet to worry about machines crowding humans out of the workplace altogether.
If you're worried that more intelligent machines will begin to make humans irrelevant in the work place, don't be. We've been down this road before, and it didn't turn out half as bad as many feared.
Yes, it's true that IBM's (IBM) - Get Report Watson computer has become a Jeopardy champion and that machines can learn. Apple's (AAPL) - Get Report  iPhone auto-correct seems to be improving, and Alphabet's (GOOG) - Get Report  Google search features do an increasingly good job of anticipating what you're really scouring the Web for.
And they're likely to keep getting smarter, better and faster. But that doesn't mean our future will be akin to a Stephen King horror story, where machines will keep humans as pets, and all jobs are automated.
Such concerns always surface when new technology radically changes the economy, as happened 250 years ago in the industrial revolution. 
The trepidation is caused by three major factors: an overestimate of the impact of the technology, lack of vision about how mankind will prosper and the inability of some people to adapt to the change.
If history is a guide, though, the world will turn out better than many of us imagine.
Consider the textile industry, upended when automated weaving machines were introduced in the early 19th century. The technology reduced the cost of production by 98% over the next 100 years and rendered hand-made production obsolete, says professor Jim Bessen, an innovation economist at Boston University School of Law.
What happened? Something radical, he says. As the price of cloth dropped, the demand for it grew and so did the demand for machine operators. "More generally, the manufacturing share of the workforce grew from less than 12% in 1820 to 26% by 1920, despite pervasive labor-saving automation," he wrote in a recent research paper.
In short, machines didn't make people obsolete, but rather made them more productive -- and gave rise to an abundance of consumer products such as cloth.

More recently, he points to the introduction of electronic discovery software that aids in the preparation of legal cases. It has become a $1 billion industry since the 1990s, doing what paralegals do. Yet the number of paralegals and legal assistants has grown, says Bessen. "Once you make it easier for lawyers to do discovery, they want to do a whole lot more of it," he says.
Likewise, the publishing business has seen disruption. Out went the armies of typesetters at companies like News Corp. (NWS) - Get Report and The New York Times (NYT) - Get Report  and in came better-paid desktop publishers and graphic designers.
Shifts like that alarm workers outside the tech industry, but insiders have a different perspective.
"The actual people in the artificial intelligence field say that undoubtedly this technology will affect every industry," says Bessen. "But very few occupations are at risk of having everything done by machines."
For Wall Street, meanwhile, the potential upside is enormous.
"Technology is always a benefit to the economy," says Lindsey Piegza, chief economist at Stifel Nicolaus. It results in overall job creation and lower production costs, which benefit consumers. But such changes aren't painless or necessarily fast.
"This time around it's taking longer," she says. Part of the problem is that companies have vacancies but say they can't fill the positions because of a lack of qualified candidates. It's what she calls a "skills mismatch," with jobs available, but unfilled.
A look at JOLTS (Job Openings Labor Turnover Survey) data compiled by the U.S. government shows a higher-than-average percentage of openings in healthcare and professional services like accounting that indicates, perhaps, that companies aren't finding what they want on the skills front.
Piegza says there is also reluctance on the part of companies to commit to new, potentially job-creating, projects due to uncertainty about tax laws and regulations.
How long will this take to fix? There's the bad news.
"There's a reluctance of some people to go back to school," she says, which likely means it could be a generation before current technological advances all play out for the better economically.
This article is commentary by an independent contributor. At the time of publication, the author held no positions in the stocks mentioned.