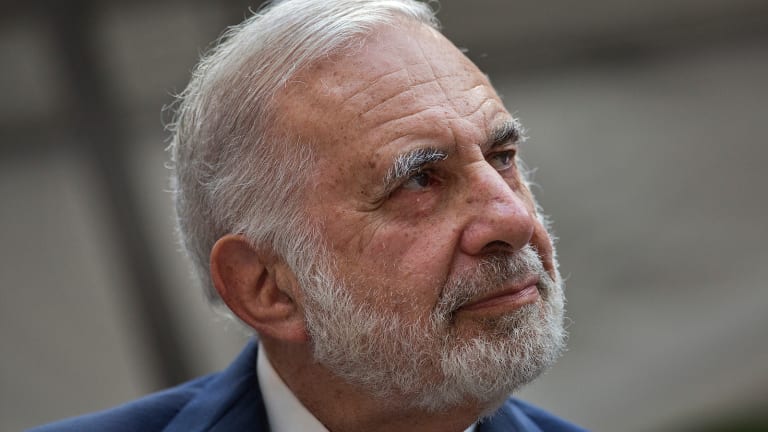 Why Are Warren Buffett and Carl Icahn Doubling Down on These 3 Stocks?
Warren Buffett and Carl Icahn have made big bets recently on companies that haven't exactly been hitting home runs.
NEW YORK (TheStreet) -- Warren Buffett and Carl Icahn like a bargain, and they've both been buying big in the discount section lately -- even though the deals are limited.
Both billionaire investors are known for their penchant for investing in stocks when they are closer to the bottom than they are to the top. And recently, they have acknowledged that finding a bargainis easier said than done.
In an April interview with CNN, Buffett said he didn't think the market was in bubble territory but did acknowledge stocks "might be a little on the high side." He also said he was finding "very few" cheap stocks to buy at the moment.
Icahn's tone regarding the current state of the market has been more alarming, and in June, he tweeted that he thinks the market is "extremely overheated," especially high-yield bonds. "If more respected investors had warned about the market in '07, we might have avoided the crisis in '08," he wrote.
Neither investor has been at a complete loss for opportunities, but those they have identified may be a bit puzzling to some. Here are three big bets Buffett and Icahn have made recently on companies that haven't exactly been hitting home runs.
Phillips 66
Buffett faked out onlookers with Phillips 66 (PSX) .
A late August SEC filing reveals Buffett's Berkshire Hathaway (BRK.A) (BRK.B) has taken a 10.8% stake in the company -- nearly 58 million shares valued at about $4.5 billion.
Before that, however, many believed Buffett had actually dropped the stock, which has been in his portfolio since it spun off from ConocoPhillips (COP) in 2012. Phillips 66 was omitted from his most recent 13F filing, which most took to mean he had sold it off entirely. The filing, however, noted that confidential information had been left out -- and a couple of weeks later, we found out what.
Based in Houston, Phillips 66 is an energy manufacturing and logistics company with midstream, chemicals, refining, marketing and specialties businesses. Like most energy companies, it took a hit when oil prices began to drop in 2014. It has rebounded somewhat in 2015, but its price is still about 10% lower than it was one year ago.
The stock does have its advantages, and some see it as a way to profit in energy even as low oil prices persist. Phillips 66 generates much of its profit from refining and chemicals, which are not hinged on high oil prices. Its refining business, for example, brought in $604 million in earnings in the second quarter of 2015, compared to $390 million the same period the year before.
Freeport-McMoRan
Icahn raised eyebrows on Aug. 27 when a regulatory filing revealed he had taken an 8.5%, $900 million stake in Freeport-McMoRan (FCX) . And the billionaire activist investors has plans for the company, which has had a tough go in 2015.
Shares of the Phoenix-based natural resource company have dropped more than 50% year-to-date and has been hit hard by declining copper prices. The same day Icahn disclosed his stake, Freeport-McMoRan cut its 2016 capital expenditures estimate by 29%, reduce production and defer investments in oil and gas. It also said it would reduce its workforce by about 10%.
"The steps we are taking to reduce costs and capital expenditures will strengthen our financial position during a period of weak and uncertain market conditions and preserve our large resource base for improved future market conditions," company management said in a statement.
On top of copper price conundrums, Freeport-McMoRan executives will now have to deal with Icahn as well. The regulatory filing revealing the stake indicates intentions to have discussions related to capital expenditures, executive compensation and capital structure as well as the company's "high-cost production operations."
Freeport-McMoRan put out a statement in response to Icahn's filing and said that it "maintains an open dialogue with our shareholders and welcomes constructive input toward our common goal of enhancing shareholder value."
Cheniere Energy
Cheniere Energy (LNG) has been quick to react to Icahn.
The billionaire disclosed an 8.2% stake in the Houston-based energy company on Aug. 6. In the filing, Icahn said Cheniere's shares are undervalued and indicated plans to discuss operations, spending, financings and executive pay. The document also indicated that Icahn could move for board seats -- which he did, and got, in just a matter of weeks.
Cheniere announced on Aug. 24 that it had appointed two Icahn representatives -- Jonathan Christodoro and Samuel Merksamer -- to its board of directors. "As we have done with a number of companies in the past, we hope to contribute meaningfully as Board members towards enhancing shareholder value at Cheniere," Icahn said in a statement.
CEO Charif Souki spoke with Jim Cramer on Monday and said he thinks the bottom for oil prices is "pretty close." He also talked Icahn. "I have the privilege of having a smart investor putting two smart people on the board, why would I fight it?" he said.
Cheniere, which specializes in liquefied natural gas, has also been struggling on the stock market lately, with its price falling more than 10% in 2015 and nearly 25% since a year ago. It reported second quarter earnings on July 30, including a net loss of $118.5 million, compared with a loss of $201.9 million the same period in 2014.
This article is commentary by an independent contributor. At the time of publication, the author held no positions in the stocks mentioned.