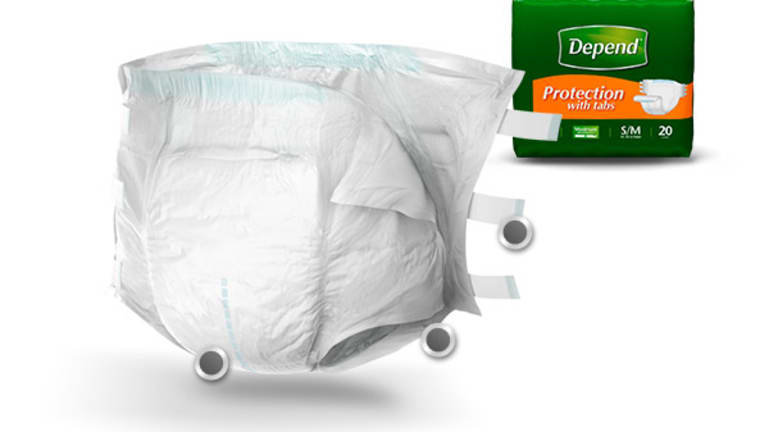 Why Are Sales of Depend Incontinence Products So Strong?
The aging of America is a major investment theme that all investors should be researching. From babyboomers signing up for gym memberships, to this generation seeking healthier food options, the next 20 years could be very profitable if the right investment is chosen off this theme. Brian Sozzi, CEO of Belus Capital Advisors, shares the hot details behind Depend diapers, a player in the theme of the aging of America.
NEW YORK (TheStreet) -- If your investing self is NOT sitting with the slick-haired wealth manager and discussing opportunities to profit from the aging of America, well, then, it's time to wake the heck up. This will be one of the largest investment themes for the next 20 years! Consider these two stats:
There are 10,000 babyboomers expected to turn 65 years old every day until 2029.
By 2030, all members of the boomer generation will be 65 years old and older, representing 18% of the nation.
When we think of senior citizens, there is still a tendency to envision a wrinkly male or female sitting at home waiting for a family member to call. However, the boomer generation is much more active than generations prior and likely will want to extend their independence for as long as possible. One way to stay active while addressing bodily degradation is by wearing Depend diapers, or just Depend as the brand's owner, Kimberly-Clark (KMB) - Get Kimberly-Clark Corporation Report, refers to them these days due to a host of new products. Sales of adult care products for Kimberly-Clark, led by Depend, have been on fire the past year, increasing in the range of a mid to high-single digit percentage stemming from new innovation.
What is this new innovation you ask? Try this stuff on for size ...
Useful brand extensions: Depend is now available in seat and bed protectors. So, in essence, Kimberly-Clark has tapped into the strength of the Depend name to develop a complete sunup-to-sundown product line for consumers.
Friendly marketing: Kimberly-Clark has greatly improved Depend brand marketing, making the product less of an embarrassing purchase for a proud male or female. For example, the Depend bed protectors are referred to as "quiet when sleeping" on the company's website as hey, who wants to wake a partner when urinating between the sheets. Moreover, traditional Depend diapers are being pitched as offering improved comfort and discreetness.
Stealth point of purchase: Come on, who wants to plunk down (and that includes a son or daughter asked to buy Depend for mom or dad) a pack of Depend on the checkout lines of Walmart (WMT) - Get Walmart Inc. Report, Target (TGT) - Get Target Corporation Report, or Kroger (KR) - Get Kroger Co. Report. Kimberly-Clark now has a home delivery option for Depend that ships the ordered item in a plain brown box, once again making it easier to buy a product that was always a touchy subject.
Inside the Stock Analyst's Head:
Why are strong sales of Depend products important to an investor?
Strong sales of Depend serve as initial signs that the aging of America investment theme is starting to unfold in corporate financial statements. Therefore, it's a theme that should be sought out in comparable companies to Kimberly-Clark.
Why did sales of Depend inside of the Kimberly-Clark portfolio catch my attention?
Kimberly-Clark is known as a packaged goods company. Packaged goods companies are notoriously slow growers of revenue and profit due to intense price competition on the shelves of Walmart, Target, and countless traditional supermarkets. So to see adult-care segment sales mentioned by Kimberly-Clark in its latest SECfiling as having increased by a "mid-single digit" percentage, that information stood out to me, and sent me researching for the historical performance of the brand.
I tried reaching out to Kimberly-Clark for comment on the Depend brand but was unsuccessful.
Who competes with Depend?
Sector analysis is a must-do when analyzing a company targeted for a portfolio. In a single quarter, sales for a seemingly hot brand, in this example Depend, could slow and upset Wall Street expectations if a competitor enters the space with new products and aggressive marketing.
The main competitor to Depend is Tena, owned by SCA (Svenska Cellulosa Aktiebolaget). According to SCA's latest financial statement for the period ended March 31, sales of the Tena brand increased 1%, excluding foreign exchange effects. That rate of sales growth is slower than what Depend put on the board, despite SCA stating the sales increase was fueled by "new innovations and products launched under the Tena brand."
Here are all the financial textbook things YOU need to know
The most comparable publicly traded peer in doing this analysis is Procter & Gamble (PG) - Get Procter & Gamble Company Report, in which Kimberly-Clark does battle with in many similar personal care categories. Not that Kimberly-Clark doesn't have it tough on the aisles, but Procter & Gamble has it arguably tougher given its exposure to laundry detergents and razors, where a host of private label products are entering the space. Considering that, as well as Kimberly-Clark's pocket of growth in Depend, a reasonable assumption is that on a forward P/E multiple of 16.69x, Kimberly-Clark shares should trade at least in tandem with P&G. The market may be undervaluing the ongoing success of the Depend brand and its meaning to Kimberly-Clark's future financial statements, and overestimating Procter & Gamble's product portfolio potential.
When RadioShack Goes Out of Business, 3 New Businesses Will Emerge
Chipotle's Trio of New Company Initiatives Behind Stock Surge
What Is an Industrial Vending Machine and Why Are Sales on Fire?
-- By Brian Sozzi CEO of Belus Capital Advisors, analyst to TheStreet.
This article represents the opinion of a contributor and not necessarily that of TheStreet or its editorial staff.
At the time of publication, Sozzi had no positions in the stocks mentioned, although positions may change at any time.
Brian Sozzi is the CEO and Chief Equities Strategist of
. He is responsible for developing and managing an equities portfolio of mid- and large-cap positions, in addition to leading the firm's digital content initiatives. He is also a personal finance columnist for
Men's Health
magazine.