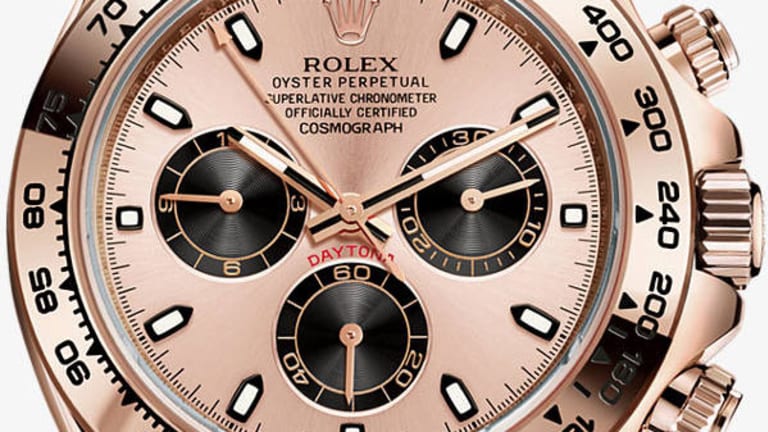 Why Apple's iWatch Will Kill Off Rolex
The iWatch will be cheaper than your average Rolex but will carry the same prestige.
NEW YORK (TheStreet) -- When was the last time you put on a watch and felt it was absolutely necessary? The truth is you haven't. And you're not alone.
For the same reason you no longer see watches that hang on chains, in the next couple of years you will no longer see them on wrists. Unless, of course, it's a watch from Appleundefined.
If rumors are to be believed, the tech giant has found its next industry to disrupt. Companies such as luxury watch manufacturer Rolex is one of several brands that stand to get slapped on the wrist, if not killed off entirely.
While Apple may be entering uncharted territory, the company has been working on this product for several years. In 2011 rumors circulated Apple had hired several new wearable computing experts to work on the smart watch project.
In 2013, Apple hired fitness expert Jay Blahnik, who consulted with Nike (NKE) - Get NIKE, Inc. (NKE) Report as Nike developed its popular FuelBand. Then a month later, Apple hired Ben Shaffer, who served as Nikes FuelBand designer. That year, rumors circulated that Apple had as many as 100 people developing the iWatch.
But from my vantage point, no hire offered more insight to Apple's strategic direction than Angela Ahrendts, former CEO of Burberry. It was clear that Apple wanted style. No one could offer that better than a veteran of the high fashion world. Put all of this together and this is not a company that is entering a market with timid ambitions.
Last week, KGI analyst Ming-Chi Kuo offered his ideas of what Apple has in store. While predicting a potential third-quarter launch, Kuo suggested Apple will unveil two versions of the iWatch.
What shocked the industry, including yours truly, was Kuo's notion the iWatch would be priced as much at $1,000. This tells me that it won't be your average Timex or Seiko. Apple plans to enter and dominate the fashion watch industry. This is a market currently dominated by Rolex.
While there are several competing brands in that high-end market, Rolex is by far the standard. Given Apple's own high standards and the investment the company has made in its personnel, Apple plans on being ranked among the best in that category.
No offense to Timex and Seiko, but their time is running out. In fact, they will likely be the first to die. It goes back to my initial question -- what's the point go wearing a watch these days, especially when your smart phone already come with some form of clock? It's redundant.

Unfortunately for Timex and Seiko, they don't offer the same prestige of a Rolex. Without that prestige or some other emotional/practical purpose, watch manufacturers face an onslaught of smart watches that will never need repair or have their batteries replaced.
If the recent Consumer Electronic Show serves as indication, this is a market that is poised to explode. The event was dominated by wearable devices. But not everyone will win. Samsung (SSNLF) , which released its Galaxy Gear back in December, has been a relative disappointment. The Korean tech giant is back to the drawing board working on its second-generation version. But its too late.
This is not a market you swing and miss on and expect to get another at bat. Apple CEO Tim Cook once said that for Apple to disrupt the wearable market, the product has to be a must-have" and not merely a want."
And when you factor potential health-related benefits of the iWatch, including heart-attack detection, consumers will see a $1,000 price as excellent value. Not only will the iWatch come this cheaper than your average Rolex, it will carry the same prestige. Rolex will have nothing to offer but its name. Will it be enough?
At the time of publication, the author was long AAPL and held no position in any of the stocks mentioned.
This article represents the opinion of a contributor and not necessarily that of TheStreet or its editorial staff.
Richard Saintvilus is Founder and CEO of 
.