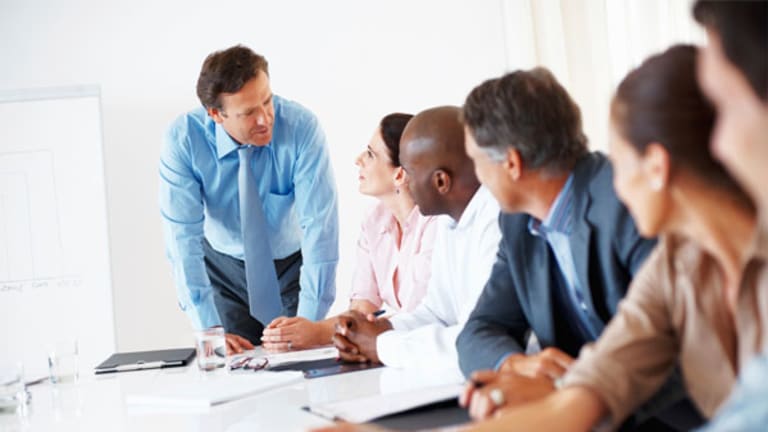 Why Apple's iTV (or Whatever It Will Be) Will Fail
Can Tim Cook deliver on what will be his biggest challenge as CEO?
NEW YORK (TheStreet) -- A Forrester Research analyst made news on Thursday for saying something I have been writing about for months regarding Apple's (AAPL) - Get Apple Inc. Report forthcoming iTV or whatever the heck it's going to be.
Frankly, without the ability to access Steve Jobs, I am not sure Tim Cook even knows what it's going to be.
Here's what Forrester's James McQuivey had to say on
:
Let's be clear what the company is up against in its long-rumored interest in the TV business. The reason it has failed with the Apple TV so far is not that it hasn't tried. It's that the TV business is a tough nut to crack: Content is still controlled by monopolists unlikely to give Apple the keys to their content archives. And simply introducing a new display on which to watch that content as it is currently delivered by existing distributors won't offer consumers much that's new.
Spot on. I said pretty much the same thing on
TheStreet
:
While Apple strong-armed the music industry into doing exactly what it wanted . . . that act will not fly with the TV and movie guys. Apple pulls sway with wireless carriers to subsidize the living heck out of iPhone because it operates from a position of massive strength in that relationship. It might even be able to take cable and satellite companies to the cleaners to subsidize iTV. When you look to the owners of premium content, however, Apple is really not all that different than Netflix (NFLX) - Get Netflix, Inc. Report.
We agree on the basic premise: Apple has had and will continue to have trouble striking deals with content providers. At best, if it plans on merely beaming content through a nice-looking television set, it will have an incomplete, and not all that compelling, offering.
If this is indeed where things stand right now -- Apple at a stalemate with content providers -- expect iTV, iPanel, whatever to fail miserably. When I say "fail miserably," I mean along the lines of
Ping
or the present iteration of Apple TV.
Granted, companies like
Dell
(DELL) - Get Dell Technologies Inc Class C Report
would take this type of miserable failure with a smile. For goodness sake, Netflix has developed an entire company around the notion.
That's why, in the above-cited article from last month, I expressed near certainty that Apple must have something else up its sleeve. If Steve Jobs did not leave detailed marching orders for how to proceed -- and even if he did -- Tim Cook faces his biggest challenge as CEO of Apple in a post-Jobs world. In fact, Cook sits on the cusp of making or breaking the dominance of the company Jobs built and Cook can only hope to sustain.
I am not yet sure if I agree with McQuivey's take that iTV will not be a television at all. He envisions "the world's first non-TV" with "apps that serve as the hub of family life -- complete with shared calendars, photo and video viewers, and FaceTime for chatting with grandma . . . ." He would position the non-TV to hang on a wall in the room where a family congregates most.
Whatever this new device ends up being, it is critically important to the future of Apple and Tim Cook's reputation as the CEO with the task of replacing a legend.
Is it Cognitive Dissonance?
I often agree with
Fortune's
Adam Lashinsky. For instance, he's on the mark when he says
the most urgent challenge facing Tim Cook is putting out innovative products
. And he wrote
, published Thursday, about Cook's tenure as CEO at Apple.
When somebody I respect as much as Lashinsky speaks, I not only listen, but I prepare to have my strongest convictions challenged and maybe even changed. Lashinsky wrote:
For their part, most Apple employees seem more than satisfied with Cook. He often sits down randomly with employees in the cafeteria at lunchtime, whereas Jobs typically dined with design chief Jonathan Ive . . . At Apple, Jobs was simultaneously revered, loved, and feared. Cook clearly is a demanding boss, but he's not scary. He's well-respected, but not worshiped. As Apple enters a complex new phase of its corporate history, perhaps it doesn't need a god as CEO but a mere mortal who understands how to get the job done
Like many Apple observers (and, I presume, bulls), Lashinsky presents seemingly conflicting viewpoints.
As a human being, Tim Cook is my kind of guy. Personally, I am not a big fan of how Steve Jobs reportedly treated other people. So, I think it's fantastic that Cook breaks bread with the common man and carries himself like a "mere mortal." I'll take reserved yet confident over bombastic and self-absorbed any day of the week. I'll take someone who considers and cares about another person's feelings over someone who shows complete disregard.
But, as much as our human sides cringe when we hear stories of Jobs berating people in meetings or giving a lecture to a young girl trying to peddle Girl Scout cookies, we also must acknowledge that these qualities, at least in part, made the man. And that man made Apple what it is today.
In one breath, we're told something we can all agree on: Cook's biggest challenge is to be innovative. In the next, Cook becomes the guy Apple needs because he is nice, takes the time to converse with shareholders and is making Apple "slightly more open and considerably more corporate." According to Lashinsky, Apple employees, at least in some areas, wanted a kinder and gentler CEO.
That's all fine and good. Some shareholders wanted a dividend and a buyback. Cook gave it to them. Plenty of folks pan for less expensive Macbooks and a mini-iPad. Cook will likely deliver there as well.
It shocks me that so many people overlook such a crucial point. Greatness generally does not spring from giving the people what they want. As sadistic as it sounds, Jobs' incredibly quirky and often downright mean behavior contributed to his unique ability to make Apple tick.
When iPhone 5 comes out, Jobs will receive credit for whatever it is. It has likely been in the pipeline for some time. There's likely no need for a massive overhaul of the device or the choreographed release. Cook simply needs to continue babysitting things as he done quite well so far as CEO.
When the next brand new product comes out, it's all on Cook. Even if Jobs conceived the design, features and overall aura of iTV (or whatever it will be) before he died, he's not around to deal with what it appears Cook is dealing with now.
Getting somewhere with content providers or changing the plan months before a launch because you got nowhere with content providers requires a different type of innovation. It's one that we probably did not give Jobs enough credit for. He could will others to create beautiful products, but he also had a way of making powerful people outside of Apple do what he wanted. He had a way of pulling rabbits out of his hat.
You cannot simply impart these ingredients of Apple's greatness on to a mere mortal, no matter how much people like and do not fear him.
At the time of publication, the author holds no positions in any of the stocks mentioned in this article.