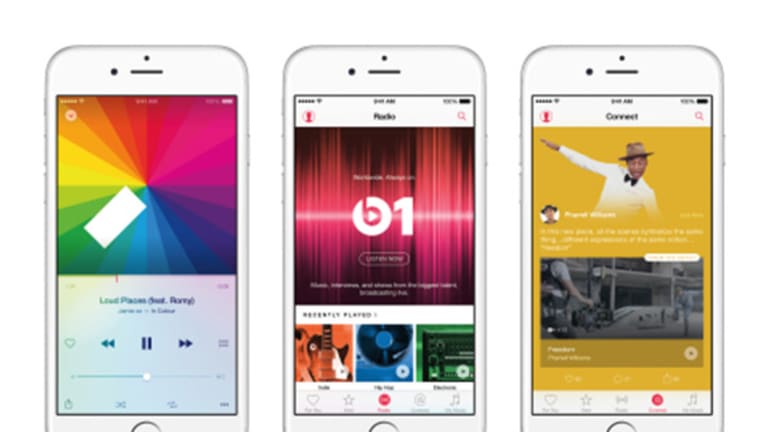 Why Apple Music Will Succeed Despite Being a Me-Too Service
Apple Music has received ho-hum reviews from analysts, but the combination streaming-music and Internet-radio service will likely do well due to the installed base of iTunes users.
NEW YORK (TheStreet) -- Apple (AAPL) may have failed to blow away industry analysts with its introduction of Apple Music, but the company can expect its new service to succeed due to the large number of people already entrenched in the iTunes ecosystem.
The general consensus is the new streaming-music/Internet-radio offering is far from ground-breaking and is actually quite similar to services already offered by Sirius XM (SIRI) , Pandora (P) and Spotify. While it is likely to be a money-maker for Apple, the other services most likely have little to fear from this new competitor.
"Despite all this, they will succeed just because the conversion of iTunes users is almost frictionless. Check the box and we will add the charge to your bill since we already have your credit card on file. That alone will give them traction in the market," said Van Baker, Gartner's research VP for mobility.
Apple Music will be available for $9.99 per month starting June 30 for Apple devices; Google  (GOOG) (GOOGL) Android devices get the service this fall.
Paul Verna, senior analyst at eMarketer, was not quite as certain, saying the three basic services that comprise Apple Music are already available from other, well-established sources which will make it very hard for Apple to gain any ground. He described Apple Music as "a solution in search of a problem."
"I remain skeptical that Apple can disrupt either the on-demand streaming or playlist-based online radio markets," Verna said. "Spotify is well-entrenched in on-demand streaming, has the early-mover advantage, and offers a more user-friendly set of options that range from free to $10 a month," he added.
Baker agreed. "As for Apple Music, it is really just Apple catching up, and the 24/7 radio station and the Connect social media connection with artists are not really differentiators for the business," said Baker. "Pricing is also 'me-too.'"
Apple announced Apple Music at its Worldwide Developers Conference 2015 on Monday. The $9.99 per month service, or $14.95 for a family plan, is three services in one.
Music streaming gives the user access to the iTunes catalog of 30 million songs.
Apple Music Radio, or Beats 1, is the company's first live radio station. It's dedicated entirely to music and music culture, led by influential DJs Zane Lowe in Los Angeles, Ebro Darden in New York and Julie Adenuga in London.
Apple Music Connect lets artists share lyrics, backstage photos, videos or even release their latest song to fans directly from their iPhone and allows those fans to comment directly to the artist.
In addition, Apple Music serves as a hub for all the music already owned by the consumer.
Verna thought the family plan was a good idea and that might be able to pull some people away from Spotify, but otherwise he is unimpressed.
Nor did Verna see Beats 1 causing a headache for Pandora. The main difference between the two services is Beats 1 utilizes a human element to help choose songs, while Pandora sticks with an algorithm  that picks songs and centers on the listener's musical taste.
"It remains to be seen how consumers will receive Apple's human-based curation approach. On paper, it sounds like a good idea that could address some of Pandora's shortcomings, but it's hard to see how it will be different from satellite radio or, for that matter, from the current version of iTunes Radio, which has hardly made a dent in Pandora's business," he said.
Wall Street's outlook on Pandora was a bit rougher. The stock closed down almost 4% on Monday, then fell another 6.9% in early trading Tuesday.
The market for streaming music and online radio services is on the upswing. U.S. adults will spend about 43 minutes per day listening to online radio services and almost 100 million smartphone users will listen to music via a streaming service or through direct downloads this year, rising to 134.4 million by 2019, according to eMarketer research.
This article is commentary by an independent contributor. At the time of publication, the author held no position in the stocks mentioned.