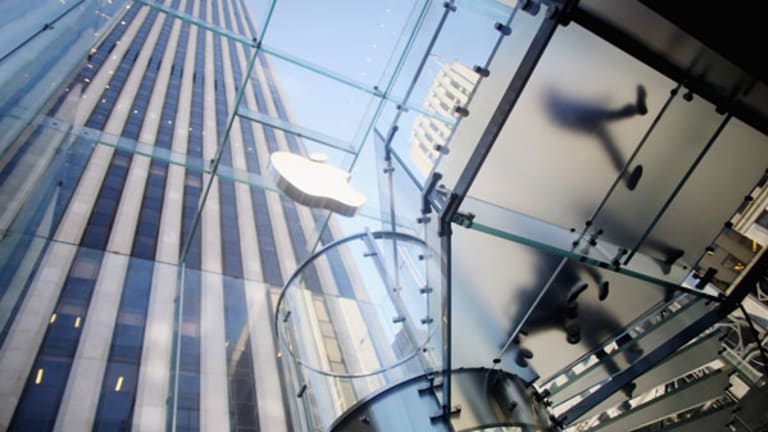 Why Apple Continuity Among Its Top-Tier Products Is Great for Investors
The ability to use features interchangeably among Apple products is one of the most enticing enhancements for consumers.
NEW YORK (TheStreet) -- At Apple's (AAPL) - Get Apple Inc. (AAPL) Report 2014 Worldwide Developer Conference in San Francisco, the company introduced a variety of enhancements to its OSX, and iOS operating systems for developers. One of the most enticing to consumers will also be very beneficial to the company's bottom line, and thus to shareholders.
Continuity is an extension of Apple's initiative to bind its mobile (iOS), and desktop (Mac OSX) operating systems, and allow users to use features from their iPhone or iPad on their Mac and vice versa. For example, iPhone owners will now be able to use their Macs as speakerphones, or caller ID for their phone, or even to make phone calls, and text messages. Of course, this will not work for competing phones such as Google's (GOOG) - Get Alphabet Inc. Class C Report Nexus 5, and Samsung's (SSNLF)  Galaxy S5.
In addition to being able to use phone features on a Mac, Continuity also allows for another development, which Apple is calling "Handoff." Handoff allows users to begin writing emails, and texts on their iPhone or iPad, and effortlessly switch to writing on their Mac.
Users can also go from their Mac to their iPhone or iPad and will be able to hand off other things, like opened Web browser tabs, maps instructions and contacts. In keeping with their developer-centric message yesterday, Apple also made these capabilities available to developers so that developers who develop for both the Mac and iOS can build Handoff into their own apps.
In addition, Apple has made its wireless peer-to-peer document-transfer tool, Airdrop, cross-platform so that Macs and iOS devices can send documents to each other. Walt Mossberg, formerly of The Wall Street Journal, now writing for Recode, nailed Apple's message: "To my mind, the overwhelming theme at WWDC was that your digital life can be better if your phone, tablet and laptop all have the familiar Apple logo."
So by now you see the potential -- but you're probably wondering, "Why is this good for Apple's investors?" Thanks to disappointing earnings and slowing sales, Apple's stock price has taken a beating over the past few years. Shares closed Tuesday at $637.54, up 13.6% for the year to date.
Apple has continually lost market share to Android ever since Android came into the market in 2008. By the fourth quarter of 2013, iOS had just 11% market share, according to ABI, and by the first quarter of this year, that was down to just 10%. Connecting iOS and OSX in this way makes the two platform more attractive together than they were separately. It motivates users who own a Mac but no iOS devices or an iOS device but no Mac to invest in both.
It provides disgruntled iOS users (who also own a Mac) with a reason not to defect to Android. It also makes iOS 8, and Mac OSX 10.10 Yosemite more attractive to users of Legacy devices. The iPhone 4, and many Macs were left out of the latest round of updates and these features will likely motivate many users to upgrade their devices.
This isn't going to save Apple (I know -- it's not really in any trouble), but it will be helpful in retaining users, and building loyalty, until Apple can penetrate other categories. Right now, it appears that Apple will attempt to enter new categories in the fall, right as the new softwares are released. 

At the time of publication the author held no positions in any of the stocks mentioned.
This article represents the opinion of a contributor and not necessarily that of TheStreet or its editorial staff.
>>Read more: Apple WWDC: What Wall Street's Saying
You can read
my full first impressions on Apple's new operating system
on my blog.