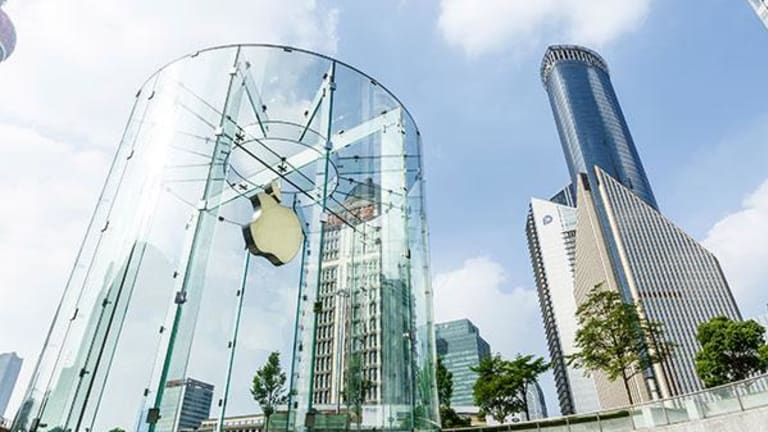 Why Analysts Got Too Negative on Apple
The biggest company on earth ran into the highest quality problem: Too much demand.
Mystery solved! The chief pillar of the bearish case on Apple (AAPL) - Get Report was the coming, looming shortfall in cellphone sales.
That's right: when you sit down and ask where the "faux" buy recommendations were, the analysts who had one and a half feet out the door, it was all predicated on the "field work" that showed that Apple hadn't ordered enough chips to make a lot of phones because there was not enough demand, especially for the new, larger, cheaper form factor I-phones.
Yep, they sat down and stitched together commentary from all of the usual suppliers, even as those suppliers have to mask themselves in order not to lose Apple business. You are never allowed to mention Apple's name on a call if you are a supplier because they will yank your business and send it to a competitor.
The most recent negative data point came just Tuesday night when Texas Instruments (TXN) - Get Report said cellphones were weak. Texas Instruments is a "known" supplier to Apple.
Of course last week, Skyworks (SWKS) - Get Report said the same and they have probably the most semiconductor content in an I-phone.
The narrative was a simple one: if Apple didn't place a lot of orders with these chip makers then the cellphone maker, the one that has sold a billion I-phones, must be stuck with a ton of inventory and it would have had to slash prices to the bone to get rid of all the excess supply. That, in turn, would lead to more price cutting as it was clear that the current crop of phones had been a total cropper.
What nobody thought about, what no one even could fathom is that maybe Apple didn't order enough chips because it UNDERESTIMATED the demand. Maybe it didn't realize exactly how compelling these newer phones were and it didn't understand that they would produce more switching from Samsung than ever before and more upgrading from so-called dumb phones then they thought possible.
Maybe it didn't get its own popularity especially in Japan, India, Turkey, Russia, Brazil and Canada, all of which turned out to be quite strong.
That's really the only explanation how so many analysts interpreted the data wrong.
Now it might not have mattered if you didn't have so many analysts in the last few days really putting this thesis out there. And, most important, you had "Apple's best days are over" Colin Gillis slashing that old price target just yesterday.
Oh, and perhaps, more important, the "buy" side, the actual accounts were, at last look the most negative I can ever recall. This one, the biggest one, got dramatically under-owned.
In other words the facts didn't add up. Hmm, maybe even Apple got too negative on Apple. Who can blame them? Enough people say you don't know what you are doing maybe, just maybe, you start thinking, hmmm, we're real good but let's be more conservative.
They were.
And they ran into the highest quality problem: too much demand.
I can name about 400 companies in the S&P 500 who just wish they had that problem. Oh, and the problem may not be going away this quarter. Nor the services stream which will top $30 billion next year at this time, with amazing gross margins.
Yep the "bears" masquerading as bullish analysts just got it wrong. They seem almost chastened on the earnings call, asking soporific questions and generally being stunned at the strength of it all. They came wanting to ask, "When's the funeral?" They left having to revise their estimates upward, not down. Not in the plan.
In other words they felt the lash of a better than expected number even as it was much lower than a year ago. It was good enough, as I wrote here yesterday.
And sometimes good enough, is well, good enough, five points good enough for the biggest company on Earth.
Apple is held in Jim Cramer's charitable trust Action Alerts PLUS. See all of his holdings here.
At the time of publication, Jim Cramer's charitable trust Action Alerts PLUS held no positions in stocks mentioned.