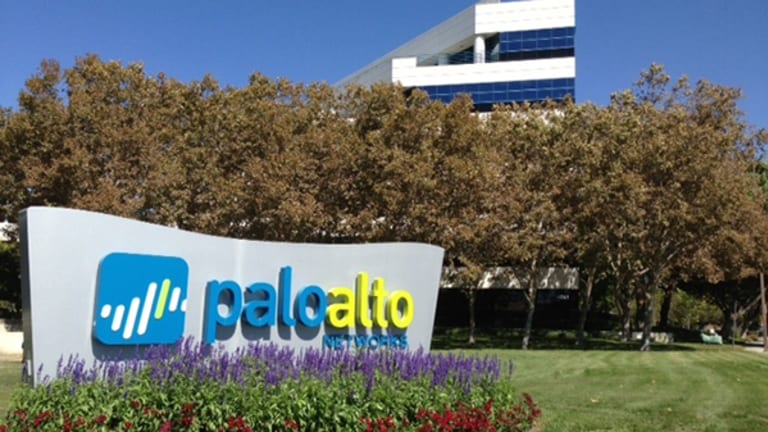 On the face of it, Wall Street appears unnecessarily cruel, judging by network and enterprise security company Palo Alto Networks (PANW) - Get Palo Alto Networks, Inc. Report .
The company exceeded its guidance for the eighth consecutive quarter, but most analysts are less certain about the future.
The stock fell 12% after the 11-year-old company's loss widened on a generally accepted accounting principles basis. And those who look a little closer will find that Palo Alto Networks offered below-consensus guidance to go with a fiscal third-quarter sales beat and in-line earnings per share.
So should investors buy the stock or hold off?
Palo Alto Networks rose to prominence through its next-generation security offerings with an innovative platform. The platform helps clients secure their organizations against cyber attacks.
Additionally, the company's Threat Intelligence Cloud provides central intelligence capabilities, security for software as a service application and the automated delivery of preventative measures against cyber attacks.
Product sales account for about 47%, while service revenue is the other 53%.
A look at the company's growth chart over the years shows that sales grew to $928 million last year from less than $50 million in 2010. However, the company has yet to churn out meaningful profits.
Last year, losses amounted to $165 million, versus $226 million in 2014.
The company's latest fiscal third-quarter numbers have shown that while the company's gross profit rose to $250.9 million from $169.8 million a year earlier, sales and marketing expenses increased 54% to $202 million. Clearly, sales and marketing is eating up most of the gross profit gain.
Among the company's peers only CyberArk and Fortinet are profitable based on last year's numbers.
Although Palo Alto Networks is slated to deliver 33% to 47% sales growth for the next two years -- more than analysts' projections for its rivals -- clearly Wall Street wants to see more profitable growth on a GAAP basis. Investors can make money on a stock, even if the company isn't profitable, but is it wise to buy Palo Alto Networks?
Goldman Sachs has a buy rating on Palo Alto Networks but lowered its price target to $165 from $188. JP Morgan Chase also cut its target to $196 from $216.
Meanwhile, Deutsche Bank downgraded the stock to hold and slashed its target to $150 from $210.
At a five-year price-earnings ratio of 1.79, Palo Alto Networks is cheaper than its peers, including CyberArk (2.14), FireEye (negative PEG), Fortinet (2.33) and Imperva (6.63). But unless an investor has a stomach for high risk, stay away from Palo Alto Networks until its fundamentals improve.
---
Palo Alto Networks is a bad bet right now. For those who would rather avoid stocks altogether amid market turbulence, here is a way you to make a guaranteed $67,548 over the next 12 months. In fact, this technique is so successful and simple, those who try it might want to give up stock investing forever. Click here to learn more.
This article is commentary by an independent contributor. At the time of publication, the author held no positions in the stocks mentioned.