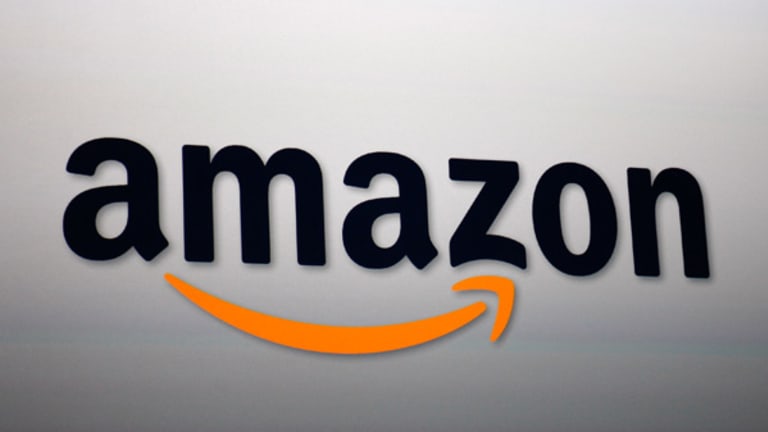 Why Amazon's Smartphone Faces an Uphill Climb
Amazon's new smartphone will face off against the iPhone 6 and Samsung S6. The only winner is AT&T.
NEW YORK (TheStreet) - Amazon (AMZN) - Get Amazon.com, Inc. Report is entering the smartphone market as it reveals its first phone on Wednesday. AT&T (T) - Get AT&T Inc. Report, the data connection provider for Amazon's Kindle, is rumored to be the sole carrier.
The odds of a successful Amazon smartphone are long. While AT&T may benefit from an exclusive contract with Amazon, that won't help Amazon reach a critical mass of users. Apple's (AAPL) - Get Apple Inc. Report iPhone once was exclusively sold by AT&T, but when Apple began to sell the phone through other carriers, the company's revenue and profit rose, and its stock soared.
For Amazon, BlackBerry'sundefined Z10 smartphone offers a lesson. The Z10 is an excellent phone, and after many long, painful delays for BlackBerry shareholders, it was released in March 2013. But you don't know it's a great phone because you probably haven't seen one, because so few people bought them.
The Z10 was too little, too late. Amazon's smartphone entry will play out similarly. Lots of fanfare and media attention for about a month, followed by essentially radio silence. The phone idea will most likely go down as one of Jeff Bezos' few, albeit biggest, mistakes.
For one, Android by any other name is still an Android. Amazon's Kindle Fire uses a forked version of Android as its operating system. If the operating system ventures too far off the path, it risks failure to run future popular apps.
If the phone doesn't venture too far from the standard Android operating system, then it won't likely be much different than every other Android phone, other than maybe a few temporary novel bells and whistles. 
The Amazon smartphone may have enough unique characteristics to be the cool kid for about a month, but so was the Z10.
The second challenge facing any new entry into the smartphone market is Apple. To capture a meaningful amount of smartphone market share, Amazon must convert iPhone users to Amazon. Anything is possible, but betting against Apple, Microsoft (MSFT) - Get Microsoft Corporation Report, and Samsung (SSNLF)  has limited upside and lots of downside.
It's widely expected Amazon will take a page from the Kindle Fire marketing playbook and sell the smartphone at or near cost. To do so will result in lower profit margins at a time when shareholders are already questioning the wisdom of buying a stock that trades at more than 100 times forward earnings.
It's a new play on an old angle. Give away the razor and sell the razor blades at a substantial markup. It doesn't always work as expected. If Amazon's phone is built on an Android OS, downloading and using apps from competitors will be a snap.
Google also uses a variant of the razor-blade strategy. Google's software giveaway model works well because the company's primary business is high-margin advertising. Google has 61% gross margins and 22% net margins. It can afford to offer its Android smartphone operating system because Android helps tie users to Google's products and grease the company's cash-cow advertising behemoth.
In comparison, Amazon's gross margin is 29% and net profit margin is less than 1%. Amazon is already in a race to the bottom for price with Microsoft and Google in the cloud-computing business. Adding Apple as another company to simultaneous go toe-to-toe with gives the appearance that Bezos has one too many balls to juggle.
Larry Ellison Wants to Make Oracle the King of the Cloud
New Walmart.com CEO Fernando Madeira Has Big E-Commerce Plans
At the time of publication, Weinstein had no positions in the stocks mentioned.
This article represents the opinion of a contributor and not necessarily that of TheStreet or its editorial staff.