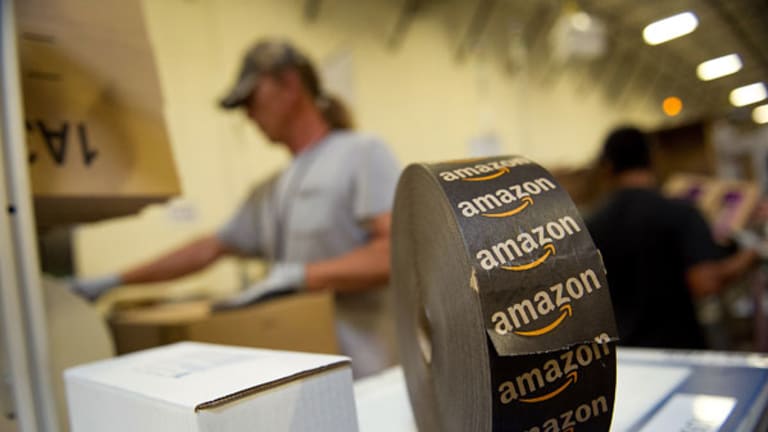 Why Amazon Loves Local -- and Why It Absolutely Shouldn't
Amazon has its eye on the prize pushing into the services industry, but it could be missing the forest for the trees.
NEW YORK (TheStreet) -- Amazon (AMZN) - Get Amazon.com, Inc. Report is set to launch a local marketplace specifically for services later this year, according to Reuters. The online agora would expand Amazon's existing third-party seller system to include local service providers. Amazon Local, the company's existing Groupon (GRPN) - Get Groupon, Inc. Report lookalike, already offers some services; new service-oriented sellers, like carpenters and plumbers, will join them on this new marketplace.
Investors seem skeptical. Amazon stock is down roughly 16% year to date, closing at $335.20 on Thursday, off a 52-week high of $408.06.
Amazon's focus has so far been on selling products. Now it is expanding more into services -- diversifying its business so that product and service sales feed into one another.
Amazon started this trend with its original business, bookselling. The company now sells Kindle e-readers, which enables it to sell e-books, which in turn helps it to sell physical books via Amazon's Matchbook program, which sells physical and e-books as a package. This in turn lets the shopping Mecca provide convenient flexibility and better recommendations to its customers.
In short, Amazon has been looking for ways to tie services to the goods it sells. For example, the company offered installation services to Google's (GOOG) - Get Alphabet Inc. Class C Report (GOOGL) - Get Alphabet Inc. Class A Report Nest Thermostat buyers.
Amazon founder, president, and CEO Jeff Bezos is also no stranger to online booking service aggregates. He is invested in Pro.com, a nationwide pricing engine for home projects. Pro.com allows consumers to search for a specific home repair or improvement, receive a pricing estimate and book a local professional to complete the task. Amazon may mimic this system on a national level.
Amazon's current role as a middleman for third-party vendors has already proven quite profitable, accounting for roughly 40% of the company's sales. By expanding its relationship with local businesses, Amazon puts itself in a position to increase that revenue even more. At the same time, the online marketplace giant offers a valuable service to consumers -- essentially an online local marketplace for services that comes with Amazon's famous "A to Z Guarantee," verified customer reviews, average pricing information and possibly even payment using Amazon credentials.
Amazon is positioning itself to compete head-on against Angie's List (ANGI) - Get Angi Inc Class A Report and companies like it. Angie's List offers an aggregate listing site for local services, a forum for certified reviews, complaint resolution and discounts from the service companies listed. However, companies like Angie's List make money by charging a fee to consumers for using these services in addition to an advertising fee levied on the service companies.
It's no wonder Amazon would be interested in tapping into such a market -- it's huge! "According to ESRI Business Informations Solutions, consumers spent more than $400 billion on local service providers in 2010, including remodeling services, furniture repair and cleaning, movers, appliance repair and pest control," said Angie's List in a 2011 S-1 registration filed with the SEC. "In addition, according to the U.S. Center for Medicare and Medicaid Services, in 2009 U.S. consumers and private health insurers spent more than $420 billion on physician and clinical services, dental services and services performed by other health care professionals."
But that doesn't mean tapping into it is a good idea. Amazon has had very limited success with its daily deal service, Amazon Local, despite the fact that it offers deals very similar to those from rival Groupon. The marketing and the following just isn't there.
That's not the only reason that Amazon's local plan is a bad idea.
Amazon Fresh -- the company's same-day grocery delivery service currently offered in Seattle, Los Angeles and San Francisco -- costs members $299 a year to join. And it has taken Amazon more than five years to get to that point.
Compare that to other national grocery delivery services, such as Safeway (SWY) , which require no fee to join and only a modest delivery fee for smaller orders. You may not be able to order food from the Cheese Store of Beverly Hills, Seattle's Pike Place Fish Market or San Francisco Wine Trading Company as you can with Amazon Fresh. But for the $300 a year you save, you can buy plenty of cheese, fish or wine elsewhere.
By pursuing the services industry, Amazon is taking a big risk. Making a major investment into services when its other ventures aren't off the ground could weaken the company considerably.
Such a venture may not make Amazon a sell, but at this point it is a hold at best. The cost of going down the services road could be better spent in doing what it does best -- delivering products quickly and at minimal cost to the consumer.
>>Read More:
The Tragic Story of Family Dollar's Demise, Revealed
How to Make Money As a Whistleblower
The Rich Get Richer: U.S. Gains 1 Million More Millionaires
Is Google's Driverless Car in Danger of Getting Hacked?
At the time of publication, the author held no positions in any of the stocks mentioned.
Follow @ReneeAnnButler
This article represents the opinion of a contributor and not necessarily that of TheStreet or its editorial staff.