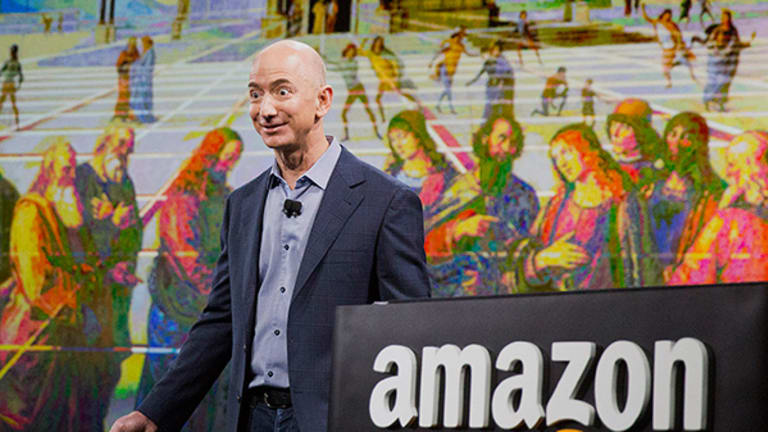 Publish date:
Why Grocery Stores Should Be Worried About Amazon's Latest Plans
The e-commerce giant is reportedly planning to introduce new lines of private-label goods, including food, in the coming weeks.
The e-commerce giant is reportedly planning to introduce new lines of private-label goods, including food, in the coming weeks.
Where, if anywhere, do Amazon's (AMZN) - Get Amazon.com, Inc. Report ambitions end?  
Jeff Bezos' e-commerce giant is now reportedly preparing to unveil its own private-label foods and household items, and the company's aggressive moves there may stem from a strategic desire to grow its home-related products and services business and become a one-stop shop for consumers.
The Wall Street Journalreported Sunday that Amazon is expected to introduce a series of new lines of private-label brands in the coming weeks.
The newspaper noted that the e-commerce giant will push into the production for the first time of perishable foods such as nuts, spices and baby food in addition to diapers and laundry detergents, adding that Amazon could start rolling out these products as early as end of May or early June.
"If they can undercut the grocery chains, it's another reason not to own Kroger (KR) - Get Kroger Co. (KR) Report, another reason not to own Whole Foods (WFM) ," said Jim Cramer, founder of TheStreet and manager of the Action Alerts PLUS Charitable Trust Portfolio. 
In the retail universe, TJX Companies (TJX) - Get TJX Companies Inc Report , Family Dollar Stores (FDO) and Ross Stores (ROST) - Get Ross Stores, Inc. Report have performed well because they can all come underneath Amazon, he added.
"There's no god-given right to being in retail," Cramer said, explaining that a lot of retailers have raised their dividend and now have found themselves challenged for cash.
With the introduction of private-label offerings, Bezos' e-commerce empire looks to further boost its Prime offerings and emerge as a must-have, one-stop channel for consumers, said Benchmark analyst Dan Kurnos via phone.
The big question for Amazon, which has warehousing capabilities and close relationships with manufacturers, will be exactly how it decides to make these private-label products and which categories it decides to enter.
For the time being, private-label products will broaden Amazon's target demographic in addition to leveraging its existing local business, Kurnos said, explaining that it will tie in nicely with the company's home necessities segment.
"All roads lead to home," he said, adding that the home and garden end-market has been strong for Amazon and other e-commerce companies like eBay (EBAY) - Get eBay Inc. Report . "You can't understate the importance of Prime and Prime evolution."
When it comes to Prime -- particularly from the standpoints of user penetration and geographic markets where it's offered -- Amazon is still in the early innings and has the potential to lock in even more solid membership growth.
The e-commerce company wants to wrap as many goods and services as possible under one umbrella and make its Prime offering the most efficient avenue for consumers to shop, said Frederick Moran, director of research at Burke & Quick Partners.
"It's all related to getting any and every service to users as quickly as possible so that more and more people take Amazon Prime," he said via phone.
Though the private label business is likely to be a small percentage of Amazon's sales initially, it has the potential to grow over time. And Amazon's stock has historically gone up when the company has grown revenues and demonstrated the potential for improved profitability.
Amazon's stock recently hit an all-time high, and was down 0.1% to $709.52 on Monday afternoon. 
"Given that Amazon has a vast distribution network in place with all the sufficiencies, to add a private label-controlled property into the mix only strengthens their position of dominance in the marketplace and potentially upticks the margins," Moran said.
In early May, Amazon also announced that it had partnered with Atlas Air Worldwide (AAWW) - Get Atlas Air Worldwide Holdings, Inc. Report to use Atlas' freighters to support deliveries to customers.
The company's ambitions for transportation and logistics may add to costs in the short term, but it should alleviate stress on internal network long-term, company followers said.
"People forget how big they are," Benchmark's Kurnos said, adding that if the e-commerce giant, which now sports a $330 billion market valuation, wants to keep growing at 20%, it needs to invest in its infrastructure.