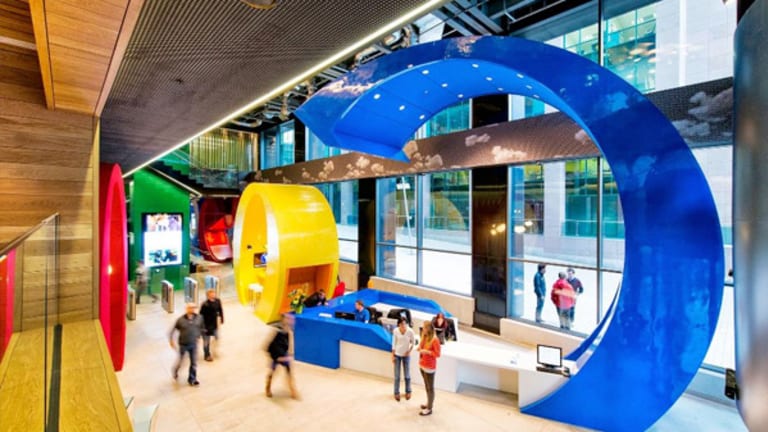 Why Alphabet Is Looking to Past Technology for Future Profits
The tech giant has just unveiled a landline phone service, despite nearly 50% of American households using mobile only. Here's why this is still a clever profit play.
Alphabet (GOOGL) - Get Alphabet Inc. Report , the parent company of search engine giant Google and a leader in technology innovation, has just unveiled its newest product. And although it might seem a bit too dated for such a forward-thinking company, Alphabet has plenty of reasons why launching this new service will be both a profit maker.
Yesterday, the company rolled out Fiber Phone, an offshoot of its Google Fiber service. If you have never heard of Google Fiber, it's probably because it currently serves only a select area of the country. Google Fiber is a broadband internet and cable television service launched in 2010 in Kansas City. Since then, the service has been expanded to Austin and Provo City, Utah, with plans to spread to areas in Tennessee, North Carolina, Georgia, Alabama, and California in the near future.
And now, in a bid to compete with telecom giants such as AT&T and Verizon, which offer bundled services of cable, internet, and phone, Fiber Phone will provide landline telephone services for a flat fee of $10. Features such as emergency 911 calls, unlimited nationwide calling, and caller ID will be standard. Fiber Phone is further evidence that Alphabet will be a cash-generating machine for investors into the foreseeable future.
But Fiber Phone isn't just merely a phone service. It offers state-of-the-art features such as voice message transcription that will send a written message to the user via text or email. To support the transcription service, and since telephone numbers will exist in the cloud, Fiber Phone will also work with laptops, mobile devices, and tablets.
Customers will be able to access Fiber Phone services by attaching a special "Fiber Phone box" to an existing landline phone. You'll be able to use the same phone number through your smartphone or tablet.
Alphabet plans to bring its Fiber and Phone services to the U.K. after spreading throughout the U.S. Since it is only available in areas with Google Fiber, Alphabet will be building out both services.
It may seem odd that Alphabet has set its sights on the landline telephone business. After all, Americans are depending increasingly on cellular service. How can this be a profitable growth play?
In reality, landlines still play a valuable role in the American household. Although nearly 50% of all households are currently wireless-only, there are still many regions in the country where mobile service is still not supported or has poor reception at best. These are the kinds of areas where Alphabet is currently launching Fiber Phone.
And the company also believes that its innovative phone services will win consumers back to the landline concept. "While mobile phones have pushed us toward the future, home phone service is still important to many families," wrote Fiber Phone product manager John Shriver-Blake. "Landlines can be familiar, reliable, and provide high-quality service, but the technology hasn't always kept up. That's why today we're introducing Fiber Phone as a new option to help you stay connected wherever you are."
In launching Fiber Phone, Alphabet is making it clear that the landline phone is still going strong in America's heartland, with the potential to still be desirable throughout the country and abroad. The company is also hoping to snatch away business from the major telecoms. By offering the phone service, customers who had previously been reluctant to give up their phone service will find Google Fiber a more attractive bundle option and make the switch.
What seems at first like an antiquated move from a futuristic tech company is actually a canny profit play that should only bring more profits to Alphabet and its investors.
You see Jim Cramer on TV. Now, see where he invests his money and why Google stock is a core holding of his multimillion-dollar portfolio. Want to be alerted before Jim Cramer buys or sells GOOGL? Learn more now.
The Best Tech Stock Under $8: There's a battle raging in the fast-moving world of Silicon Valley. Just as VHS tapes snuffed out Betamax and CDs killed cassettes, the winner of a new "gold standard" for data is about to be crowned. I've discovered a tiny company that figured out a way to corner this new $10 billion market, no matter who comes out the winner. Click here to learn more.
This article is commentary by an independent contributor. At the time of publication, the author held no positions in the stocks mentioned.