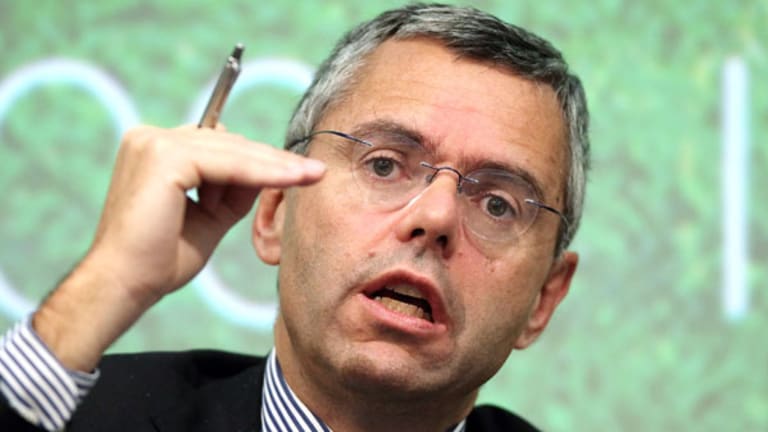 Alcatel-Lucent's Cost-Cutting Strategy Will Fail
Cutting costs only looks good on paper.
NEW YORK (TheStreet) -- Turning around the fortunes of a chronically struggling company is never easy. It becomes almost impossible when your rivals are operating with pinpoint execution.
When you're drowning in poor fundamentals with seemingly no lifeline, the term "sink or swim" becomes more defined. But you have to know which option is better.
This pretty much sums up the current status of
Alcatel-Lucent
(ALU)
and the decisions that are being made by CEO Michel Combes, who seems intent on going "back to the basics" and cutting costs. While I won't disagree there is merit in shoring up ALU's balance sheet, I just don't believe these are the right moves at this point in time.
Combes plans to sell 1 billion euros, which equates to $1.3 billion worth of assets, while cutting costs by an additional 1 billion euros. Investors cheered this decision, sending the stock up more than 7%.
Let's not get carried away just yet. Granted, the company has struggled for some time. But I believe these decisions are discounting Alcatel-Lucent's solid market position and some key assets. To that end, management's plans to harvest ALU's value could be a Trojan horse.
Combes has outlined a three-year plan of execution, upon which he said the company will have positive free cash flow and become "more tightly focused" on its core business. That's all well and good. But let's not forget there's negative precedent here as well. Combes' predecessor tried this strategy before and it failed miserably. What's going to change this time in a more competitive space?
>>Also see: Sprint Takes Game 7 Lead in Dish Battle>>
In the last attempt, the end result was, among other things, a scattered operation, missed product launches and a slew of other execution blunders, which only further weakened ALU's position. Worse, this allowed rivals including
Ciena
(CIEN) - Get Ciena Corporation Report
and
Cisco
(CSCO) - Get Cisco Systems, Inc. Report
to seize control of ALU's once-dominant business, sending ALU spiraling into an endless abyss of struggles with liquidity.
Come to think of it, ALU has not had positive free cash flow since 2006. Fiscal awareness has only been a small part of the issue. The major problem has been a gross lack of execution. Cutting costs today, although it looks good on paper, doesn't address how the company is going to acquire more business and generate revenue growth. With no revenue, there are no profits. Without profits, where's the shareholder value?
If management is serious about harvesting value, there needs to be a better balance between growth and fiscal awareness. For that matter, I believe that rivals including
Acme Packet
, which is now owned by
Oracle
(ORCL) - Get Oracle Corporation Report
, are cheering ALU's 6% and 12% decline in operating expenses and sales and general administrative expenses, respectively.
For Oracle and Acme Packet, cost cutting by ALU plays right into their hands because they understand they don't have to spend extra to grow their businesses to compete.
There's also another angle here. I've been at this long enough to appreciate when a company is trying to make itself appear more attractive to potential suitors. Here, too, Acme Packet, prior to being bought by Oracle, was a perfect example.
>>Also see: Netflix, Aereo and Unbundling Cable>>
Given Alcatel-Lucent's strong technology and a lucrative patent estate, I'm not going to rule out the possibility the company is being courted, which is why the books have become so important.
In fact, back in February I outlined a scenario where I felt that
. I'm not backing away from this opinion, especially given ALU's strong performance in the Fixed Networks and Services businesses, which recently grew 8.6% and 33%, respectively, in the recent quarter.
Cisco, which has been on a mission to buy "anything that grows" in the enterprise area, can certainly leverage ALU's advantage in this market. To that end, I wouldn't rule out Oracle, although that's less likely.
Finally, it comes down to the fact that I'm not convinced ALU is taking the right approach. I don't mind "cutting fat" to look leaner. But doing so at the expense of market share when what little you have is already diminishing each quarter doesn't' make sense.
The company should instead focus on leveraging its strong patents to produce products that its customers want to buy. At that point, profitability will take care of itself.
At the time of publication, the author held no position in any of the stocks mentioned
.
Follow @saintssense
This article was written by an independent contributor, separate from TheStreet's regular news coverage.
Richard Saintvilus is a private investor with an information technology and engineering background and the founder and producer of the investor Web site
. He has been investing and trading for over 15 years. He employs conservative strategies in assessing equities and appraising value while minimizing downside risk. His decisions are based in part on management, growth prospects, return on equity and price-to-earnings as well as macroeconomic factors. He is an investor who seeks opportunities whether on the long or short side and believes in changing positions as information changes.