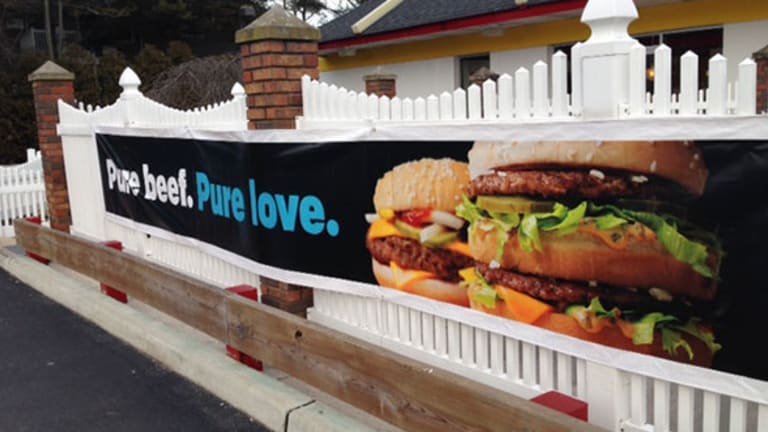 Why a McDonald's Turnaround Is Such a Supersized Challenge
McDonald's has a host of new things in the works to reverse its ugly sales trends. But the look of its restaurants may be standing in the way.
NEW YORK ( TheStreet) -- On the menu for beleaguered McDonald's (MCD) - Get McDonald's Corporation (MCD) Report this year:   reversing unsavory sales trends by changing an image held by people that it only sells waistline-killing Big Macs and processed, digestive-tract-destroying Chicken McNuggets.
McDonald's latest efforts to bolster its performance include new primetime TV ad spots emphasizing ingredient quality, a slimmed-down menu, and the introduction of technology that allows people to build their own burgers.
But there's one glaring problem standing smack in the middle of a reborn McDonald's -- outdated-feeling, franchisee-owned restaurants that continue to promote fatty burgers and side dishes on menu boards, cash register signs, and printed marketing materials. The slow pace of change within McDonald's restaurants was highlighted by its President and CEO on its recent analyst call. "It will take time for people to notice the comprehensive changes underway," said Don Thompson, following the release of a disappointing fourth-quarter earnings report.
TheStreet visited five McDonald's restaurants in the New York region to see how the rebirth of the Golden Arches that is being trumpeted by its execs is unfolding.


1. New York City's Penn Station
Images of high-calorie Big Macs and oily French fries overtook the windows of this McDonald's. One sign even went so far as to suggest the Big Mac's vaunted secret sauce was a person's "BFF", or best friend forever. If McDonald's truly wants to reverse its image problem rooted in a largely unhealthy menu, the images customers first see when walking into a location will have to be tweaked.  



2. Islip, New York
A big, lit-up McGriddle sign greets people studying the intimidating McDonald's menu board at this location. After getting their food, customers can plop down on hard chairs alongside a '57 Chevy bumper hanging on the wall. This is a classic example of McDonald's franchise model undermining its national advertising -- the company's restaurants tend to reflect the franchisees tastes. By contrast, Chipotle (CMG) - Get Chipotle Mexican Grill, Inc. Reportowns all of its restaurants, affording it the luxury of bringing a cohesive brand to consumers whether they are eating a burrito on the East Coast or the West Coast. 


3. Bay Shore, New York
Signs for a 50 Chicken McNuggets deal and warm cookies were not the most notable things at this particular McDonald's. Rather, it was a painting of McDonald's former children's Happy Meal TV pitchman the Hamburglar. Consumers could well be confused by seeing that '80s TV commercial icon alongside McDonald's latest Happy Meal ad highlighting the new inclusion of clementines.


4. Commack, New York
A banner hanging on a fence showcasing mozzarella sticks on the dollar menu could be seen from a major highway here, reaffirming to passers-by that the "new" McDonald's they may have seen on TV is not that different from the "old" McDonald's. By chance, if a hurried person entered the drive-thru, the first sign they'd be hit with is one for hamburgers, not a salad or other healthier alternative.  



5. Deer Park, New York
Kids receive free ice cream at this McDonald's, perhaps as a snack after downing the aforementioned clementine found in their Happy Meal. A sign for an Egg McMuffin promotion, offering two sandwiches for 900 calories, that ended on December 28, 2014 hangs on the window.


This article is commentary by an independent contributor. At the time of publication, the author held no positions in the stocks mentioned.