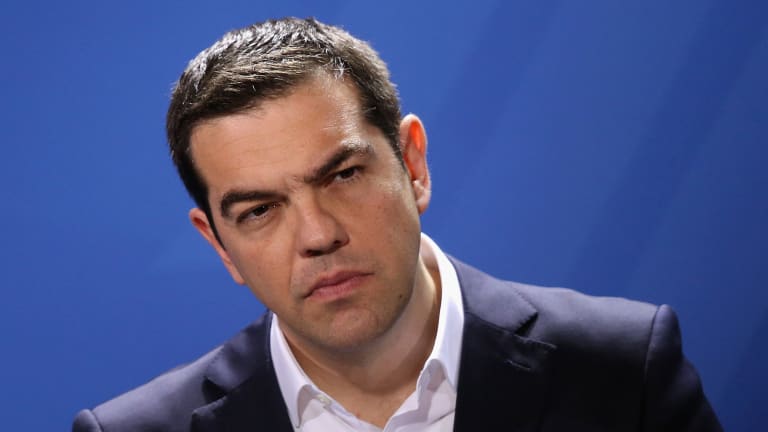 Why a Greek Default Is Becoming More Likely and Italy Needs to Worry
Greece's government claims €2.5 billion will be collected from a measure to seize cash from local governments. But is that true? And will it be enough?
NEW YORK (TheStreet) -- By May 12, Greece is going to have to pay nearly a billion euros to the International Monetary fund and one wonders how it will do so. 
The Greek government, sharing these concerns, passed a controversial bill on April 24 mandating local governments to transfer idle cash reserves to the Greek Central Bank. From there, the funds can be borrowed by the state to (theoretically) squeak by its upcoming IMF bill, totaling €967 million ($1.05 billion): some €201 million of interest payments, due by May 6, with a €766 million principle payment coming up on May 12.
The problem is, the bill might be far too little to help.
It looks like the Greek State will barely get through May 6, but after that, the numbers are disputed, and time is of the essence. While the government estimates the idle cash seizure move will net anywhere from €1.5 billion to €2.5 billion, secondary reports of local Greek media claim that only €160 million has actually been collected from local authorities, hospitals, universities and municipalities.
The local Greek media paints a slightly rosier picture. One finance ministry official put the number collected at "more than €400M" with an "overall objective of €2.5 billion."
Objectives are nice, but we all know Greece isn't great at meeting financial objectives. Besides that, Greece is well-known for having a widespread culture of tax evasion, and seizing funds from local governments being a particularly nasty form of emergency taxation, there is understandably some serious opposition. The New Zealand Herald reports that the Athens city council and the union of municipalities and communities in Greece will convene Tuesday, April 28, to debate the order.
"Debate" implies that they may decide to simply ignore it, in which case there is no way that the government will get anywhere near its objective of €2.5 billion. It has two weeks to raise at least €800 million in order to make the IMF principle payment on May 12. Several major debt-holders should be concerned, including Italy and some smaller European economies.
And what happens if Greece doesn't manage it? Here are two charts, the first is 2012 data from the Bank of Greece (and investment bank Nomura) on exposure that Eurozone governments have to Greek debt, and the second from Bloombergbriefs from January.
The final column shows sovereign exposure to Greek debt by GDP percentage. The leader in 2012 is actually the little island of Malta, which is a banking hub for much of the European gambling industry. Take a 4.3% hit to the banking sector and many companies' bank accounts could start getting "bailed-in" in a chain reaction. The next in line are Estonia at 4.2% and Slovenia at 3.9% of GDP.
This could very well be why it was specifically the Slovenian Finance Minister that leaked discussions of a "Plan B" for Greece to the media on April 25. From the Wall Street Journal: "Slovenia's finance minister confirmed that he raised the issue of a "Plan B" during Friday's meeting with his Eurozone counterparts, also known "as the Eurogroup.
When we look at the updated chart from 2015, it becomes even more evident why Slovenia specifically is so on edge. It has since taken up the No. 1 position on exposure to Greek debt in terms of its own GDP.
But the real systemic threat will be Italy, which comes in 4th as of January. Italy's sovereign debt to GDP ratio is the highest in the Eurozone next to Greece, and its economy is 8.5 times the size of the Greek economy.
So a 15-day countdown to a possible D-for-Default Day in Greece on May 12 begins. It will be a battle between local governments, who do not want to transfer their cash to the Bank of Greece, and the central Greek State, which, if it doesn't reach its objective of €2.5 billion seized from local governments by June and at least another €800M collected by May 12, may finally throw in the towel on the Eurozone.
This article is commentary by an independent contributor. At the time of publication, the author held no positions in the stocks mentioned.