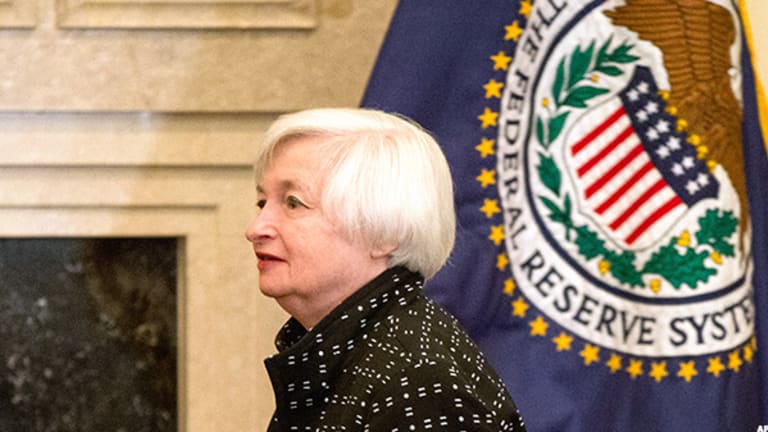 Why a Fourth Round of Quantitative Easing Is Coming
Low interest rates will not be enough to stimulate growth, the Fed will need to do QE
If the Fed is serious about stimulating inflation, then a fourth round of quantitative easing is coming -- and much sooner than anyone thinks. Near zero or negative interest rate will not be enough to help us escape this growth death spiral we're in. Inflation and interest rates have been on the decline since 1981 and it has only yielded lower growth. The Fed needs to create more money to get things moving again.
A measure that we can examine is the velocity of the MZM money supply (a measure of the amount of money in the economy), which is GDP divided by MZM. The basic understanding for the velocity is that it is the number of times money turns overs or changes hands. Velocity has been declining since 1981. However, the MZM money supply has been skyrocketing higher. Every MZM dollar in 1981, created nearly $3.50 of GDP. Today every dollar of MZM creates only $1.30. The velocity of MZM has been declining in the same manner as interest rates and inflation. In fact, the correlation of the 10-year treasury yield to the velocity of MZM since 1959 is 93%. Based on this number we will use velocity for a proxy of interest rate yield.

Source: St. Louis Fed
The rate at which Federal debt has grown has been skyrocketing. Going back all the way to 1963, MZM money supply was greater than the national Debt. I created the debt-to-MZM ratio, where a number less than one indicates more MZM than debt and number greater than one represents more debt than MZM. In 1962, the ratio stood at 0.91, going as low as 0.77 in 1966 and stayed below 1 until 1980 when it climbed to 1.04. We can see in 1980 the velocity of money peaked at 3.5. The ratio has never gone back below since. All the while the velocity of money has continued to decline. The ratio has gone up and down but never crossed below one.

Source: St. Louis Fed
What is interesting about this is that the velocity of MZM and interest rates both peaked right around the same time that when debt-to-MZM ratio crossed one around 1980. During certain periods, like the 1990s and early 2000s the ratio continued to decline and velocity traded pretty much sideways. This is likely due more to fluctuations in the pace of the creation of MZM money supply.

Source: St. Louis Fed
As of the end of 2014, the ratio sits at about 1.5 and has been trending higher since the early 2000's. In order to see inflation again, this ratio needs to get below 1. MZM needs to exceed that of debt. That is the only way to create the inflation needed to get the economy out of this slower growth spiral.
To coordinate such an action, the Fed and Congress will need to both be on the same page, so that the amount of debt created does not exceed the amount of MZM creation. That would mean the Fed would likely have to do a round of quantitative easing in the amount of about $5 trillion. Which would bring the current money supply from approximately $13 trillion to $18 trillion, in line with the Federal Debt Level. This would bring the MZM to debt ratio below one and allow for inflation to beginning to creep into the system again.
In the absence of Fiscal policy, this is the course I think the Fed will ultimately end up taking. Rates will not be going higher. They will stay at, near or slightly below zero. And quantitative easing is coming.
Disclosure: Mott Capital Management, LLC is a registered investment adviser. Information presented is for educational purposes only and does not intend to make an offer or solicitation for the sale or purchase of any specific securities, investments, or investment strategies. Investments involve risk and unless otherwise stated, are not guaranteed. Be sure to first consult with a qualified financial adviser and/or tax professional before implementing any strategy discussed herein. Past performance is not indicative of future performance.