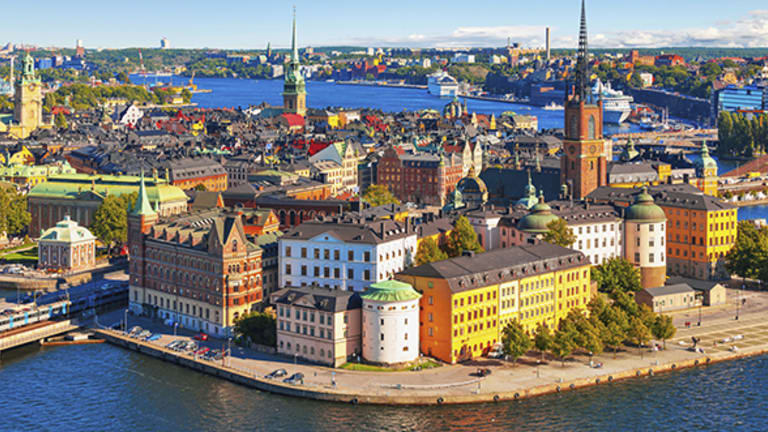 Why a Financial Crisis Is Brewing in Northern Europe
American fund managers like investing in Nordic countries. That is about to change. There are worrying signs of a looming financial crisis in Sweden, which could affect the entire region.
Is your retirement money, or any other part of your portfolio, invested in European markets? If so, you need to pay attention now.
Sweden has long been a favorite among American fund managers. A small, politically stable country with well-run government finances, the country has been home to many large, global and profitable corporations such as Volvo AB (VOLVY) , Ericsson (ERIC) - Get Report , SKF (SKFRY) , Saab (SAABF) , Atlas Copco and LKAB. The banks, such as SEB and Svenska Handelsbanken (SVNLY) have been very profitable, especially in recent years.
Things are changing in Sweden, however, and changing rapidly. In an article on Oct. 14 in the financial daily Dagens Industri (in Swedish; subscription required) financial analyst Henrik Mitelman relays concerns from American fund managers. There is a growing worry that a financial crisis is imminent in Sweden, a crisis that would be tightly coupled to a fiscal crisis for the national government.
Any worry about a Swedish financial crisis is well founded, and American investors need to pay attention. A financial crisis in Sweden would not be contained to that nation alone but would have quick and significant ripple effects throughout the Nordic countries, primarily because the banking system of the Nordic countries is closely integrated.
In addition to wiping out gains on the stock market, a financial crisis would raise interest rates and cause bond prices to fall. Furthermore, Sweden, Norway and Denmark still have their own currencies, which adds exchange-rate risks to any investments in those countries.
With Finland, a eurozone member, contaminated by a Swedish financial crisis, there is a risk that the euro would be affected. Even if it would only be a minor disturbance -- the Finnish economy accounts for 2% of eurozone GDP -- it has been part of a small but crucial group of fiscally strong economies through the Great Recession. Therefore, one should not ignore the potential influence on the euro from a Nordic financial crisis.
Adding to that risk is the fact that the Swedish, Danish and Finnish economies together represent 6.5% of the gross domestic product of the European Union. A serious economic downturn in the wake of a financial crisis will inevitably affect European economic activity as a whole. 
The case for a Swedish financial crisis is relatively strong. The central bank, the Riksbank, is currently holding its repo rate at -0.35%. (In Sweden, the repo rate is "the interest rate at which banks can borrow or deposit money for a period of 7 days with the Riksbank," according to global-rates.com. It's a key tool of the central bank's monetary policy.)
The economy is heavily dependent on foreign trade, with gross exports exceeding household spending in both size and growth rate. Household spending is currently growing at 2% per year, indicating tight consumer finances.
Which brings us to the core of the risk for a financial crisis: the housing market. Swedish households currently carry a debt level of approximately 180% of their disposable income (compared to 107% for U.S. households). Large sections of the mortgage market consists of loans with interest-only payments. With an economy showing signs of a slowdown -- jobs creation is currently about half of what it is at the top of the business cycle -- there is a rapidly growing likelihood of debt defaults.
The last time Swedish banks lost massively on real estate-related defaults was in 1990-1991. It triggered a depression-style recession with negative GDP growth, mass unemployment and runaway budget deficits. Today's Swedish economy is less prepared to deal with such a crisis, putting foreign investments in the country in greater peril. 
This article is commentary by an independent contributor. At the time of publication, the author held no positions in the stocks mentioned.