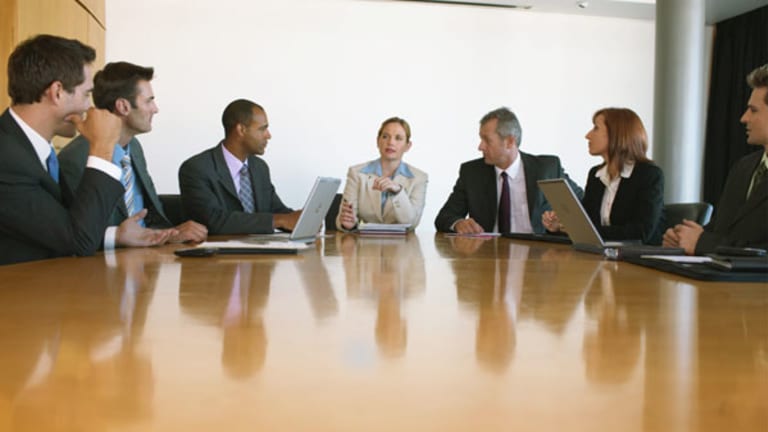 Who's to Blame for Botched Facebook IPO?
All roads lead to an out-of-touch management team, with its deadly dose of hubris, when determining who flubbed the FB IPO.
NEW YORK (
) -- I was at
CNBC
in Englewood Cliffs, N.J. last Friday when
Facebook
(FB) - Get Facebook, Inc. Class A Report
had its initial public offering.
The tension in the room among producers was palpable as the IPO was delayed for half an hour.
Then, suddenly, it opened. The stock quickly jumped to almost $45. There were whoops and clapping at
CNBC
. People were excited.
However, within 10 minutes, something strange happened. The stock started to fall.It was one long, continuous slide back down to $38, where the underwriters defended it for the rest of the day.
That day, on business TV, the Facebook blame game started. Whose fault was it?
I couldn't have imagined that outcome a few short hours before. I woke up around 6 a.m. that Friday. When I turned on "Squawk Box," there was a sense of excitement similar to the Superbowl for business media. Later that day, people focused on
Nasdaq
and its technical problems. Next, people started pointing fingers at
Morgan Stanley
(MS) - Get Morgan Stanley (MS) Report
for retaining too much control over the offering.
Yet, Morgan Stanley was the lead bank behind the most successful social media in the last two years:
LinkedIn
(LNKD)
.
In contrast to Facebook, which sold 421 million shares in the IPO, LinkedIn sold 7 million shares. Did Michael Grimes give bad advice to Facebook and good advice to LinkedIn?
Unlikely.
If Morgan Stanley wasn't the problem, who was? Facebook management, which is to say, Mark Zuckerberg?
Facebook pushed to increase the shares sold by 25% in the days leading up to the IPO. Facebook insiders chose to sell 57% of the shares sold in Friday's IPO, compared to
Google
(GOOG) - Get Alphabet Inc. Class C Report
insiders selling 28% of the offering in 2004.
It was also reported, last Thursday, by the
Wall Street Journal,
that Facebook management had sought to raise the IPO offer price but was rebuffed by large institutional investors who argued it would be too high.
You add it all together and this was an out-of-touch management team who thought it knew more than its bankers on how hot the deal was and at where the market could absorb it.
That's kind of like Wall Street bankers advising Facebook engineers on how to tweak the way Timeline looks, in order to increase the page views. The bottom line: Stick to your knitting. Let the bankers bank and let the geeks do their thing.
What is most worrisome for Facebook investors, though, is that, if Zuckerberg and Facebook management truly did call an audible on how to price their IPO, it suggests major hubris.
And hubris, of course, is what really kills companies over time.
The biggest questions around Facebook right now are whether it will be able to effectively monetize its 900 million monthly users and how it will adapt its service to mobile devices.
If Zuckerberg thinks he knows best how to do both, but is way off the mark, Facebook will be in a lot of trouble.
Investors have given up complete governance control to Zuckerberg. They know he controls 57% of the voting rights of the company. He is Facebook's greatest strength. Yet, he's also its greatest risk.
Facebook won't die from failing to get from 900 million monthly users to 1.1 billion. That stuff will take care of itself, as a certain path dependence of momentum is now at work.
What Facebook will die from is if it misses the next big thing to come along. Sort of like how Facebook didn't kill
Yahoo!
(YHOO)
by being a better version of Yahoo!, but by doing something new that the world had never seen. Whatever kills Facebook won't be a better version of Facebook but something new.
If Zuckerberg is plugged into the changing dynamics of the competitive environment, he'll likely catch the next big thing. And Instagram might have been the next big thing -- although now we'll never know because Zuck has taken it off the market, essentially.
But will he see the next big thing? Hubris has a way of blinding us from seeing the next big thing. Go ask former co-CEO of
Research In Motion
(RIMM)
, Jim Balsillie.
If Zuckerberg is happy to call the shots on where his IPO should be priced, that augers poorly for his continuing ability to spot the next big thing around him competitively.
Facebook investors should take heed.
At the time of publication, Jackson was long YHOO
.
Eric Jackson is founder and Managing Member of Ironfire Capital and the general partner and investment manager of Ironfire Capital US Fund LP and Ironfire Capital International Fund, Ltd. In January 2007, Jackson started the world's first Internet-based campaign to increase shareholder value at Yahoo!, leading to a change in CEOs in 2007. He also spoke out in favor of Yahoo!'s accepting Microsoft's buyout offer in 2008. Global Proxy Watch named Jackson as one of its 10 "Stars" who positively influenced international corporate governance and shareowner value in 2007.
Prior to founding Ironfire Capital, Jackson was President and CEO of Jackson Leadership Systems, Inc., a leadership, strategy, and governance consulting firm. He completed his Ph.D. in the Management Department at the Columbia University Graduate School of Business in New York, with a specialization in Strategic Management and Corporate Governance, and holds a B.A. from McGill University.
He was previously Vice President of Strategy and Business Development at VoiceGenie Technologies, a software firm now owned by Alcatel-Lucent. In 2004, Jackson founded the Young Patrons' Circle at the Royal Ontario Museum in Toronto, which is now the second-largest social and philanthropic group of its kind in North America, raising $500,000 annually for the museum. You can follow Jackson on Twitter at www.twitter.com/ericjackson or @ericjackson.
You can contact Eric by emailing him at eric.jackson@thestreet.com.