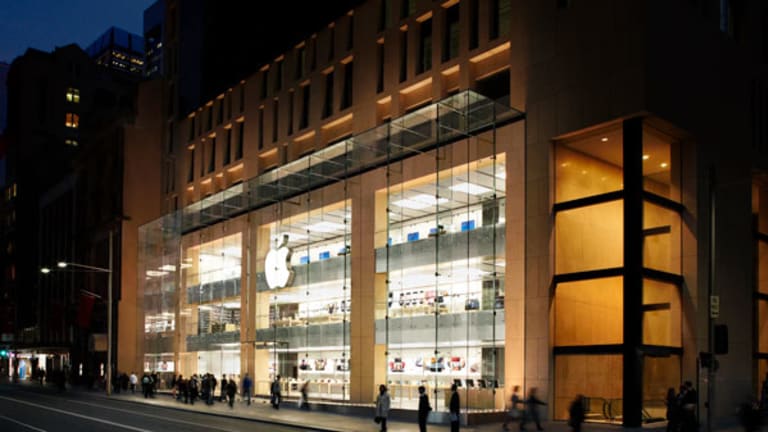 Who's Gonna Buy an Apple Smart Watch?
Apple won't be the one to introduce the smart watch, but will likely define the standard that all others will have to live up to
NEW YORK (
) -- Like many ground-breaking consumer gadgets,
Apple
(AAPL) - Get Apple Inc. Report
won't be the one to introduce the smart watch, but will likely define the standard that all others will have to live up to.
So, everyone's got to wonder what smart watches will do, besides keep time - maybe it's a tiny iPod, possibly do texting. Is it tethered to your smartphone, or can it be a great standalone device? How will it improve people's lives, and what need will it fill? These are all great questions, and I can't think of any credible answers.
The big question is - how big is the market for smart watches? The trend for smartphones is bigger, somewhere between the iPhone and the
Samsung
Galaxy, but smaller than a mini tablet. When was it, and who was it that said we need something smaller, something I can strap to my wrist, so I have to contort myself to use it? How many more black eyes are there going to be on commuter trains from people's elbows? Sounds like a class action suit in the waiting.
A smart watch is bound to be bulky, unless Apple has figured a way to curve sapphire glass. Will it be bright enough to overcome direct sunlight, will the battery last all day and night, is it a personal communicator, or just a time and music gadget, with some other personal assistant goodies? Even if all these questions have great answers, I'm not so sure I want to shell out $150 to $200 for a device strapped to my wrist.
I asked my kids if they would want an Apple smart watch that would be like an extension to your iPhone. It didn't take long for them to ponder the idea, look at their wrists, and say..."that's stupid". If my kids don't want one, then who will?
What's the point? To have a clunky device strapped to my wrist so I don't have to pull my iPhone out of my pocket? And what if I do want to pull it out? That watch is gonna get snagged on my pocket, I just know it.
I've got it! Driving while watching! You could lay your arm across the steering wheel, and position the watch so you could watch videos, and read text messages on that tiny postage stamp screen while driving down the highway. Hmmmm. But how will you send a text? Siri!
-- Written by Ernie Varitimos, author of the Apple Investor blog.
This article was written by an independent contributor, separate from TheStreet's regular news coverage.
Ernie Varitimos has a long history with Apple as an investor, trader and consumer of its technology. He started his career as a rocket scientist and has spent the past 25 years driving, controlling and influencing technology in the financial industry. Ernie is a former hedge fund manager and current futures trader.