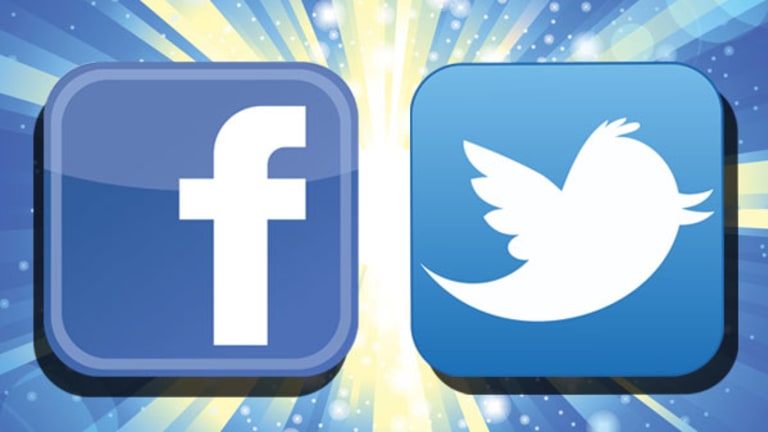 Who's Better: Facebook or Twitter?
Facebook's ubiquity, coupled with its advertising effectiveness and mobile ad revenue, makes it a strong long-term play.
Facebook's ubiquity, coupled with its advertising effectiveness and mobile ad revenue, makes it a strong long-term play.
NEW YORK (TheStreet) -- It became obvious that Netflix (NFLX) - Get Report was something big once those red envelopes became ubiquitous in the mail carrier's bag and your neighbor's (or your) mailbox. Ditto for cardboard Amazon.com (AMZN) - Get Report boxes. (And, as a not-so-aside, I saw an Amazon Fresh truck drive through my neighborhood the other day!).
Speaking of ubiquity,
Apple
(AAPL) - Get Report
started a craze with iPod and segued seamlessly to subway and sidewalk saturation via iPhone. And, for goodness sake, it didn't take
Google
(GOOG) - Get Report
long to become a verb.
Imagine if you had invested in all four of those powerhouse stocks five years ago. You would be a wealthier S.O.B. today.
data by
And then there's
Facebook
(FB) - Get Report
. It's tough to find a smartphone without the app on the first page. Often times, that app is open. Roughly 469 million people check their Facebook from a mobile device daily. Around 819 million do monthly.
No doubt. I have been wishy-washy on the company and the stock. In November,
I ripped your Great Grandfather's favorite stock market rag for predicting $15 Facebook
. While I still can see FB hitting $100, I have waxed and waned
and
on the company as of late.
So, at the 'HOT' link I used my experience as the person in charge of social media at
TheStreet
to extol the virtues of Facebook advertising. Trust me. It works. Really, really well.
This might seem counterintuitive, but I don't feel like we're "buying" all of the "LIKES" we receive at
. For us, Facebook advertising works as a catalyst for organic growth. In other words, it helps get our stuff in front of people who might not see it otherwise. From there, it comes down to the quality of what we're putting in front of this user to determine whether they LIKE us and engage with our material or not.
That's powerful.
But, at the "COLD" link I chided Facebook for what I perceived to be a lack of focus. I can toot my own horn with the best of them, but I also stand up and call myself out when I'm wrong. I missed on that assessment. And, it's funny, I should've known better. My firsthand experience countered my "COLD" take, yet I went ahead with it anyway.
Interestingly, it's probably personal experience that leads me to like
the long-term prospects of Twitter better than those of Facebook
. But consider my job. It makes Twitter, from a professional standpoint, much more useful than Facebook. Again, mea culpa, convoluted thinking led me to my long-term Twitter and Facebook conclusions.
That said, I still like Twitter. But there's no way I can look at my personal experience with Facebook advertising coupled with
the company's killer earnings report
and still question the performance of Mark Zuckerberg and his guiding light, Sheryl Sandberg.
Facebook has become an all-encompassing addiction that, at this stage of the game, carries more mass appeal than Twitter. That could change someday, but it all depends how well Twitter evolves as the place to go for
Breaking News
and information.
--
Written by Rocco Pendola in Santa Monica, Calif.
Rocco Pendola is
TheStreet's
Director of Social Media. Pendola's daily contributions to
TheStreet
frequently appear on
CNBC
and at various top online properties, such as
Forbes
.