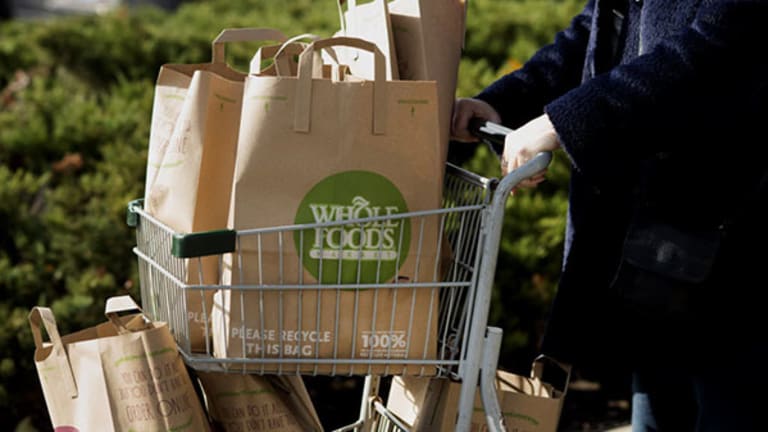 Whole Foods Could Enter the Booming Meal Kit Market
With its sales under siege, Whole Foods looks to enter the meal kit delivery market.
With its sales under siege from new competitors in organics and consumers opting for convenience over a hike to a store, Whole Foods (WFM) may be on the verge of entering the booming meal kit market. 
"We have huge interest [in meal kits]," Whole Foods co-CEO Walter Robb told analysts on a call Wednesday evening. Two other executives moved quickly to chime in on the topic, adding that "there's a lot of people in the Willy Wonka laboratory working on this thing" and that it has been "tasting a lot of food." Concluded Robb, "We will say that we are committed to this category -- we think we have a good strategy for it, and it will be revealed."
Whole Foods declined to share more specifics on what its meal kit service would entail or when it would launch. The initiative is being called its "meal solution spectrum." Tien Ho, Whole Foods global vice president of culinary and hospitality, is leading the development of the recipes that would be included in the meal kits.
Meal kit services -- where consumers pay a monthly subscription fee to have meals delivered directly to their homes -- have burst onto the scene in recent years as consumers seek out ways to save time and as they show an interest in food culture. The market is dominated by Blue Apron and Plated, but according to Technomic it's now comprised of more than 170 players. Sales for meal kit companies topped $1 billion in 2015, said Technomic, and could grow into a multi-billion dollar market over the next five years.
The strong outlook for the industry has led Blue Apron to be valued at more than $2 billion through its various financing rounds -- and it reportedly is now pondering whether to cash in via an initial public offering in 2017.    
Given the market potential amid shifts in how people consume their food, it's not a shocker that embattled Whole Foods wants a piece of the pie. It would also give Whole Foods a relevant business that its organic selling competitors such as Kroger (KR) - Get Report and Target (TGT) - Get Report lack right now. And Whole Foods could certainly use a win vs. its competitive set.
Shares plunged 5% in after-hours trading Wednesday as the organic grocer's fiscal third-quarter earnings fell 14%, to 37 cents a share, in line with Wall Street forecasts. Net sales rose 1.9% from the prior year to $3.7 billion, also matching analysts' forecasts. Despite efforts to offer lower prices to consumers in milk and produce, same-store sales declined for the fourth straight quarter.
For the first few weeks of the fourth fiscal quarter, Whole Foods said same-store sales have dropped 2.4%.
TheStreet's Jim Cramer said many thought the company's recently introduced budget stores called 365 would help lift revenues and be "the way out" of declining earnings, however comp stores aren't looking up, he said.
"They have so many initiatives going on, maybe some of them stick," he said. "I've gotta tell you it's worrisome and even they have admitted that he competition has caught up."
For the first few weeks of the fourth fiscal quarter, Whole Foods said same-store sales have dropped 2.4%.
Conceded Whole Foods founder and co-CEO John Mackey on the current competitive environment, "There's a lot more competitors in the marketplace and there's a lot of new formats in the marketplace, from home meal replacement to meal kits, fast casual restaurant growth -- just more entrants in the natural and organic food space." He added, "People may not be driving as frequently as far as they used to, because they can stop by a Kroger or Wegmans to get products that they used to only be able to get at Whole Foods."
The only worthwhile question left to ask: Why is Whole Foods trying to build a meal kit business from scratch -- in a hyper competitive market -- instead of scooping up an established name in Blue Apron before it debuts on a stock exchange?