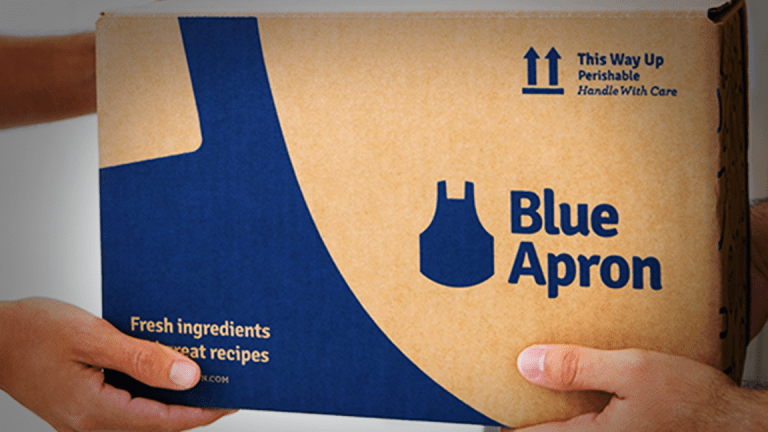 Who Will Be Blue Apron's White Knight?
With Blue Apron shares down nearly 70% since its June IPO, it may need outside help. Will it be private equity? A major grocer? Or itself.
With Blue Apron shares down nearly 70% since its June IPO, it may need outside help. Will it be private equity? A major grocer? Or itself.
Just four months after going public, meal kit company Blue Apron Holdings Inc. (APRN) - Get Report is about to hit rock bottom.
Its stock value has fallen by nearly 70% since its initial offering at $10 in June, closing Wednesday, Nov. 8, at $3.19. To be revived, it's going to need some outside help, some industry experts say.
"They need to make a big move and develop strategic alliances," said Steve Johnson, president of Foodservice Solutions, a food and restaurant consultancy.
That means either a buyout from a private equity firm or some sort of absorption by a larger retailer. But some insiders doubt that Blue Apron has even a smidgen of appeal for financial or strategic buyers right now, given its large scale and ineffective business model.
Kroger Co.'s (KR) - Get Report Harris Teeter stores might be a good fit for a strategic buyout, according to John Gordon, a restaurant analyst at Pacific Management Consulting Group, because of its urban locations that heavily serve millennial consumers.
"It could be a 'white knight' situation for a grocer to come in," Gordon said. "It'd have to be a grocer that has the demographics that align with meal kits ... and can avoid cannibalization."
Supermarket giant Albertsons LLC, for instance recently acquired fellow meal kit company Plated. The $200 million deal is likely the first domino in a chain of meal kit acquisitions, analysts told TheStreet in September, when it was announced.
A Kroger representative declined comment on a potential deal, saying the nation's largest supermarket chain "does not comment on rumor or speculation." A Blue Apron representative did not immediately return a request for comment.
Johnson, taking a different tack than Gordon, said a restaurant chain might be a better strategic partner for Blue Apron.
"I would like to see Blue Apron be bought out by a restaurant chain because their models are actually very similar," he said. "They're all selling the same thing -- meals."
Johnson named Yum Brands Inc. (YUM) - Get Report , Darden Restaurants Inc. (DRI) - Get Report and Bloomin' Brands Inc. (BLMN) - Get Report as three possibilities. Representatives for the companies could not immediately be reached.
But even after a potential merger, the five-year-old company would need a business model overhaul, Johnson added. Right now, despite high marketing spend, Blue Apron is losing customers. In the third quarter of 2017, customer count declined 9% over the last quarter.
In addition, Blue Apron reported Ebitda of negative $48 million, compared with negative $34.6 million a year earlier, and its net loss for 2017 reached $171 million as of Sept. 30.
Painting an even bleaker picture for shareholders, CEO Matthew Salzberg said Tuesday that Blue Apron's latest fulfillment center in Linden, N.J., has so far been its "worst margin operating center." The margins are "significantly lower than the average of our existing centers," he said at an RBC Capital Markets conference.
An acquisition would "buy them much more time" to recover, Johnson said, "but they're going to have to expand their offerings eventually."
Better sooner than later, according to Michael McDevitt, CEO and founder of meal kit company Terra's Kitchen. There's no incentive for anyone to purchase Blue Apron right now, he said, and that goes for private equity and other retailers alike.
"I don't think the financial market is going to put any more money in a Blue Apron business model," McDevitt said. "For strategic partners, its value and infrastructure has proven to be very expensive and redundant."
The only one that could save Blue Apron right now, he added, is itself. "When you're in a downward spin, you need to pull out of the spiral before anyone else will agree to help you."
More of What's Trending on TheStreet: