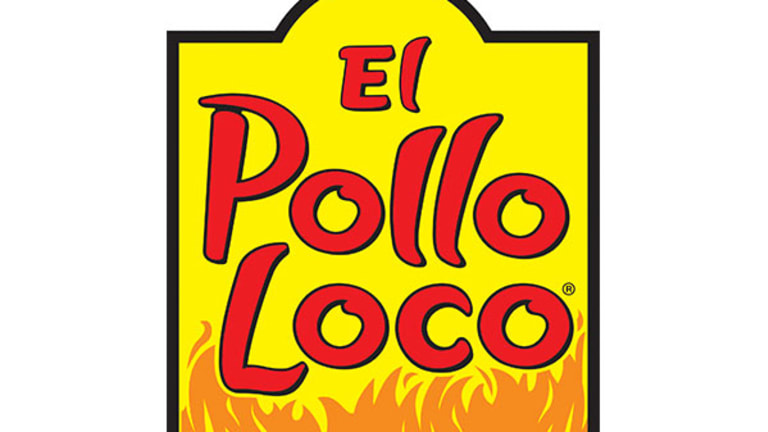 Publish date:
Who Put the 'Crazy' in El Pollo Loco?
Everybody loves the tasty chicken the Mexican restaurant El Pollo Loco has been selling since 1975 in Nevada, Arizona, Utah, Texas, and California but, is it a good investment?
Everybody loves the tasty chicken the Mexican restaurant El Pollo Loco has been selling since 1975 in Nevada, Arizona, Utah, Texas, and California but, is it a good investment?
NEW YORK (TheStreet) -- The Crazy Chicken is looking more like The Crazy Investor.
El Pollo Loco (LOCO) - Get Report was founded by Juan Francisco Ochoa in the small town of Guasave in the State of Sinaloa in 1975. You can check a picture of the very first restaurant here. Today, there are many restaurants in five states, including Coahuila, Michoacan, Nuevo Leon, Sinaloa and Tamaulipas.
They're also in Mexico City, an urban area almost as populated as New York City.
These restaurants are a separate company. Maybe an investment banker should cross the Rio Bravo and convince them to file for an IPO with the symbol POLLO just like Arcos Dorados Holdings (ARCO) - Get Report , independent operator of McDonald's restaurants in Latin America, already did back in 2011.
There are two McDonald's:
One is currently the most profitable restaurant in the world with annual sales of $28.1 billion and annual profits of $5.6 billion
The other one is currently McDonald's (MCD) - Get Report largest franchisee in the world with 94,000 employees, 2,070 restaurants and it serves over 4,300,000 customers daily in Argentina, Aruba, Brazil, Chile, Colombia, Costa Rica, Curacao, Ecuador, French Guiana, Guadeloupe, Martinique, Mexico, Panama, Puerto Rico, Peru, St. Croix, St. Thomas, Trinidad & Tobago, Uruguay and Venezuela.
There are two El Pollo Locos because Denny's (DENN) - Get Report bought all the restaurants within the United States of America in 1983. In 1999 the company was sold to a private equity firm and in 2005 the company was sold again to another private equity company.
When you are investing in LOCO you are only investing in the 399 restaurants currently open in Nevada, Arizona, Utah, Texas and California.
The current shareholders have been trying to make money for nine long years without success and they finally decided to sell their shares to individual investors in an IPO priced at $15 a share.
The demand for these shares was irrationally exuberant and the stock opened at $19 on the first day of trading. A few weeks later, the company has a market value of more than a cool billion dollars.
To put that in perspective, you could buy more than 75% of Dean Foods (DF) - Get Report right now with the same amount of cash.
Dean Foods has been around since 1925 and they are never going to go out of business. If another global financial crisis hits them hard in the future and the annual profits evaporate overnight somehow, they can always sell one or more of their factories in Belgium, France, the United Kingdom and/or the Netherlands.
The human race cannot survive without milk. Dean Foods is currently one of the largest food processing companies in the entire world and without them we would be dead by now.
With annual sales of $9.6 billion, they sell more food than Chipotle Mexican Grill (CMG) - Get Report and Tim Hortons (THI) combined. With annual profits of $300 million, they make more money than Olive Garden, LongHorn Steakhouse, Bahama Breeze, Seasons 52, Eddie V's Prime Seafood, The Capital Grille (DRI) - Get Report , Yard House and Wildfish Seafood Grille combined.
Dean Foods feeds the whole world. El Pollo Loco feeds just a few hungry individuals in a few cities.
Let's imagine for a second that you are the CEO of Dean Foods and you wish to enter the fast food industry and you decide to invest 100% of all your profits in a restaurant. With $300 million a year, you can buy all the El Pollo Loco shares in just four years, assuming the stock price remains constant.
On the other hand, El Pollo Loco cannot invest their annual profits in any Dean Foods shares simply because they don't have any profits. They lost $16.9 million in 2013, $7.9 million in 2012 and $32.5 million in 2011 according to Nation's Restaurant News.
They only opened seven restaurants in 2013 and they are planning to open only 16 restaurants in 2014 according to Forbes, which means they are not exactly taking the world by storm.
You have to be insane in the brain to buy this company at current levels. I strongly suggest you to sell short this company.
At the time of publication the author had no position in any of the stocks mentioned and could not enjoy the tasty chicken because he lives 91 miles away from the nearest El Pollo Loco.
This article is commentary by an outside contributor, separate from TheStreet's content.